This guy is actually bigger than our car…
The landscapes here in Tanzania are to die for.  The animals are amazing.  This truly is a once-in-a-lifetime trip (We couldn't help ourselves, so we're doing another one this year, here.)
There's really nothing like being immersed in photography for an entire week, shooting alongside new friends who are also learning and having a great time.
Then sometimes you get stuck in the mud. Which we did. Twice. But we did manage to see millions of wildebeest along the way, stretching out along the horizon in every direction. 

Now that we've got our camera settings down, we're concentrating on composition. Most people already know about basic things, like the Rule of Thirds.
But you might not about the rule of implied motion.
Take a look at this photo, for example: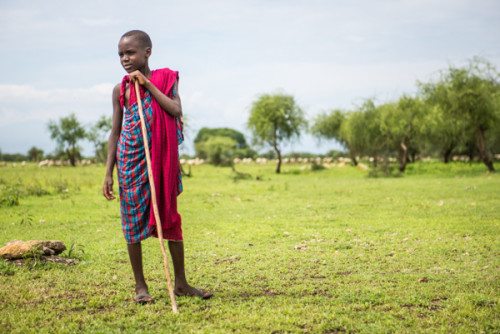 The Maasai boy isn't moving, but your gaze naturally follows his… moving your eyes right out of the photo. The "implied motion" here goes from his eyes to the left, leaving the right side of the photo as wasted space. 
Now take a look at this second image: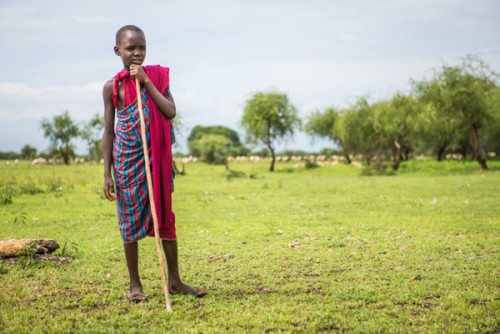 By simply waiting for him to look to the right, now the "implied motion" is moving into the middle of the frame, bringing the viewer's gaze back in to the photo. Much better.
If someone were to use this photo in a magazine or an ad, they could place text over the right side of the image… and the boy would appear to be looking at the text.
The same thing goes for animals… vehicles… even plants and inanimate objects. Something to think about when you compose your images for stock. It's super-easy to place your subject on the other side of the frame… and only takes a fraction of a second.
If you can do this… you love to take pictures and you can learn these few basic tips, you have what it takes to sell your photos as stock.  Or to magazines or as fine art.
[Editor's Note: Learn more about how you can fund your travels and make an extra income with photography, travel writing, blogging, and more in our free online newsletter The Right Way to Travel.  Sign up here today and we'll send you a new report, Profit From Your Photos: A Quick-Start Guide, completely FREE.]