There he was, rounding this dusty African road, the sun barely cresting the horizon and casting dramatic shadows and illuminating the scene in ways I could only dream of. 
The instant I laid eyes on this young Maasai boy and his donkey cart I knew: This was THE shot. Scrambling like mad to get the camera up, firing off several shots through the windshield of our speeding safari vehicle, I prayed I got something more than a blur.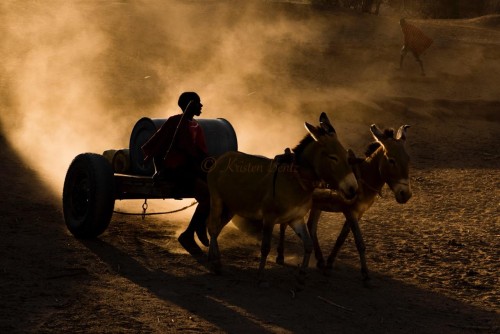 And while I'm exceptionally pleased that I managed to capture it, I'm more thankful for the sheer experience. I've spent years training my photographic eye to be able to recognize and react to moments like this, not only to capture them, but also to observe and cherish the experience in a whole new manner.  
Training your eye to find photographic beauty even in the mundane can help you to find the beauty in everyday life, as well. 
One of the most difficult parts of growing up is losing the wonder and magic in the little things. When you take on the world through the camera lens, it forces you to rediscover the world's charms and to appreciate things long forgotten, moments often overlooked, and luxuries taken for granted. When I immerse in other cultures, I want to see, feel, love, and understand that culture. And, in turn, it brings me a deeper sense of love and gratitude for life at home.
When people talk about photography, you'll hear comments regarding a person's "eye" for it. And it's easy to get caught up thinking those with the "eye" for photography just have it. However, that is almost never the case. Most photographers work hard to train their eye – from examining other photographers' work… to studying principles of design… to people watching. All of which translates into taking better photographs but also a greater appreciation for life, experiences, and heightened observational skills.  
So, next time you find yourself struggling to find the beauty in your situation, I urge you to take a step back and think of it just like a photograph. Pick out the silver lining, just one beautiful aspect, and run with it. 
Remember, the whole purpose of making a photograph is to tell the story and convey the emotion… not much different from life! 
[Editor's Note: Learn more about how you can fund your travels and make an extra income with photography, travel writing, blogging, and more in our free online newsletter The Right Way to Travel.  Sign up here today and we'll send you a new report, Five Fun Ways To Get Paid To Travel: A Quick-Start Guide, completely FREE.]