Dear Reader,
At least once a week, somebody writes us to say, "I have these amazing photos from my recent trip. But I don't know what to do with them. How do I get from this collection of photos to a story?"
Today I asked freelancer Jen Stevens, author of AWAI's Ultimate Travel Writer's Program, to show you how to turn your photos into a travel article.
She grabbed five photos from Florence Devermann — one of the attendees on our recent Ecuador Photography Expedition — and said she'd start there.
You'll find her step-by-step how-to turn your photos into a travel article guide (and Florence's photos) here below.
Have a great weekend,
— Bonnie
Bonnie Caton
Staff Writer, Great Escape Publishing
HOW TO GO FROM PHOTOS TO STORY IN SIX EASY STEPS
If you have a digital camera and you're a typical traveler, you don't take just a handful of photos when you're on a trip, you take hundreds. Maybe thousands.
It's no wonder the idea of going from all those images to a single story seems daunting.  So don't try. Instead, divide and conquer in order to turn your photos into a travel article. Aim for a series of shorter articles (200-600 words), each with a specific focus. Here's how:
STEP # 1 — Look for those key images you really love. The truly standout ones. Then, around each, pull out 5-10 related photos. Ideally, each small group should include close-ups, panoramas, people, objects — and a mix of verticals and horizontals.
What you'll find when you do this is that you've gravitated to certain themes or certain moments in your trip. And around each, you could build a story.
Let me show you what I mean. Here are 5 photos Florence Devermann sent me, culled from the many hundred she shot on our photo expedition in Ecuador last week.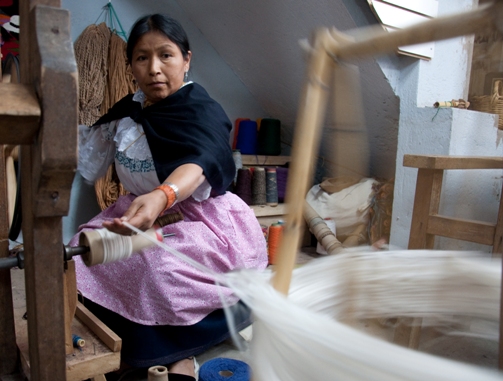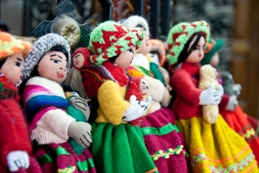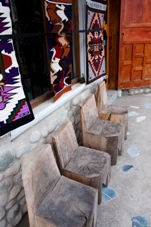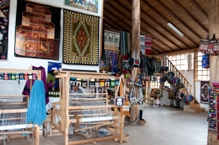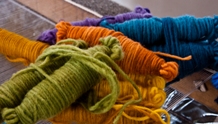 She took them all in a store called El Gran Condor in Peguche, the village of the weavers. It's about three kilometers from better-known Otavalo, which is home to the largest indigenous market in Latin America.  So Florence has this fine group of related shots — now what?
STEP # 2 — Think audience. Who, just glancing at the photos alone, might find this group of pictures intriguing? I can think of lots of folks, among them…
** Weavers
** People interested in indigenous cultures
** Shoppers
You could write a story for any of those readers. But let's, just for the sake of example, go with weavers. (I recently heard a story on NPR about pastimes. And according to the report, weaving is the second-most popular hobby in the United States — second only, incidentally, to photography).
So now you have a target audience in mind. That'll help you figure out what to put in your story (and what to leave out).
STEP # 3 — Find your best tidbit or anecdote. In the quirky and curious and in little stories, you'll often find a great way "in" to your article. Start by asking yourself, "What's the first thing I'd tell a friend if one were here with me now, looking over my shoulder at these photos?"
In this case, I'd probably tell the story about the bugs. You see, all that yarn is dyed with colors extracted from nuts and other plant parts… and from bugs. That's right. Bugs. The red comes from crushed cochineal insects. Add a squeeze of lime, and you can create orange or yellow.
So I'd write that down. That could just be a curious enough fact to draw a reader into my story. And, as I'm aiming for an audience of weavers, I bet they'd find that interesting.
STEP # 4 — Write down the other things you know that relate to this small collection of photos. Check your notes and your memory. The idea is to simply gather all your possible content in one place. At this point, don't worry about how you're writing. Or what order you're putting things in. Just make a list of items you could possibly include in your article. Think of these, really, as notes to yourself.
Looking at this group of photos, for instance, I might write notes about the different kinds of looms women use, something about the products available in the store (and their prices), this village's location, the fact that the patterns on the rugs and tapestries are traditional and tell stories.
STEP # 5 — Refine your story idea. Now that you've gathered fodder for your article, ask yourself, "What's the one main idea I want my reader to take away from my article?" Then write that down.
You're likely to have more material than you can use in a short piece. That's fine. Circle the three things you think are most important for your reader to know. That's a good way to narrow down what you'll include. Maybe you'll have room for more than three, but at least this way you'll make sure the most critical ideas make the page.
Let's consider our example here. I think the village of Peguche, and this shop in particular, would be a great place for a person who likes weaving to visit.
Why? Because a reader could buy unique yarns at reasonable prices, learn about local techniques, and get inspired by the patterns. I've begun to think of my article as a recommendation, really.
STEP # 6 — Turn your notes into narrative. Now, now, don't panic. Here's a trick: Imagine yourself on an airplane. The woman next to you strikes up a conversation. You discover she likes to weave, and you say…
Well, what do you say? Your article is in there. Just write it the way you'd say it. You already have an idea for your lead (remember, the bugs?). So start there. Then simply continue on. You've got a few things circled in your notes. Add those next.
Very quickly you'll have 200-600 words. And then it's simply a matter of going back and refining. Read what you've written out loud and edit as you go.
Ask yourself: "Will my reader come away from my piece with the main idea I wrote down clear in his mind? Have I supported that idea with the information I include?" If you've got miscellaneous asides in there, take them out.
The Key Is to Divide and Conquer.
I think you'll find that by dividing your large collection of photos into smaller "batches" you'll generate no end of article ideas.
With the example we looked at today, we focused on a place.
But you can divide your pictures up in lots of different ways. Maybe, for instance, Florence has other pictures similar to the one of the woman weaving. But one is of a man carving. Another of a woman beading. Another of a leather craftsman making a saddle.
She could group those together and write an article around them. The focus wouldn't be so much on one place but, instead, on the many fine handicrafts created in Ecuador.
So you see, your photos will show you where your stories are. It's just a matter of pulling out small groups that hang together well.
[Editor's Note: Learn more about opportunities to profit from your travels (and even from your own home) in our free online newsletter The Right Way to Travel.]