Last week at our Expedition in Paris, I was excited for our early morning sunrise shoot. I pictured the sun peeking through the clouds, creating dramatic pinks and reds… maybe a bright orange sunburst behind the Eiffel Tower… basically stock photo gold.
But when we got there, the weather looked like this: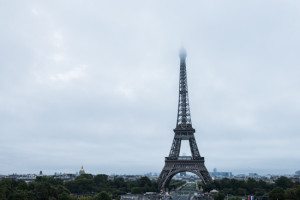 Not a whole lot I can do with that photo.
But we didn't get discouraged. Because there's almost always something else you can do.
Whenever the sky is dark and cloudy like this, I try to find a way to make it look more moody. Maybe turn it into a black-and white shot. But the sky was pretty boring all by itself. So I scared a group of pigeons and got this: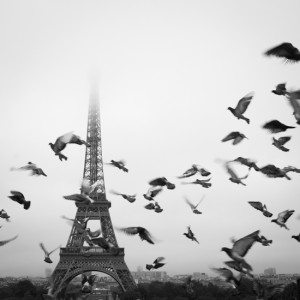 Picture me running around yelling at a group of birds. That's what it took!
It's kind of "artsy" but I'm going to try it out as a stock shot anyway. I'll let you know if it gets into my agencies next week.
I bring this up because this month's Breakfast Stock Club Premium Challenge theme is: "The Moment."
Sometimes you have a very specific moment in mind — like an epic sunrise. You get there on time, you have everything ready… and it just doesn't happen.
Which is why, with photography, you always need to be on the lookout for alternative "moments." And sometimes you have to make your own.
Once we started running with what we found, a crazy Italian men's fashion maven showed up and started dancing around with us… stole some red balloons from a nearby shoot… and created one of the strangest, most fun impromptu shoots I've ever experienced!
When things don't seem to be working out… keep rolling with it. Look for new ways to mix it up. The more open you are to surprises… the more creativity will flow out of you.
Editor's Note: Learn more about getting started selling your photos online in stock agencies – no matter how much or little photography experience you have – in the Breakfast Stock Club e-newsletter. It's once a week, and it's free to join, here.