If the Eiffel Tower is the eyesore of Paris, then Montparnasse (the lone skyscraper in the city that doubles as a train station) is the box it came in.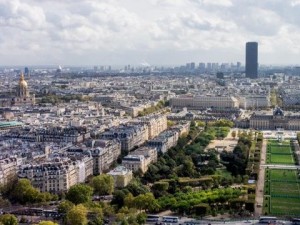 This is the joke my host father told me when I first moved to Paris during college almost 20 years ago.  Today, I tell it to every friend I bring to the city. Montparnasse is the ugliest piece of the Paris skyline, and it's amazing to think the Parisians once thought the same thing about the Eiffel Tower.  Many have said the views from the top of the Eiffel Tower are the best views in all of Paris…because it's the only place in the city where you can't see the darn thing. Now, to do a skyline properly I might need a tripod or a fancy lens.  But depending on your story or your fine art market, you might be able to get away without either of these things to sell your skyline photos to magazines or as fine art. The key is simply making sure your images are sharp and that your horizon is straight. Doing this is simple in a program like Adobe Lightroom.  If your camera has gridlines you can turn on in your viewfinder to help you get a straight horizon, great.  That feature might save you some time and cropping later. If it doesn't, there's something similar in Lightroom when you turn on the crop tool, here…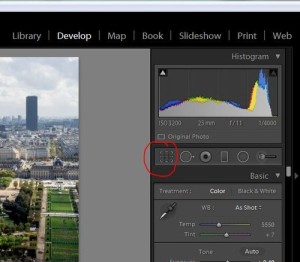 Grid lines appear making it easier to see if your horizon is straight.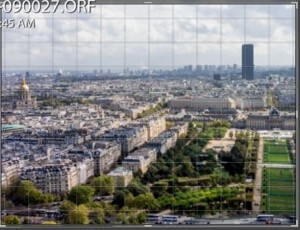 And here's another tip about straight horizons… It's a little like the clipping and chopping idea we talked about here.  A horizon that's a little slanted looks wrong.  But one that's intentionally slanted a full 45 degrees can look creative.  And this goes for horizons in your backgrounds, too. Here, Sacre Coeur looks like it's slightly leaning to the left…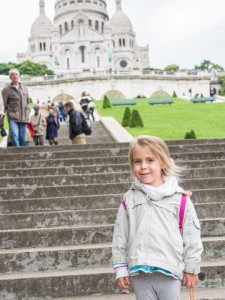 Here, it's done on purpose…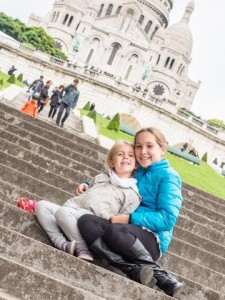 And remember, you don't have to be a professional photographer to sell your photos.  You just have to know the difference between what's saleable and what's not… and who to go to for the money. Share on Facebook
[Editor's Note: Learn more about how you can turn your pictures into cash in our free online newsletter The Right Way to Travel.  Sign up here today and we'll send you a new report, Selling Photos for Cash: A Quick-Start Guide, completely FREE.]