Upload Stock Photos Five Times Faster with This Program
We got some time off during the holidays here in the Great Escape Publishing (lucky us!) so I set some time aside to upload photos to iStock, Shutterstock, Dreamstime, Fotolia, and Bigstock. So far, my January sales have already blown December out of the water — and we're not even a third of the way through the month. The trick to getting continual sales, it seems, is to keep uploading. Have you been uploading to stock sites this season? Let us know how it's going on the Breakfast StockClub Facebook page. Here are a few of my recent uploads that have seen sales:

As I mentioned a couple of issues ago, I'm using the free program ProStockMaster to add titles and keywords to my images and upload them to my agencies.
It's about five times faster this way, since I don't have to add titles, keywords, and then upload over and over through each of my five agencies' upload pages. Instead, I do it once through ProStockMaster.
Here's how it works:
1. Go to http://prostockmaster.com and click on the "Free Download!" button for either Windows or Mac. Then, follow instructions to download and install it on your computer. 2. When you first open ProStockMaster, it'll look like this: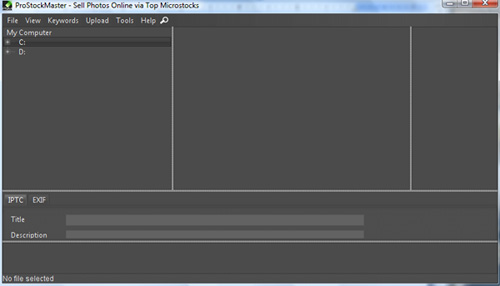 You'll see a box pop up like this one, that says "Select Stock Agencies." (If it doesn't pop up, you can find it under Upload -> Stock Agencies.)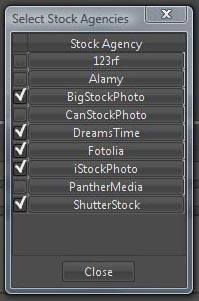 If you're already accepted to one or more of the agencies on the list (of which there are actually nine, not 13 as I said last time) check the box next to it and fill in your user name and password for that agency. The reason for this is that ProStockMaster will sign in for you to upload your files to each agency, so you don't have to. 3. Once you've entered your credentials for each agency where you're a contributor, you're ready to upload photos. To do that with ProStockMaster, go up to File -> Open and in the window that pops up, find the file where you've exported a batch of processed, stock-ready photos and click "Open." You'll see thumbnails pop up on the right for each photo in that folder. 4. Go through the photos, one by one, by clicking on the thumbnails on the right and then adding a title, description, and keywords to each down below. Your screen will look something like this: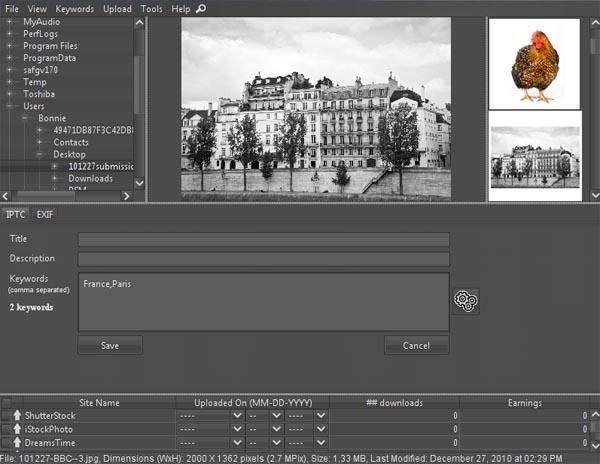 5. Here's a feature of the program that's especially helpful. You can find even more keywords for your image by clicking on the button that looks like three gears, to the right of the Keywords field: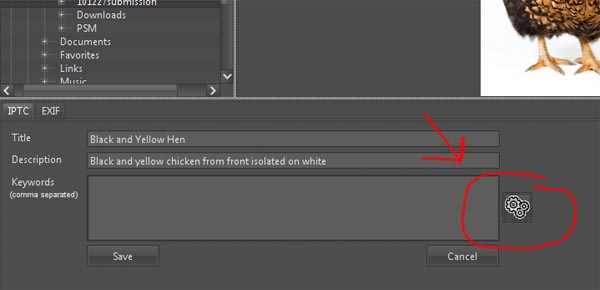 When you click on that button, a new window will pop up. There, you can enter a keyword and click on "Suggest!" for a list of new suggestions, like this: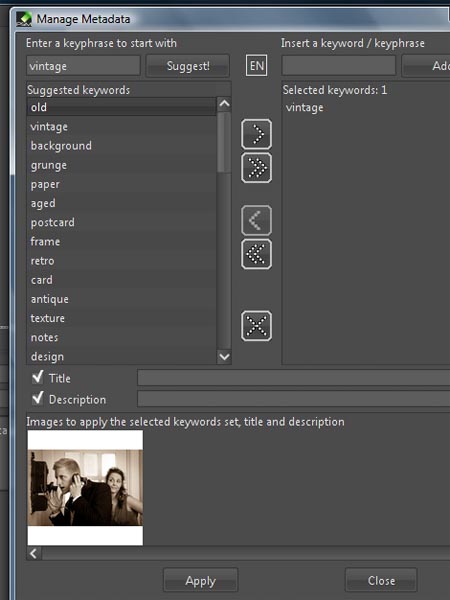 You won't likely want to use all of the keyword suggestions. Choose the ones that are the most appropriate to your photo. When you have a substantial list of good keywords, hit "Apply," and you're ready to go on to the next photo. 6. Once all of the photos from your folder have titles, descriptions, and keywords, you're ready to upload. From the main screen, click on each thumbnail, one by one, and at the very bottom, click the check marks next to the agencies where you'd like to submit that photo. If you want to submit it to all of your agencies, click the check mark in the box at the top of the list to select them all: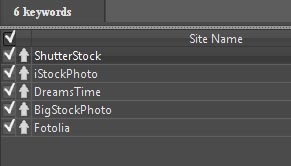 7. Now that you've selected which agencies each of your photos will go to, at the top of the screen, click on Upload -> Selected Images: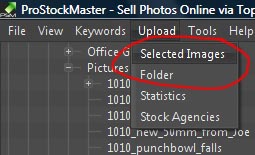 A box will pop up with thumbnails of your selected images, and asking if you want to continue uploading them. Click "yes." 8. Now just let it do its thing! Go to bed or go make dinner and let it run. You'll see a small box showing its progress — it could take a while for it to upload all of your photos to all of your agencies. When it's finished, another box will tell you how many images were uploaded to how many agencies in how much time. 9. Now sign into each of your agencies and make sure that the images uploaded properly, that all of the keywords look right, etc. This will finish your upload process. All you have to do now is go do something fun while you wait to see which ones get accepted… and then start counting your sales! — Bonnie Bonnie Caton Great Escape Publishing Breakfast Stock Club Your Weekly Breakfast Dish The latest from your Breakfast StockClub Facebook Page From Phill Danze: I did a series of 10 pictures last weekend related to travel and toiletries and got 9 accepted into Dreamstime. Gotta keep at building that portfolio! Stuggling to think of how to get 20 uploads a week though – any tips anyone? See one of Phill's shots here. From Joy Ciaccio: Just sold my first Delray photo of one of the Bollywood dancers on CanStock!! Too cool! [Editor's Note: Learn more about how you can turn your pictures into cash in our free online newsletter The Right Way to Travel. Sign up here today and we'll send you a new report, Selling Photos for Cash: A Quick-Start Guide, completely FREE.]