One of the main skills of a photographer is patience. It is required to capture the photos you want with the best lighting conditions, such as old cobblestone streets lit by street lights in Spain.
However, sometimes it's just not possible to wait for those lights to turn on and you end up snapping a photo that just doesn't capture that special mood you wanted. Like this: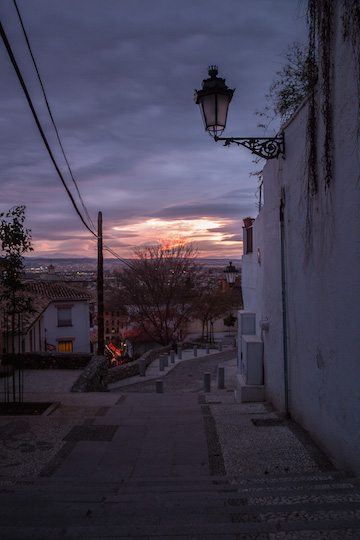 Today, I will show you how to embrace the power of Lightroom and take advantage of some of the tools to light up the street lights and create the mood you want in your photos.
With the photo open in the Develop module in Lightroom, I click on the Adjustment Brush under the histogram and dial in a few settings: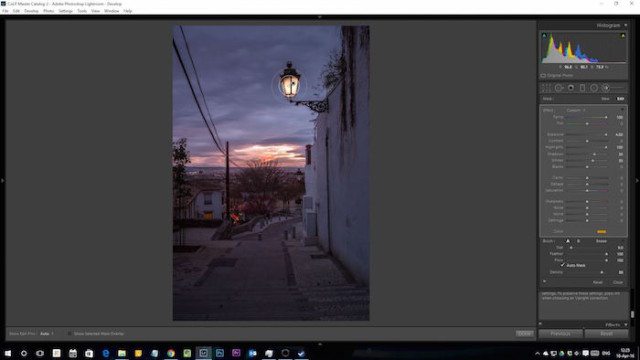 – I increase the exposure slider to the max since it's going to be a bright light.
– I also increase the Highlight to give it a nice glow.
– I push the White Balance slider to the right and pick an orange color to make it look like an incandescent bulb (warm light).
– I make sure the Auto Mask box is ticked, so I don't brighten the sky around the lamp.
With a brush approximately the size of the lamp, I click a couple of times and voila! My street light is now lit.
To make it look more realistic, I use the adjustment brush again to paint some light on the wall on the right side. I use a very big brush, set the Feather to 100 and tone down the exposure to make it a very soft light.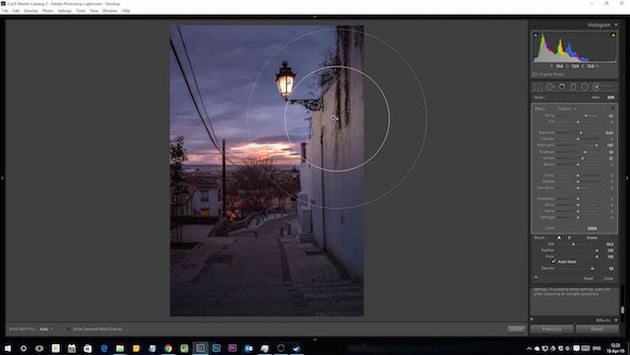 Finally, I use the Radial Filter to create an oval shape on the ground right under the lamp to make it look natural. I make sure the Invert Mask box is ticked in order to affect what's inside the oval, and use about the same settings as the adjustment brush.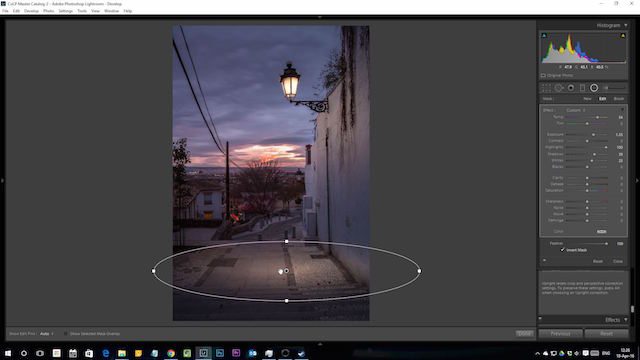 The great thing is, if it's too bright or too dark and doesn't look natural, I can always play with the sliders to achieve the effect I want without having to start all over again.
And, after applying this photo lighting tricks, here's the final result.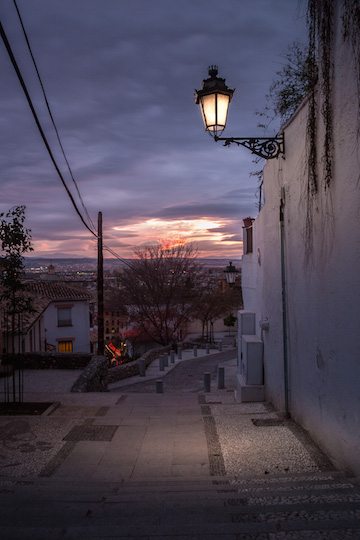 [Editor's Note: Learn more about how you can fund your travels and make an extra income with photography, travel writing, blogging, and more in our free online newsletter The Right Way to Travel.  Sign up here today and we'll send you a new report, Profit From Your Photos: A Quick-Start Guide, completely FREE.]