Whenever we host these live travel writing and photography expeditions overseas, I like to write back to our readers at home and tell them about the things we see and do. This is one of those weeks.
Christina Carpenter here, writing on the last day of our Vietnam & Cambodia trip. 
Here's a picture of us with all of our guides and experts on China Beach – the stretch of white sand that starts at Monkey Mountain and ends near Hoi An…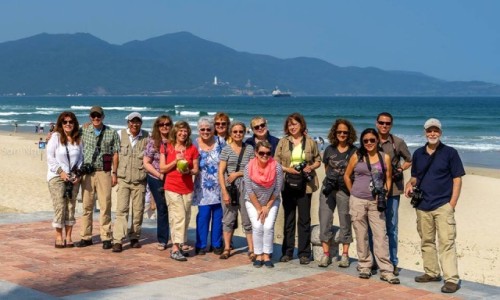 Forbes called it one of the "World's Most Luxurious Beaches."  And, during the Vietnam War, while South Vietnam supported American Troops in the fight against the North, it's here where they offered our soldiers rest and relaxation. Twenty miles of pristine white sand.
Back then, war journals report only one resort on the beach.  Today, it's speckled with some of the most luxurious spas in the world.
We've just finished our farewell lunch in Cambodia.
And, as we sat around the table today, under thatched roofs in a breezy open-air restaurant, I realized that I've never before had such a wide variety of shooting opportunities on a single trip. 
We took our cameras on a cyclo tour of Hanoi. We spent a luxurious night aboard the Dragon Legend in Ha Long Bay. We got up before the sun to photograph Angkor Wat with both elephants and monkeys roaming free. We tried our hand at food photography during an authentic Vietnamese cooking class (I've taken so many cooking classes by now, I didn't think I could be surprised again — but this one was spectacular). We explored a cave and took in the vibrant colors of a water puppet show. And, of course, we took some time to photograph the iconic Vietnamese fishermen casting their nets into the water for fish and the idyllic rice paddies that symbolize Vietnam to so many other countries around the world.
Whew! It was certainly a whirlwind of activity, but we'll have the photos to cherish forever.
And while we started out as relative strangers just 9 days ago, today it was hard to say goodbye. Our tour guide in Vietnam, Son, said it best when he said, "We are not tourists. We are a family of travelers." 
This sentiment really represented our group. And honestly every group I've had the pleasure of traveling with here at Great Escape Publishing.  If you've ever joined us on an expedition, you understand this firsthand, too. 
Our trips are different and I like that. They're so much more than a packaged tour or a city tour you might find through a travel agent. We travel like family. We adjust our schedule on-the-go to make sure we have the best time possible and we get the best photos. 
And there's a certain kind of person attracted to these trips.  We have the same goals. We like to move slowly, and take photos at every turn…never rushing through a site, temple, or monument to simply check it off a must-see list.  
Stay tuned this week as I'll share some of the photos we collected this week from all of our adventures, along with tips for how to take better pictures on your next trip.  
Travel photography is great, because it lets you shoot a little bit of everything, said Efrain Padro, our leading photography guide on this trip. 
From food to architecture, to people, nature, street photography, and portraits…when it comes to travel, almost anything goes!
It's also a great niche to get started in if you don't know exactly what you like to shoot.
Efrain said: If you're not quite sure what you like to shoot, just start taking pictures. A theme will emerge.
Maybe you gravitate toward taking people photos. Or maybe you like detail shots, or landscapes. 
Whatever trend you start to notice, the good news is that there's a market where you can sell those photos.  Travel magazines and newspapers want a little bit of everything and we'll talk a little more about that this week too with some tips I picked up from Efrain. Starting with this tip about capturing fast motion in your photos.
[Editor's Note: Learn more about how you can fund your travels and make an extra income with photography, travel writing, blogging, and more in our free online newsletter The Right Way to Travel.  Sign up here today and we'll send you a new report, Profit From Your Photos: A Quick-Start Guide, completely FREE.]