This shot, from last week's super-fun Stock Photo Expedition in Paris, has a lot going for it: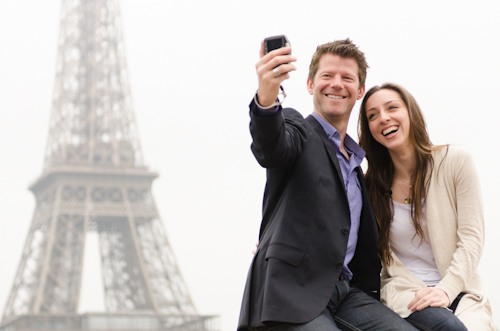 The couple looks natural, happy, and un-posed… it's well exposed… it has a BIG icon in the background…

But it also has one big problem: The models are photographing themselves in front of nothing! The angle makes it look like they're missing the Eiffel Tower in their photo altogether.
This is much better:
In Paris, our small group got to spend four days shooting with stock photographers Shelly Perry and Lise Gagne, both out in the streets in our decked-out Parisian apartment.
You learn so much by shooting alongside the best in the business. You start to see more when you look through the lens. You get faster with your camera settings. And you start to know what makes a stock shot… and what doesn't.
But my biggest take-away from this expedition boils down to one word that I heard over and over from Lise and Shelly: Reality.
More and more, stock photo buyers are looking for images that look real and un-posed.
Each of the above photos looks like a real couple, enjoying a day in front of the Eiffel Tower… but moving so that the Eiffel Tower is behind them makes the second shot more "real" than the first.
When you photograph people for stock, make sure that you:
Ask them to interact with each other. Instead of having your models look at you, let them interact in an authentic way and photograph that.
Don't ask them to smile. "Say cheese" is a quick way to kill a true smile. Know any jokes? Converse with them, and have them converse with each other. Wait for natural smiles.
Consider their surroundings and wardrobe. Do they match with the theme you're going for? Do the surroundings make sense?
Watch for details. In the above shot, simply moving the Eiffel Tower to the other side makes a big difference.
Take your time. It's easy to get excited when you shoot and forget to look at the photos you're taking in the back of your camera. Slow down and look at your composition, exposure, focus, etc. Also, take the time to make sure your camera settings are correct so that you get the shot you need in the end.
Everyone did so well at this expedition! I can't wait to see their photos up on stock sites… and put a few up on mine, too.
Premium members: This month's Breakfast Stock Club Premium Challenge — Shoot and Score: Competitive Sports — ends today! Get your shot in… your monthly critiques and lesson are coming up early next week.
Have a great weekend!
[Editor's Note: Learn more about how you can turn your pictures into cash in our free online newsletter The Right Way to Travel. Sign up here today and we'll send you a new report, Selling Photos for Cash: A Quick-Start Guide, completely FREE.]
Your Weekly Breakfast Dish
The latest from your Breakfast StockClub Facebook Page
More photos getting accepted… more sales coming along. Love to hear it — keep it up!
FromDeborah Kolb: Wow, just sold an image on Shutterstock for $28.00 – Images Printed on a Backup CD. This is a picture I took in Florence Italy as I passed an Ice Cream shop.
From Paula Ohreen: I set myself a goal of selling at least 5 photos in May (not overly ambitous, I know, but a goal nonetheless). Goal achieved this morning. Whoo hoooo. All sales with Fotolia.
Later update from Paula: Yay. Surpassed my May goal. Just sold my first photo on Dreamstime and it's my favourite photo. Had to pay my daughter a twoonie to pose for me, and almost made that back with this sale. Looking forward to seeing this show up somewhere special.
From Deidre McConnell: Motivation from Phoenix keeps going strong. Submitted to 2 new agencies and have a long shoot list for the next little while!
From Julie Smith L'Heureux: I finally sat down and submitted 4 images to big stock. All were accepted. Two from monthly challenge and one from Phoenix – architecture shot. Now to keep uploading.