Why Does This Weird Photo Sell?
Think you could take a photo like this?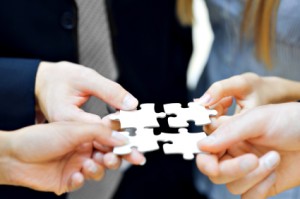 This photo has sold over 7,000 times on iStock! If we guess around a $1 per image download, that means it's made over $7,000… likely more. What is it about this strange photo of people holding blank puzzle pieces together that makes it sell so well? I asked stock photographer Andrea Gingerich to share her expertise as a stock photo inspector. See what she said, below… — Bonnie Bonnie Caton Great Escape Publishing Breakfast Stock Club [Editor's Note: Learn more about how you can turn your pictures into cash in our free online newsletter The Right Way to Travel.  Sign up here today and we'll send you a new report, Selling Photos for Cash: A Quick-Start Guide, completely FREE.] What Makes This Simple Photo Sell By stock photographer Andrea Gingerich When I look at this image, there is no doubt that "stock photography" is the first thing that pops into my mind.  This is not an image that a photographer would typically create just for the fun of it.  It is a conceptual photo, but the concept is wide enough that the photo could be used for several types of audiences: business, education, relationships, etc.  Images that can be used in many ways will likely sell well. While we can't see the faces of the people in this photo, we are aware that there are four people…four people who are interacting together. Ok, let's face it, you wouldn't typically stand around holding together four puzzle pieces with your friends, but the message for this photo is very clear.  And photos that portray a clear message to viewers are a highly sought item. And finally, the composition and lighting of the image is perfect!  The photographer filled the frame with the subject, but found just the right angle so that the viewer can see that there are four people standing together.  In addition, the colors and lighting of the image are pleasing to the eye and therefore, pleasing to buyers. Note that the puzzle pieces are a generic white, too.  This gives designers the option of overlaying their own design or logo onto the puzzle pieces.  And that makes it even more useful. Your Weekly Breakfast Dish The latest from your Breakfast StockClub Facebook Page If you're on facebook, "like" our page and join in on the fun! *** Last week, we asked Breakfast Stock Club members on Facebook for links to the very first image they got accepted into an online agency.  Lots of members replied.  But not all of the photos were used in today's article for The Right Way to Travel. Here are a few more "first photos": Gwendolyn Morton's first accepted photo was a beautiful monarch butterfly here. Paula Ohreen's first accepted stock photo was an elegant photo of satin sandals. Kelly Schaub's first accepted photo at Alamy was a colorful old brick warehouse.