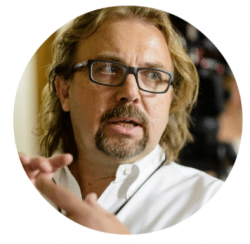 This week I'm sharing money-making tips that work for me, and that can work for you as well. 
With just a DSLR or mirrorless camera and a tripod, you can start to earn generous paychecks… using many of the same principles you already know from photography.
Here are 10 simple-but-necessary steps to creating great, saleable video with your camera:
Put your camera on "live mode" and "movie mode," so you can see what you're shooting using the monitor on the back of your camera. Or, if you shoot with a mirrorless camera (which is great for video), the viewfinder is electronic so you can keep your eye to it while you shoot video. Then, in the menu, set the camera to the highest quality movie setting you have available – 4K or full HD.
Also in the menu, set the Frame Rate. I suggest using 24p which is the most popular and will result in more sales.
Set the shutter speed to be double the frame rate. So, if you're shooting 24p, the correct shutter speed would be 1/48, but since you don't have that on your camera, you should use 1/50. If you shoot 30p, use 1/60. Got it?
Always use a tripod and turn your lens stabilization on.
Put people in your shot. Lifestyle shots, whether people at work, at home, or on the road, will sell better than scenic shots. People make the shot more interesting, and that will make your shots sell better. (Yes, you will need model releases!)
The rules of composition that you learned for still photography also apply to video, so pay attending to your framing and remember the Rule of Thirds.
Don't pan or zoom until you get good at shooting video. Keep the shot steady.
Hold your camera horizontal – no vertical video shots!
Shoot for at least 10 seconds and no more than 30 seconds. Don't overcomplicate things or try to do too much with the shot. Short and simple sells.
Now, pull out your camera and try shooting video with it. The best tip is to practice. The more you shoot, the better you'll get, and the more clips you'll sell.
This is a technique I've used to create videos that sell on stock sites… and tomorrow I'll share with you how I turn one sale of stock video into three to triple my earnings. See you then!
[Editor's Note: Learn more about how you can fund your travels and make an extra income with photography, travel writing, blogging, and more in our free online newsletter The Right Way to Travel.  Sign up here today and we'll send you a new report, Five Fun Ways To Get Paid To Travel: A Quick-Start Guide, completely FREE.]