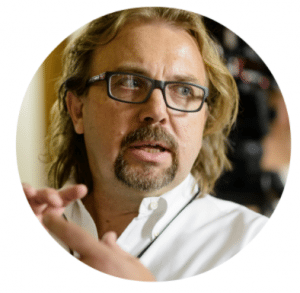 You and I have something in common.
If you're reading this, I assume you like to take pictures or videos… and perhaps a little writing… and you like getting paid to do it!
I'm the same.  But for me, I don't just like getting paid, I need to be paid. 
This isn't my hobby or something I use to get free travel – this is my livelihood, my career. This is how I pay my mortgage and put two daughters through college. It has to work.
I'm primarily a documentary filmmaker and photographer. I spend two or three weeks on the road shooting a story and then return to my home office to edit it and deliver it to the client. 
Video — in addition to my still photographs, my sense of adventure, and my humanitarian desire to make the world a better place — has made me a well-sought-after freelancer.  But there was one day in particular when I realized the value of just what I do in dollar terms and how valuable the camera settings I use can be to you…
I was editing a video for a client when I realized I was missing something I neglected to shoot on location. I was on a deadline and I found myself not having the video clip I really needed. 
I turned to Google and searched for video with a few well-chosen key words. And, amazingly, a few shots that would work very well to meet my need popped up from iStock. 
I had been selling still photos on iStock for years, and I never noticed that they listed video.  But there they were — the clips I needed to finish my project without returning to the destination.  And although they were pricey, I bought them anyway because I was under a deadline. 
The edit was completed well, my client was happy, and I started to research the video stock market. 
I realized that if I needed to turn to stock video to save me in the middle of an edit, there must be many filmmakers who are in the same dilemma and willing to pay the higher costs to bail themselves out of their problem. 
I decided that I needed to get on the other side of this equation. Instead of paying for someone else's shots, I needed to be paid for my shots.  So I sat down to do the math.  
If you're exclusive on one particular stock site, this is an example of what video could make compared to still photos: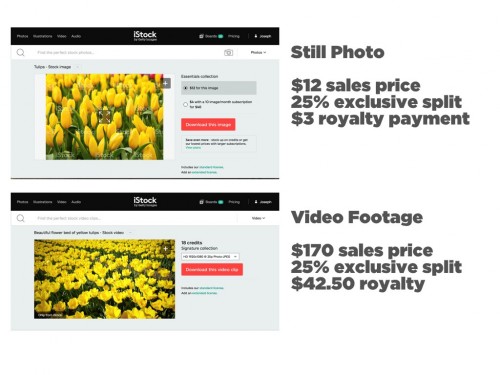 That's 14 times the income for each video sale than if you were selling photos alone – just by changing the settings on your camera to video mode instead of aperture priority… and adding some simple steps to your workflow when it comes to processing them. 
What are those steps? I'll list them out for you this week so stay tuned.  In the meantime, let me plant this seed – I make a full-time income selling my videos, photography, and writing.  I do not have another job.  I'm marketable because I can offer all three things to each and every one of my clients.  Tomorrow I'll share my number-one secret on how I do this.
[Editor's Note: Learn more about how you can fund your travels and make an extra income with photography, travel writing, blogging, and more in our free online newsletter The Right Way to Travel.  Sign up here today and we'll send you a new report, Five Fun Ways To Get Paid To Travel: A Quick-Start Guide, completely FREE.]