One of the most exciting things about traveling the world, camera — or video camera — in hand, is the opportunity to surprise your audience with a video that may lure them to a destination they may never have considered before…
Let's take my recent trip to Brussels as an example…
While Belgium's capital city is home to the European Parliament, it doesn't draw as many tourists as other European cities like Berlin, Amsterdam, Paris or Rome. However, this is often what attracts me to a city.
A location like this gives you a chance to bring a lesser-known city into the limelight and showcase its beauty and individuality. Best of all, you get to capture it without hordes of tourists on every corner.
To get the best travel city videos from a trip like this, you want to make sure to cover the following three bases:
1. ICONIC BUILDINGS
When you're in a city, you need to shoot as many of the main buildings and attractions as possible. Naturally, in Brussels, the European Parliament was on my list, and I was granted an official press pass in order to film the parliamentary hall.
Another iconic image of Brussels is the Atomium — a building in the shape of an atom where visitors can explore the different spheres that make up the atom via connecting passageways with escalators. Inside the spheres are art exhibits and more information on the peaceful use of atomic energy. Since the building is quite high and outside of the town center, it also affords a panoramic view of Brussels, making it a great vantage point for an introduction shot to Brussels.
Right next to the Atomium is Mini-Europe where visitors can see each of the European capitals in miniature and get an idea of the diversity and culture of each of the European nations. It's also great fun to play around with those small buildings and try to make them look like the real thing.
2. FUN ATTRACTIONS
As you work out an itinerary for your own trip, be sure to include some lighter entertainment.
In Brussels, my favorite activity by far was visiting a water theme park, complete with water slides and wave generators. I strapped on my GoPro action cam and tried out every single one of the water slides.
This experience made for really diverse images in a video that is laden with culture and buildings.
3. SMALL DETAILS
Just as important as filming the big picture is slowing down to capture the smaller details… something iconic like a Belgian waffle drizzled in syrup or dusted with sugar… or one of the city's quirks – like the "Manneken Pis," a small statue of a boy peeing into a fountain.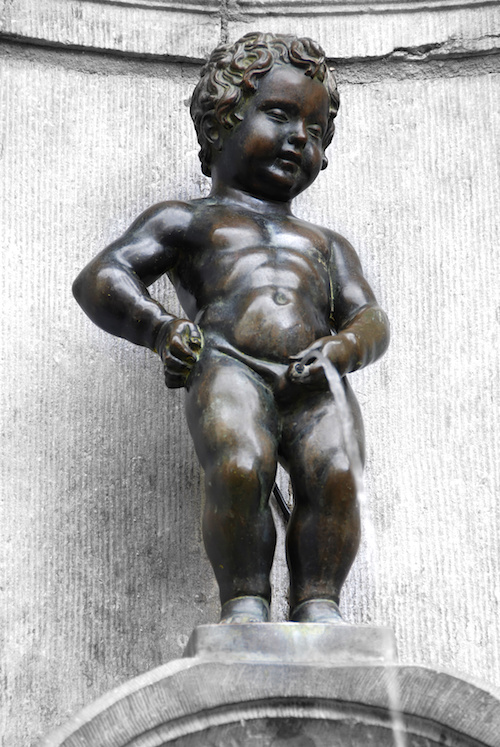 It's easy to take these shots as you relax over food. In the evenings, my girlfriend and I would take close-ups of the assortment of local beers and cheeses we sampled.
Close-ups like this add detail and texture to travel videos but they are often missed by beginners who tend to concentrate on wide and medium shots. Taking time to capture these little things will help to put you ahead of the competition.
[Editor's Note: Learn more about how you can turn your pictures into cash in our free online newsletter The Right Way to Travel. Sign up here today and we'll send you a new report, Selling Photos for Cash: A Quick-Start Guide, completely FREE.]