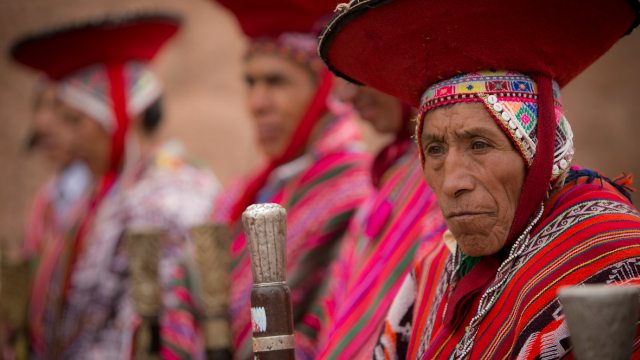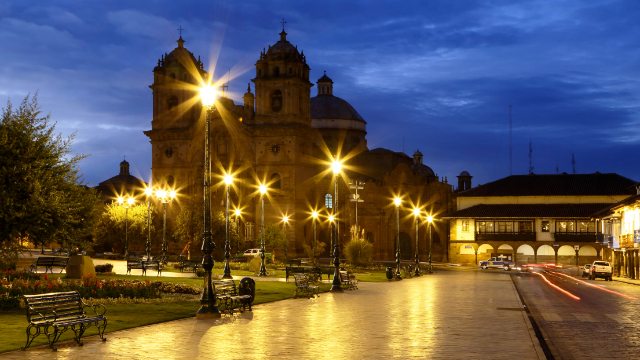 2016 Peru Photography Expedition (SOLD OUT!)
Experience the Excitement of the Photographer's Life…

Explore the Color-Rich Markets
of Peru and the Breathtaking
Splendor of Machu Picchu with a Professional Photographer by Your Side
Join us on the adventure of a lifetime while you learn from a professional photographer the techniques he uses to shoot pictures that sell for $150, $1,500, and more…
Get all the insider secrets and tips you need to hone your camera skills, so you can turn your photos into profit wherever in the world you go (even when you're staying home)… and do it faster than you ever dreamed possible…
Experience the ancient beauty of of Peru's Sacred Valley… from iconic Machu Picchu at first light… to the traditional weavers at work in villages that time has long forgotten… to the colonial streets of Cusco, the old capital of the Inca Empire…
Capture all of these moments in saleable photos (instead of typical tourist snapshots) and enjoy the freedom, independence, and travel opportunities that freelance photography delivers…
If you've ever dreamed of seeing your travel photos – along with your name – spread across glossy travel magazines… If you long for the type of career (or sideline) that allows you the luxury of traveling whenever you like and living wherever you choose…
Then now's your chance to have it all…
Join us in the UNESCO World Heritage Sites of Cusco and Machu Picchu this May to photograph and explore some of the country's most dramatic locations in the company of a professional photographer ready to share his hard-won insights and secrets.
From its breathtaking natural landscapes to its charming people in their vibrant hats and shawls, this is a place that will tug at your heart-strings… and have you pointing your camera at every turn.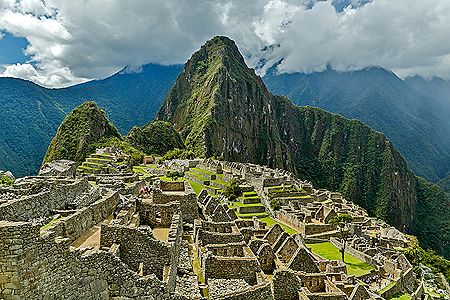 You'll visit 'One of the world's great wonders'
I assure you, not only will you come away with a real passion for Cusco, Machu Picchu, and the villages of Peru's Sacred Valley – having discovered them with a photographer's eye – but you'll also learn all the ins and outs you need to take amazing photos… and sell them.
Whether you have little experience and modest equipment or you're already a talented amateur photographer, you'll really benefit from this expedition. The bottom line is: You don't need to have a $1,000 camera to take photos you can sell for $150… $500… or more. And this May 20-26, 2016 in Peru, we'll show you exactly how it's done.
Discover the Skills and Secrets You Need
to Turn Your Snapshots into Cash…
and Your Travels into Paid Vacations…
This focus of this expedition is to improve your photographic skills and show you how to get your images into magazines.
Instructor Efrain Padro is a full-time professional photographer specializing in travel photography.  His photographs have appeared in Outdoor Photographer, Frommer's Budget Travel, Geographic Expeditions catalogs and other publications. He is the author of The Photographer's Guide to New Mexico, and The Beginner's Guide to Magazine Photography: Professional Secrets for Fast Results which ranked as a Kindle best-seller last year.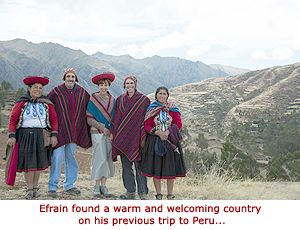 And not only is he a talented photographer, he's a phenomenal teacher. His patience, knowledge, and sense of humor will ensure a fantastic experience.
Not to mention that he led last year's Peru expedition… and has taken personal trips to Peru before, and sold images from his experiences here. He knows where to be… and when… to catch things in their best light… and, he'll walk you through his own processes, step by step, from how to compose a professional, eye-catching photo to how to go about selling it as editorial, on stock sites, or even as fine art…
On the ground, over these six days, with Efrain right by your side, you'll discover everything you need to…
Capture the best possible pictures every time no matter what kind of camera you have.
Get dramatic improvements in the photos you take (without having to digest your camera manual)…
Take a great shot each time, thanks to pro tips on composition… on shooting at different times of the day… even on how to get great photos under compromised conditions…
Make your photos even more saleable in a matter of minutes with a couple of tweaks here and there in photo editing…
Discover how to research and find the appropriate magazines to market your work, including the best places to get started…
Use Efrain's insider advice to prepare your submissions and maximize your chances of selling your pictures… so sooner than you thought you can land a pay-check and see your photos in magazines…
Return home with the skills and know-how to sell the photos you take on this trip…
And much more…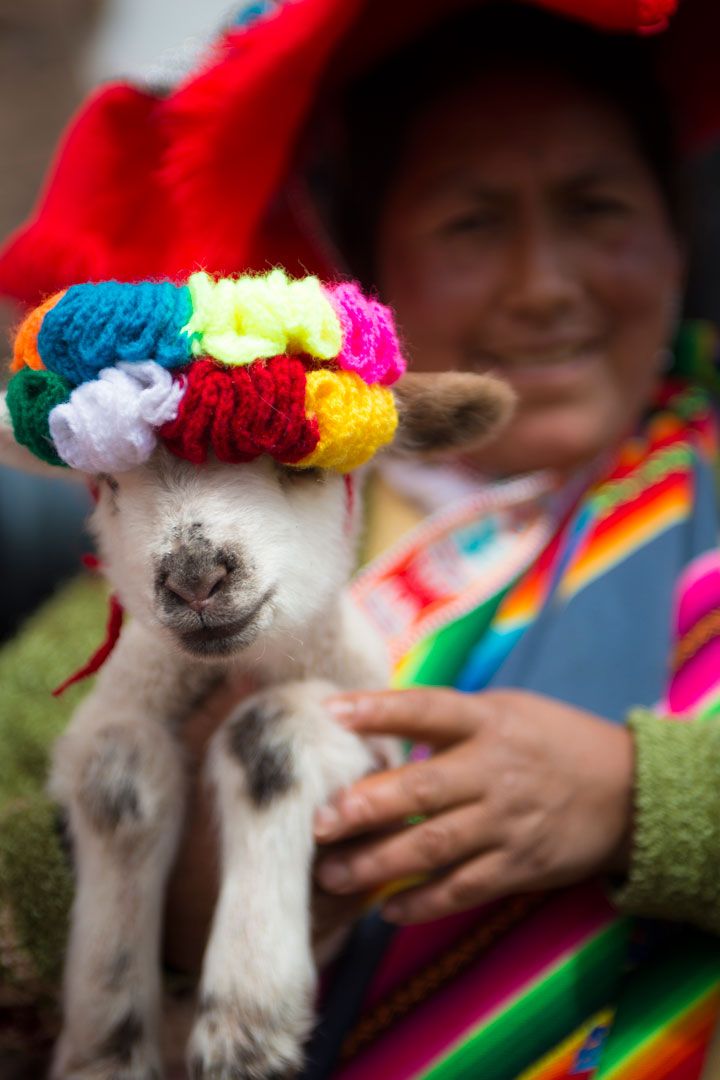 On a camera-in-the-hand, boots-on-the-ground expedition like this, you'll learn in a fun way… among new friends… and absorb the skills faster than you could ever imagine!
You'll draw inspiration from the ancient beauty, dramatic landscape, and people around you… and, return home with a whole new set of skills, and the insight to capture the special photo opportunities you can sell again and again… including those in your own home town.
Not to mention all the memories and friendships you'll treasure from this trip of a lifetime…
This is a country that will inspire you at every turn. With professional help at your side, you'll go from capturing iconic Machu Picchu at sunrise to the ancient ruins in the Sacred Valley of the Incas… experiences most people only dream about…
Immerse yourself in a vibrant indigenous culture, among locals who go about their daily chores in traditional clothes of striking color… and women with their long dark braids selling exotic flowers and vibrant powdered dyes in the artisans' market…
In your down time, you'll have a chance to weave your way through bustling markets and take home some wonderful treasures as gifts… and to savor some traditional street fare like anticucho (deliciously cooked meat on a skewer—though you might want to give the "cow heart" variety a miss), salchipapa (sliced Peruvian hotdog with fries, smothered in ketchup, mayo, mustard, and aji sauce) or the ever-present and popular roast pork sandwich…
We'll be based within walking distance of Cusco's historic Plaza de Armas.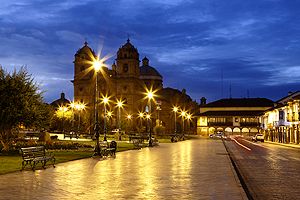 The former capital of the Inca Empire and a UNESCO World Heritage Site, Cusco is known for its mixture of Inca and Spanish Colonial architecture, churches built on top of ancient granite walls, and narrow cobblestone alleys leading to charming neighborhoods.
Using our hotel as a base, we'll explore the city's inner core and photograph the many nearby attractions, including the Plaza de Armas, flanked by magnificent churches; the Koricancha, whose interior was said to have been covered in gold; and the mighty Inca fortress of Sacsaywaman, with its massive granite walls.
From Cusco we'll also take day trips in our private transport to the colonial village of Pisac to visit and photograph its Sunday market as well as Inca ruins; to the weavers' village of Chinchero; and the colonial town of Maras, home to the Inca salt mines.
The highlight of the trip will be our visit to the magnificent Inca citadel of Machu Picchu, located in what locals call "the eyebrow of the jungle". Before taking the train to Machu Picchu, we'll explore the Inca ruins at Ollantaytambo.
As a special treat, we'll spend one night in Aguas Calientes, the village located below Machu Picchu, instead of visiting the site as a rushed day-trip like most tourists.
And, unlike most tourists, we'll get to visit Machu Picchu TWICE — once at sunset and once at sunrise — to be sure we get the shots we need in case fog moves in during one of our visits. You will be blown away by this world-class site at different times of day.
It's safe to say that while exploring Cusco and Machu Picchu, you can't help but find something to photograph everywhere you look. And that's why we have chosen this unique destination for our photography workshop this May.
By the time your trip comes to an end, you'll be dazzled by your own photos… and so will your friends (not to mention photo buyers) when you get home.
Learn How to Capture Architecture, People,
and Landscape Shots That Will Sell
You'll find this expedition fast-paced and fun, and you really will see this destination in a way you never could as a regular tourist. We have a full itinerary planned for each day and most of the workshop will be done out and about on foot, so you'll need to be prepared for high-activity throughout the week.
You'll benefit from unique one-on-one instruction on a daily basis, both during shoots and the review sessions. It's this kind of learning experience that can improve your skills in record time.
And you'll learn about which types of subjects sell best for editorial in magazines, including architecture, people, landscapes and still life (food, signs, etc.).
Almost every day, there'll be special group photo reviews, where you'll learn what you're already doing well and what you can do to improve your photos and bump up your success.
What's more, every attendee will have access to pre-recorded videos when you return home that show the ins and outs of photo-editing software like Adobe Lightroom and Photoshop – so even your less-than-perfect shots can be sold for a by-line and a check.
Whether you have little experience and modest equipment or you're already a talented amateur photographer, you'll benefit immensely from this expedition. 
Efrain will provide you with the insights you need to really put your camera to work for you and, once you've captured the shots you want… how to sell them.

This is your opportunity to experience (and photograph) a vibrant, colorful, exotic culture…
Here's a run-down of what you can expect …
Day 1 (Friday)—Introductions and Short Presentation
We'll meet in the afternoon in the hotel lobby to enjoy a cup of coca tea and get right down to business. After introductions, an overview of the upcoming schedule and looking through some of Efrain's favorite shots of Cusco, you'll be eager to get out and explore. But before you do, he'll take you step-by-step through the right camera settings and show you how you can use your camera to turn an average vacation snapshot into a photo worthy of wall space and a magazine cover.
Later in the week, you'll also learn what you need to be a magazine travel photographer … and how to go about finding a market for your photographs.
Tonight we'll wind down the day with a twilight shoot at the Plaza de Armas… and you'll have a chance to explore more local restaurants and bars… according to your energy levels….
Day 2 (Saturday)—Qorikancha and Sacsayhuaman
This morning you'll walk across the street from the hotel to reach Qorikancha, or the "Temple of the Sun". You'll enjoy playing around with your camera at the most important place of worship in the Inca Empire. The Inca temple was converted into the Church of Santo Domingo but the interior still features the best example of Inca architecture in South America.  Afterwards, you'll wander with the group through the cobbled streets of Cusco, where Spanish Colonial architecture meets the ancient Inca walls.
Next, we'll take a short ride to the Inca military fortress of Saksaywaman, located high above Cusco.  Made of massive granite stones weighing up to 125 tons, Saksaywaman boasts a double wall in a zigzag shape, a large ceremonial plaza, and spectacular views of Cusco and the surrounding mountains.
Day 3 (Sunday)—Pisac Market and Inca Ruins
This morning, we'll head to the charming colonial village of Pisac to photograph its colorful Sunday Market, featuring both an artisans' market and a locals' market. Here you can feast your eyes (through your lens) at alpaca clothing, carved wooden figures, and leather goods in the artisans' market… while you'll find fresh fruit and vegetables, flowers, dyes, and more among the locals' offerings. Pisac's Sunday Market is also a great place to photograph Quechua Indians dressed in traditional clothing and even get a glimpse of local elders as they arrive at the church for a mass in the Quechua language. You'll also find some pretty special gifts for friends and family back home.
After lunch, we'll make our way to the Inca ruins above town. Best known for agricultural terraces, the Pisac ruins also boast a ceremonial center, temples, and spectacular views of the Urubamba Valley below. After our visit to Pisac, we'll make our way to the heart of the Sacred Valley and check into our hotel, taking some time to rest and relax.
Day 4 (Monday)—Ollantaytambo and Machu Picchu
Today we'll explore the village of Ollantaytambo, the best example of Inca city planning, featuring narrow cobblestone streets flanked by Inca granite walls. Inhabited since the 13th Century, "Ollanta", as the locals call it, is located in the shadow of the Ollantaytambo Ruins and represents the only place where the Incas won a major battle against the Spanish conquistadores. Here you'll climb the ruins' terraced hillside, visit its temples and housing complex, and enjoy panoramic views of the town below and the Urubamba Valley.
In the late morning, we'll hop a train to Machu Picchu, a UNESCO World Heritage Site and the best-known archaeological site in the continent. Our 90-minute train ride will take us through the spectacular river gorge as the Vilcanota River cuts its way down towards the Amazon. Our ride ends in Machu Picchu Pueblo, formerly known as Aguas Calientes, a small village with a funky vibe that serves as the base for visitors to Machu Picchu.
While our bags are transported from the train station to the hotel, we'll take a bus to Machu Picchu, the fabled Inca city that was never found by the Spaniards and virtually forgotten until its "rediscovery" in 1911. Inside the citadel, you'll spend some time photographing the site's many ancient temples, housing complexes, plazas, tombs, baths, and more. Imagine yourself, camera (and expert) by your side as you capture the magic of Machu Picchu in your own unforgettable images… What an amazing experience!
We'll end the day with a photo review in our hotel, and after, you can relax at your own pace, with dinner at one of the restaurants near the hotel. Warning: This is not a night to stay out too late…
Day 5 (Tuesday)—Machu Picchu and Cusco
This morning, we'll be up early to catch the very first bus to Machu Picchu. You'll get to experience the awe-inspiring beauty of Machu Picchu at first light from the famous overlook offering the "classic" view of the ancient ruins. After a full morning of exploring and photographing Machu Picchu, we'll take the bus to Aguas Calientes to grab some lunch.
Next we'll return to Cusco and relax at the hotel.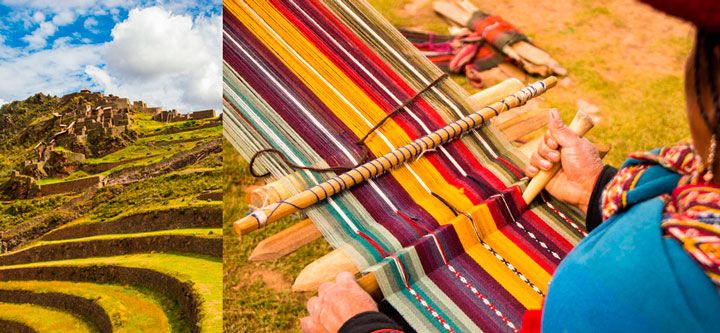 Copyright: Diana Ruddick from 2015 Peru Photo Expedition
Peru boasts a wealth of colorful and dramatic sights for you to capture
Day 6 (Wednesday)—Chinchero, Maras, Moray & Pre Inca Salt mines
This morning, we'll drive about 30 minutes to the Village of Chinchero for a weaving demonstration by Quechua women artisans. The weavers will explain how they prepare, dye, and finish the wool, how they make soap, and more. You'll be free to photograph the entire process. Afterward, you'll have the opportunity to buy some of their beautiful textiles directly from the artisans.
After visiting the weavers, we will drive to nearby Maras, and visit the Inca salt mines; thousands of above-ground salt pools, dating back to pre-Inca times.  We will even have a chance to buy some salt from the mine while we're there.
After our trip to Maras, we'll drive back to Cusco, arriving late afternoon.
Before dinner, we'll have our final photo review, followed by a presentation on how to get your work published in magazines, with tips from Efrain on how to find magazines, how to approach them, how to submit your work for maximum impact, and more.
To end the evening, we'll get together for our farewell dinner (on us) at Chicha, one of the best-loved restaurants in town.
Day 7 (Thursday)—Departures
Fly home from Peru, or extend your visit in this extraordinary country and do some exploring on your own.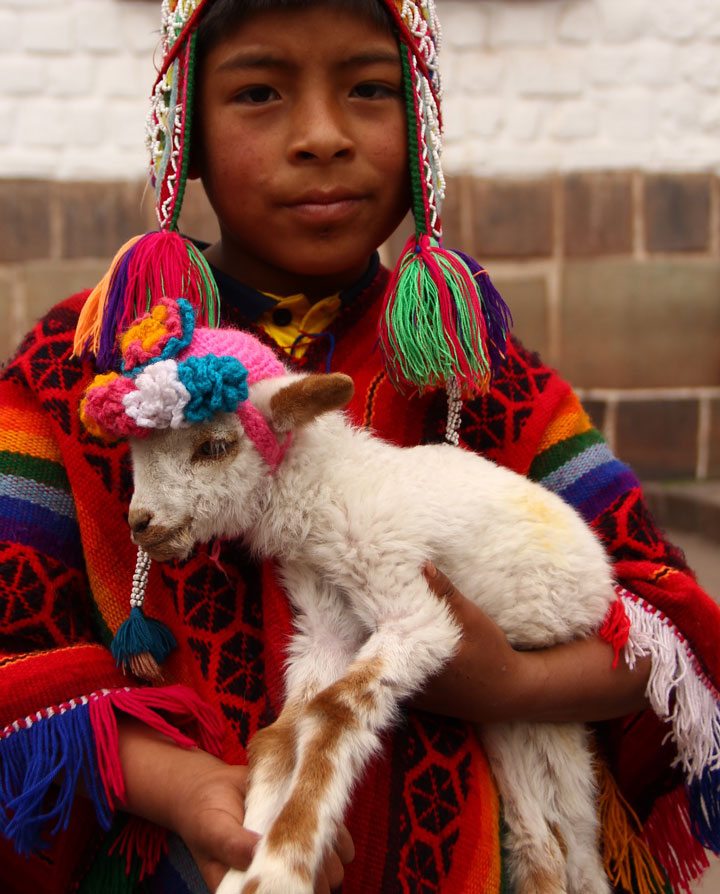 Copyright: Colleen Bessel from 2015 Peru Photo Expedition
Note: Our workshop schedules are always subject to change due to weather, construction, and other unpredictable events. The primary focus of this workshop is on photography and areas that are good for travel photographs.
Efrain, who'll be your guide in Peru, brings with him many years of photography experience. He's created a systematic approach to learning photography that anyone can follow… without fancy equipment, or years of training …
And he'll share it with you and our small group of 12 attendees, over six days of hands-on, intensive learning you couldn't get anywhere else.
The information you'll gain at this workshop could, quite literally, change your life…

For more details on itinerary, pricing, and instructors, click on the links at the top of this page.
Pricing and What's Included in
Your Six-day Peru Expedition
Full Price: $3,997 per person
Early Bird Discount: Save $300 with our Early Bird Discount when you sign up today.
The full price of this workshop is $3,997 but you'll pay just $3,697* when you add the $300 Early Bird Discount and register today. 
(*Note: Additional discounts may apply. You can click through to the registration form at the link below to learn more.)


Easy Payment Plan: What's more, if you'd like to take advantage of our easy payment plan, you can register today for just $898 down.
Here's how it works:
Reserve a seat on the expedition for just $898 when you put your name on our attendee list today.
When you do, you'll automatically lock in the discounted workshop price of only $3,697* – a full $300 SAVINGS for you! (*Note: Additional discounts may apply.)
For each of the three months to follow, we'll bill your credit card for $933. So you spread out the payments comfortably between now and when the workshop starts in May.
What's more, if your spouse or a guest would like to join you, he or she can do so for just $2,897.
Again, space is limited for this once-in-a-lifetime trip. I strongly urge you to sign up today. It could be years before you get another opportunity to explore Peru, with such a small group of like-minded people – and, with an expert photographer by your side!  
We've had a number of requests to save seats already — this program will fill up quickly!
Bring your non-photography spouse or friend
What's more, we know your non-photographing spouse or friend is not going to stay at home while you embark on the adventure of a lifetime. They can pay just $2,897 when they share your room and experience all the drama and adventure of Peru right by your side.
Children must be 12 years old or older or otherwise have written permission from us to attend.
The registration fee for the workshop includes:
Admission to six days of intensive class sessions geared to produce photos you can sell…
All walking photo tours plus optional sunrise and night shoots…
Special presentations and live demonstrations by highly-regarded photographer, Efrain Padro plus plenty of attention and hands-on help in the field…
Transportation to and from all photo shoots…
Six nights' hotel accommodation…
And a special farewell dinner at a favorite restaurant in Cusco.
Your Registration Does NOT Include:
Meals not listed already listed above (allow $20 a day for this depending on whether you want fine-dining experiences or local eats)
Airfare to and from Peru
Airport transfers
Equipment – you must bring your own camera and accessories (e.g., memory cards, tripod, etc.)
What to Bring:
Your passport
Your camera
Spare batteries and charger (plus an adaptor and/or transformer if needed)
Spare memory cards
Your laptop
Extra memory or external hard drive, if you have one
Layers and comfortable shoes for walking

For more details on itinerary, pricing, and instructors, click on the links at the top of this page.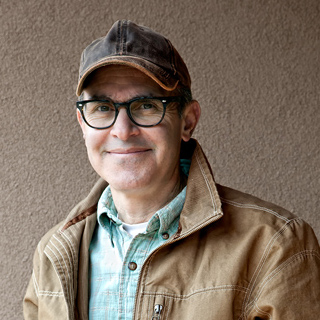 Efraín M. Padró is a full-time professional photographer specializing in nature and travel subjects. Born and raised in San Juan,... [Read More]
Testimonials
"Efrain is very knowledgeable and easy to talk to. He explains everything so that you understand, and he has a lot of patience."
– Linda Brooks
"These workshops are a wonderful opportunity to travel to a new locale and explore while learning a new skill."
– Sandra M.
"Efrain was wonderful – so easygoing and helpful. He spent so much time helping everyone one-on-one. He also has a great teaching style – He's super humorous. I loved him!"
– Lynn Michels
"The workshop was fun. I learned a lot… I met interesting people and I became excited about trying to make money from photography. The workshop is an excellent value and provides information that is difficult to acquire in other ways. It was an excellent opportunity to try different kinds of photography."
– Susan H.
"Efrain is very knowledge ­able, approachable, very involved with students and willing to share his secrets – He gave the best tips of the trade."
– Joy Spring
"Efrain Padro was a 10! He is a very dynamic speaker and brought great new knowledge and ideas on getting published."
– Sarita Simmons
Prerequisites:
All skill and experience levels are welcome, and the concepts introduced are doable by anyone. Point and shoot cameras are welcome.
Activity Level:
This is a high-activity expedition with daily walking on uneven ground and some hills and stair climbing. Keep in mind that Cusco and the surrounding area are at high altitude, as well.

For more details on itinerary, pricing, and instructors, click on the links at the top of this page.
← View All Events