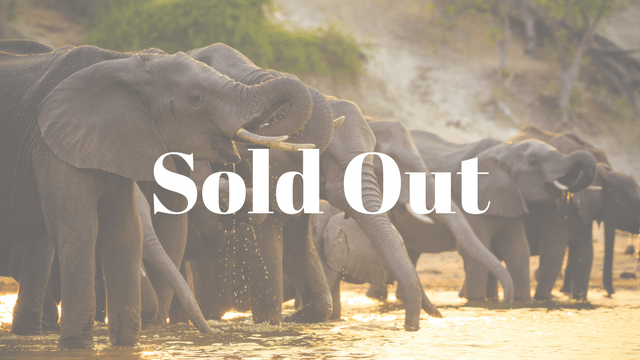 2017 Botswana Photography Expedition

Explore the Crown Jewel of
Safari Destinations…
with Two Professional Photographers
by Your Side
Join us this November as we journey through the wilderness of Botswana by boat, jeep, and horseback…
You'll get up-close with lions, cheetah, and leopards roaming freely across the wetlands and on horseback, ride side-by-side among zebras and giraffes, taking amazing close-up images of the animals in their natural surroundings.
You'll glide past hippos and buffalo on the Chobe River keeping an eye out for crocodiles wading in the water, searching for the perfect catch…
You'll experience the rare opportunity to walk and interact with African elephants. And you'll do this all with not one, but two professional photographers by your side, providing tips and guidance sure to have you snapping images you can sell for $50, $150, $500 or more, when you return home.
With your camera in hand, you'll capture the beauty and wonder of Botswana – the coveted destination of safari guides across Africa. You'll watch your photography skills improve daily… and return home with the skills and know-how to sell the images you take on this trip as stock, fine art, or to turn it into a full-time career.
The Okavanga Delta, known as Botswana's Jewel, is an emerald water-world full of wildlife. An oasis of winding channels, open flood plains and lily-pad lagoons, the scenery constantly changes as the water level rises and falls, offering ever-changing mirrored landscapes that are home to lions, leopards, elephants, antelopes and birds.
This November 12-20, 2017 is your chance to be part of a small group of like-minded photo enthusiasts, capturing images of these stunning landscapes, tracking massive herds of elephants along the Chobe River, and witnessing lions on the hunt.
Whether you're already an experienced photographer or are just beginning, you will benefit from the one-on-one instruction from our experts.

For more details on itinerary, pricing, and instructors, click on the links at the top of this page.
Here's a run-down of what you can expect…
Day 1 (November 12): Kasane Airport to Maun
You'll schedule your flight to arrive at Maun Airport (MUB) on this day or the day before and transfer to our Maun accommodations – the Royal Tree Lodge.
The Royal Tree Lodge is located on a small game farm near the entry point for many expeditions into Botswana's wildlife areas.
Our safari tents are fan-cool and spacious with ensuite bathrooms and a luxury bathtub. Each tent has a wooden deck built into the surrounding trees and most have the option to shower safely both inside your tent and outside on the deck.
For most flights from the United States to Botswana, you'll need to budget an extra day for flying. (For example: to arrive on November 12, your flight should depart the U.S. on November 10).
Day 2 (November 13): Class and Game Drive within the Reserve
In the morning after breakfast at the lodge, we'll gather for our welcome, introductions, and orientation. You'll have the chance to meet your instructors and fellow attendees to go over the schedule and photography basics to get you started for the week.
After class we'll head out for our safari on horseback at our own private game reserve where there are no predators…
It means you get to ride alongside zebras and giraffes, face to face, without the fear of lions, leopards or cheetahs.
You can also walk freely along any of the walking trails, finding ostrich, giraffe, zebra, gazelle, kudu, and more.
You'll meet zebras with shadow stripes — unique to this area of Africa — and giraffes with wrinkles as they've grown old without the fear of predator attacks.
Very few travelers ever get the chance to experience these rare phenomena, and you'll do it all, camera in hand. Capturing wildlife images so close, you can see the twinkle in their eyes.
Day 3-5 (November 14-16): Walk Among Elephants – Stanley's Camp and Game Drives
In the morning on Day Three, we'll take a short flight to Stanley's Camp, a sanctuary on a private reserve located along the Okavanga Delta.
Here, you'll have the super-rare opportunity to walk among ginormous African elephants who live nearby.
It's here that you'll meet three orphaned elephants, Jabu, Thembi and Morula, and have the chance to interact with them in their natural environment – a truly awe-inspiring and humbling experience.
The foundation, Living with Elephants, is dedicated to creating harmonious relationships with people and elephants, and founders Doug and Sandi will share with you the story of these three rescued orphans as you enjoy their company and celebrate their incredible survival.
When you're not walking with Jabu, Thembi and Morula, you'll enjoy daily game drives in the morning or late afternoon in open-sided Jeeps, taking in the ever-changing terrain of the Okavanga Delta.
Each day as you set out with Carli and Bonnie by your side, you'll learn the settings you need for creating sharp, saleable images you can sell when you return home.
You'll spend two nights here at Stanley's camp, where you'll sleep comfortably in luxurious safari tents with handcrafted wooden furniture, fine linens, and oriental rugs, along with an ensuite bathroom and private balcony.
Day 6-8 (November 17-19): Chobe River Safaris
In the morning on Day Six, we'll head back to the airport and fly to our camp along the Chobe River.
The famed Chobe River is undoubtedly one of Africa's most beautiful safari locations. Deep and dazzling, this river supports a high concentration of diverse animals as it winds its way through the sandy terrain.
Part of what makes Botswana such a coveted destination among safari guides is that here, you can experience a safari by boat.
Each day here, you'll glide down the Chobe River, finding herds of elephants and antelope… watching large prides of lions on the hunt along the shoreline… and cruising among hippos, crocodiles and herons as giant fish eagles perch on overhanging branches.
Normally, on safari from Jeeps, you have to shoot down from above. But here you can have a whole new vantage point… and the water adds to the composition as well.
You'll come eye-to-eye with buffalo lapping water from the river as crocodiles sunbathe on its banks, and capture incredible images from this unique vantage point with your photography instructors at your side.
For two nights, you'll stay at Chobe Elephant Camp, located atop a rocky ridge overlooking the Chobe River, giving you sweeping views of the flood plains.
In this remote area, the camp provides an authentic wilderness experience away from crowds. It's not uncommon for animals to wander right through the grounds.
The Lodge provides a rustic and stylish accommodation, open and light, with polished floors, wood beams, and weathered furniture. All rooms have ensuite bathrooms and private verandas.
Day 9 (November 20): Departure
Schedule your flight home on this day from Kasane Airport or extend your stay and continue to explore Botswana or another country in Africa.

For more details on itinerary, pricing, and instructors, click on the links at the top of this page.
Pricing and What's Included in Your 9-Day Botswana Photography Expedition
Botswana is the most coveted safari destination in Africa. They keep the camps small so that they can attract luxury clientele who want privacy away from crowds.
Most camps are located on private property, which means there aren't many other cars in our photos and we can get really close to the animals without damaging their environment.
If you agree to share your tent on this trip with another attendee, we can save you a small fortune on your fee. Botswana is the most expensive and exclusive country in Africa so the best way to cut costs is to double-up.
Full Price: $11,998
Save $3,000 if you agree to share your luxury tent with another participant!
… and take an additional $500 off when you're one of the first to register today.
$11,998
– $3,000
– $500__
= $8,498 per person, double occupancy
You won't find a trip and instruction of this caliber, for this price ANYWHERE!
Note: Additional discounts may apply. You can click through to the registration form at the link below to learn more.
Easy Payment Plan: Lock in your $3,500 discount by registering today with an initial payment of $1,499 per person. Then, divide the balance in five equal installments over the next five months.
The registration fee for the workshop includes:
Eight nights' accommodation in shared, first-class luxury safari tent camps…
Exciting horseback safari, where you'll ride side-by-side among zebras and giraffes, taking amazing close-up images in the animals' natural surroundings…
A rare opportunity to walk and interact with three orphaned elephants in their natural habitat…
Safari game drives in open-air Jeeps and river safaris down the Chobe River, gliding past hippos and crocodiles…
Daily expert hands-on tuition from professional photographers Carli Davidson and Bonnie Caton…
Flights and transportation between safari camps…
Breakfast, lunch, and dinner daily…
Airport transfers are included if you stick to the itinerary. If you arrive early or stay late, you'll need to arrange your own transfers to the Royal Tree Lodge. We can help you with this…
Access to an exclusive, members-only Facebook group where travelers can ask questions, share their plans, meet one another before the event, and stay connected post-event…
Pre-Event Guidance from Great Escape Publishing Staff including what to expect, what to pack for the weather, equipment list, travel tips, and more…
Your Registration Does NOT Include:
Airfare to and from Botswana (fly into Maun airport and out of Kasane Airport)
Equipment – you must bring your own camera and accessories (e.g. memory cards, batteries, etc.)
Gratuities – at this level of service, gratuities are expected even when they say they're not. Please allow $30-$40/day for this.
If you'd like to add on an extension trip to see the amazing Victoria Falls in Zimbabwe, our guides will pick you up at Kasane airport and take you from November 20-22 on a tour of the falls with a great breakfast, lunch and dinner stay at the Falls for $899. If you choose this extension, you'll schedule your departure flight out of Victoria Falls airport on November 22.

For more details on itinerary, pricing, and instructors, click on the links at the top of this page.
Meet Your Instructors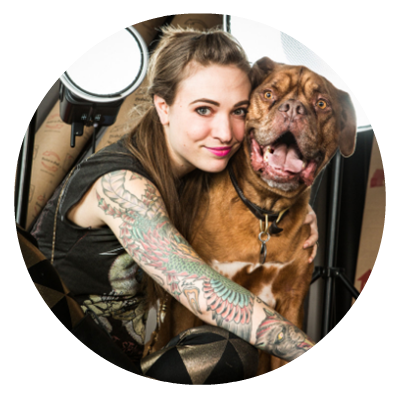 Instructor Carli Davidson is a full-time professional animal photographer. You may know her by name as the two-time New York Times' bestselling author of the book, "Shake."
Working with animals from a very young age, Carli has a passion for capturing them with her lens and has gone on to photograph and direct commercials for various clients and agencies including Pedigree, Purina, Nike, Friskies, and more. Among others, her work has also appeared in Vanity Fair, Rolling Stone Magazine, and National Geographic.
Carli's ability and know-how to build a full-time career out of a sideline business is just one of the many things she'll share with you this November as you take charge of your own career or sideline as a photographer.
Not only will she share all her knowledge for building a thriving photography business, but she'll also give you tips and tricks for creating incredible images of animals, capturing their motion, and taking your work to a whole new level.
You'll also have with you on this trip…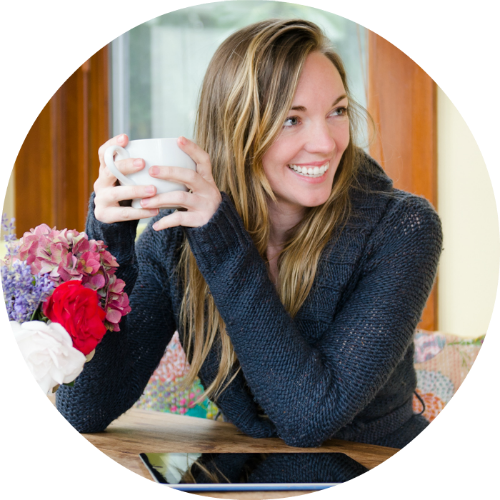 Bonnie Caton. With eight years of experience leading small-group expeditions like this one, Bonnie has a knack for breaking complicated camera tricks down into simple language. She loves teaching and she'll be by your side in Botswana helping make sure you leave the expedition with your own saleable photos.
She's also an excellent resource of information for those interested in selling pictures while you still have a full-time job. She can tell you everything you need to know about stock, magazines, and headshots… the markets where she sells her photos for a nice side income. 

For more details on itinerary, pricing, and instructors, click on the links at the top of this page.
Your Lodges in Tanzania
The Royal Tree Lodge (November 12)
Stanley's Camp (November 14-16)
Chobe Elephant Camp (November 17-19)
Your Safari Camps
It's important to us that our accommodations are as unique as our adventures. We avoid big-chain hotels and standard lodges, opting for places that are truly authentic, without sacrificing comfort and luxury.
Here in Botswana, we've found incredible safari tent camps that are right in the midst of it all, providing us an incredible environment that you'll be happy to come back to each day.
All our camps provide spacious, comfortable, and restful accommodations along with central meeting spots for delicious meals and conversation.
Since we'll be staying in small, private and intimate camps where the number of tents is limited, you'll be sharing a room with another attendee.
Botswana safaris can be costly, and in order to provide the best, most authentic experience possible without sacrificing comfort, we chose to take advantage of the smaller, more boutique camps… camps we'll be renting out in their entirety in most cases.
All tents will provide two beds and an ensuite washroom with shower and toilet.

For more details on itinerary, pricing, and instructors, click on the links at the top of this page.
Here's what fellow readers have to say
about their experience on our photo expeditions…
"Every day was an adventure and a great photo opportunity. I can't choose just one highlight." – Francesca Burack
"In my case, I appreciated that the instructor zeroed in on what I need to learn and correct (composition and focus) and still teach me much more than I expected to learn…– Susan Birkenshaw
"The workshop was fun. I learned a lot… I met interesting people and I became excited about trying to make money from photography. The workshop is an excellent value and provides information that is difficult to acquire in other ways. – Susan H.
"I learned more in three days than I have all year. Between Thursday's photos shot and Saturday's photo shots – it is like night and day." – Lynda I.
"You all did an awesome job. I have learned so much in 7 days … totally priceless." – Nelda Bernal
Skills Required:
There are no prerequisites. This workshop is for people of all skill levels and experience, and the concepts discussed are doable by anyone.
Point-and-shoot cameras are welcome, however, you'll likely want a good zoom or telephoto to capture wildlife at a distance. We can recommend gear to rent if you want to bring a higher-performance camera or lens.
All participants will be provided with a complimentary pre-workshop course on photography and understanding your camera to ensure you get the most out of the expedition.
ACTIVITY LEVEL: VERY HIGH
Our days will be spent in photography-equipped Jeeps, in river boats, on horseback, walking, and driving on very bumpy, unpaved roads often in high temperatures.
You should be able to climb 3-4 flights of stairs and walk at least one mile carrying your camera equipment. Also note, parts of this expedition, like our river boat safaris, are restricted in space and weight. If heat, general mobility, or stamina are sometimes an issue, this may not be the right expedition for you.
If you're unable to keep up with the group, you may be asked to sit out of an activity. If you have concerns about physical limitations, please contact a Great Escape Publishing staff member before registering. You can email us at workshops@greatescapepublishing.com or call (561) 860-8266.
PROTECT YOUR INVESTMENT: We strongly suggest you protect your investment by purchasing trip-cancellation insurance. We recommend using sites like Insuremytrip.com to compare rates or purchasing through your airline when you buy your plane ticket. We will send you details about trip insurance in an email following your registration. It's not right for everyone so we've done some research on your behalf.
CANCELLATION POLICY: The Botswana Photography Expedition is non-refundable. If we can fill your seat with another paying participant before the event, we can offer you a Workshop Credit good toward another event in the amount of what you paid minus a $500 credit card processing fee. Refunds to your credit card are not possible. If you cancel due to reasons that are covered by your purchased travel-insurance policy, we will advise the insurance company that your travel and conference fees are non-refundable.
** This is a small group trip. Our Jeeps seat 8 people but we only fill them with 4 to give each photographer plenty of shooting room. This expedition is limited to 12 attendees only. One instructor per Jeep so you always have someone by your side to answer questions. **

For more details on itinerary, pricing, and instructors, click on the links at the top of this page.
← View All Events