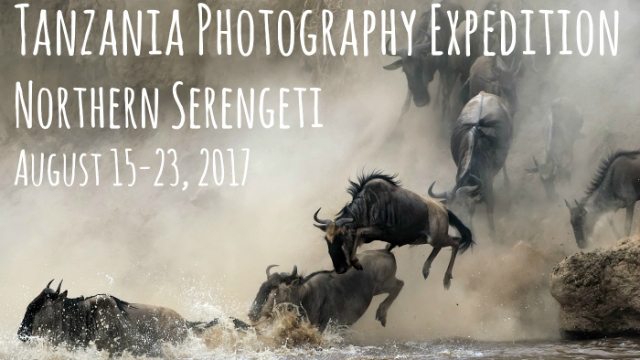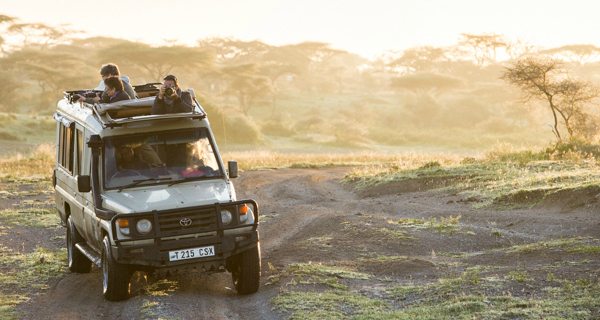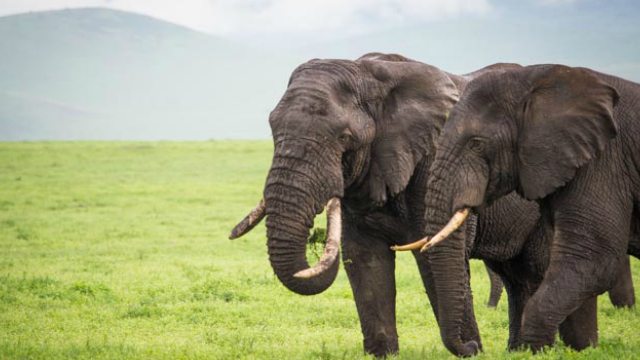 2017 Tanzania Photography Expedition
Witness the Legendary Wildebeest Migration
Cross the Mighty Mara River…

And Return Home With a Catalog of Photos You Can Sell For $50, $150, $500 or More
Join us for the adventure of a lifetime this August in Tanzania as we venture to the rocky plains of the northern Serengeti, to witness the great migration of wildebeest and zebra cross the mighty Mara River in the tens of thousands.
It's a spectacle often featured on National Geographic, and we'll be there with our cameras and video gear ready hoping to catch them.  You'll be sure to find crocodiles waiting along the river's edge as animals come thundering across the waters, giving us an exciting glimpse of predator-prey interactions in the wild.
These northern plains of the Serengeti are unlike any other area we've been to in the past.  What's more, this August — for the very first time ever — we're making our way there at a very special time of year — the dry season.
Big cats like lions and leopards will climb the tallest rocks this part of the Serengeti is famous for, and prey animals like zebra, warthogs, impala, elephants, and wildebeest will be forced to congregate around scarce watering holes and rivers for hydration.
It sets a unique stage for up-close-and-personal viewings of the Circle of Life in action — something you won't find any other time of year.

This summer is your chance to enjoy one of the most beautiful places in the world — finding wildlife by day and taking in spectacular sunset views by evening…
Experiencing it all in the company of two world-class professional photographers and documentarians willing to teach you the techniques they use to shoot pictures and video clips that sell for $50, $150, $500, and more.
If you've ever dreamed of seeing your travel photos – along with your name – spread across the glossy pages of travel magazines… If you long for the type of career (or sideline) that allows you the luxury of traveling whenever you like and living wherever you choose…
Then now's your chance to have it all…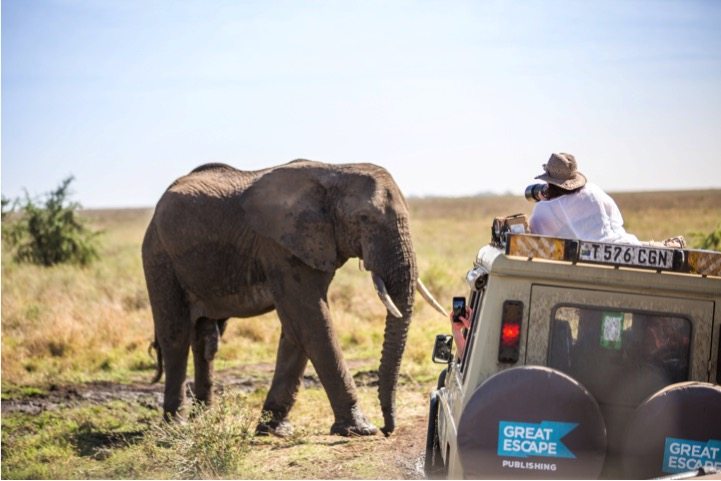 Not only will you come away with a real passion for this part of the world – having discovered it with a photographer's eye – but you'll also learn all the ins and outs you need to take amazing photos, capture incredible videos… and sell them.

For more details on itinerary, pricing, and instructors, click on the links at the top of this page.
Here's a run-down of what you can expect…
Day 1 (August 15): Kilimanjaro Airport to Arusha
You'll schedule your flight to arrive at Kilimanjaro Airport (JRO) on this day or the day before and transfer to our hotel in Arusha. Most flights arrive at night (5pm, 8pm, or after midnight). If you plan to arrive a day early, you can arrange a day tour with our guides on the ground, or simply relax and acclimatize. Your hotel on that early night will be at your own expense.
Day 2-4 (August 16-18): Northern Serengeti Game Drives
They say the sound of millions of hooves hitting the ground all at once around you is a sound that stays with you forever…
Especially in the northern reaches of the Serengeti where wildebeest thunder across the mighty Mara River, battling swift currents and formidable Nile crocodiles.
And, the Mara River alone can take your breath away. Known as the heart of the savannah, this incredible waterway spectacularly winds its way through rich grasslands, creating beautiful landscape views and providing animals with the only stable water source of the area.
It's not uncommon to find herds of hippos quenching their thirst along the river's edge… big cats like lions and cheetah stealthily shifting in the grass, looking for their next kill… or exotic birds flying overhead as leopards laze on giant kopjes.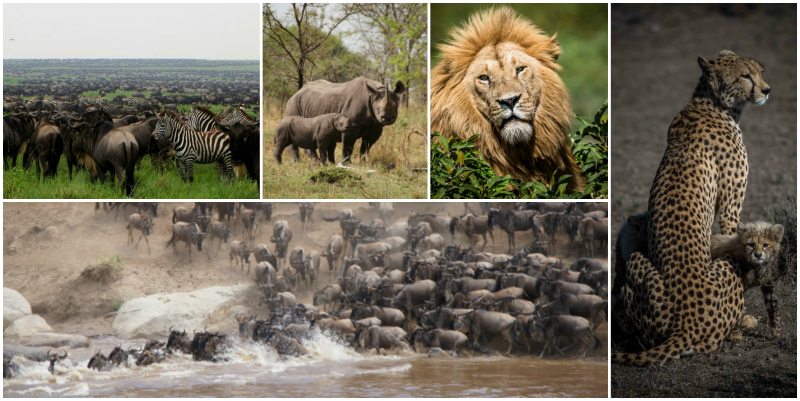 In the morning on Day Two of our expedition, you'll fly from Arusha to the northern Serengeti region of Kogatende to experience and photograph this incredible interplay of predator and prey traversing the Serengeti.
Because the region is relatively inaccessible, it remains fantastically quiet and largely unexplored with very few safari vehicles around. This untouched wilderness of vast rolling expanses, broken by small rivers and the occasional hills and kopjes, is a wildlife paradise.
Plus, August is right in the middle of Tanzania's dry season. During this time of year, animals huddle together over central watering holes and rivers, providing ample opportunities for capturing multiple animals in the same image. It also provides the best opportunities for witnessing fights, kills, and the full circle of life and death in the wild.
We'll spend three nights here in the Kogatende region at the beautiful Kaskaz Mara Camp. This eight-tent camp is optimally located near the Mara River, giving us the best chance for viewing the wildebeest migration.
Each tent is adorned with large netted windows, luxurious beds, and hand-carved décor, providing a style and grace you'll have a hard time finding anywhere else in this region.
Since we're staying in such a small, private, and intimate camp, where the number of tents is limited (and our group is taking over the entire camp), you'll be sharing accommodations for these three nights with another attendee. This will be the only camp where you'll need to share a room, but past attendees have enjoyed having a roommate to share this unique experience with.
Day 5-6 (August 19-20): Central Serengeti Game Drives
Characterized by its seemingly infinite plains, gnarled acacia shrubs and rugged kopjes, the Central Serengeti personifies the quintessential Africa you see in photographs.
Victor, our trip leader on the ground in Tanzania, knows the best roads for spotting cheetah and big cats like lions and leopard. These places are only known by locals and not often traveled by tourist groups. And they're GREAT for photography.
Here is where you'll have the chance to observe The Big Five (lions, elephants, buffalo, leopards, and rhinoceros) roaming the sunburnt Savannah.
Victor, along with the excellent guides working for him, will show us and teach us all about the animals in the region. These guys are amazing at what they do. Not only are they friendly and fun: they're excellent drivers and animal-spotters.
You'll spend two nights here in the Central Serengeti at the magnificent Serengeti Sopa Lodge. Nestled in the surrounding nature atop a ridge overlooking the vast Serengeti Plains, this lodge is the perfect place to relax and enjoy the view.
Day 7-8 (August 21-22): Ngorongoro Crater Game Drives
As a UNESCO World Heritage Site, the Ngorongoro Crater is known for its dense population of wild animals. This 10-mile-wide volcano top with 2,000-feet-high walls is one of the most spectacular places imaginable.
Commonly referred to as the 8th wonder of the world, the crater is a natural amphitheater for the circle of life. The short grass plains here are rich in nutritious grasses, providing the herds with the best conditions to eat and raise their young — which is why this time of year is also called the time of feast for lions and other carnivores.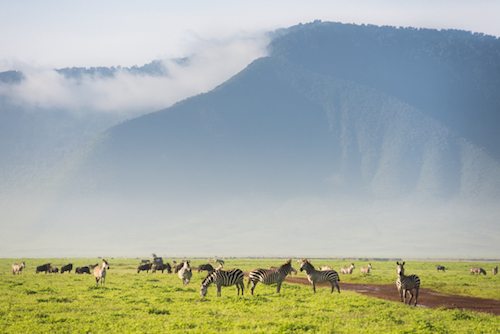 The game viewing here is among the very best Africa has to offer, and the backdrop is simply stunning. It's here where you'll see large herds of zebra, small prides of lion and elephants bigger than our Jeeps. We'll also have a chance to see and photograph the rare (and nearly extinct) black rhino in one of the few places he still roams free.
Each day before dawn, we'll descend onto the crater floor — before other Jeeps make it down — for pristine game viewing. We'll also make a stop at the crater rim for a panorama photo opportunity.
You'll spend two nights here at the palatial Ngorongoro Sopa Lodge, located at the highest point on the Ngorongoro crater's rim, giving you an incredible view of the world below.
Day 9 (August 23): Departure
In the morning we'll head out for our final game drive in the Ngorogoro Conservation Area and then make our way back to the lodge for lunch before departing for Arusha.
You can schedule your flight home in the afternoon on this day or overnight and catch a flight out in the morning.  Most international flights arrive and depart from Kilimanjaro Airport (JRO).

For more details on itinerary, pricing, and instructors, click on the links at the top of this page.
Pricing and What's Included in Your 9-Day Tanzania Photography Expedition
Tours of this caliber often sell for $15,000 – $20,000 per person, double occupancy, without photography instruction. And if you're traveling alone, you're paired with a stranger.
But on all Great Escape Publishing tours, you get top-notch instruction for taking great photographs and also selling them — something that makes us unique. And on this tour specifically, you don't have to share a room – with the exception of one camp where we've chosen a private, boutique experience with only an extra-small number of tents.
75-80% of our business comes from repeat customers – many of them single travelers — so we try not to force shared occupancy and we keep our prices low for these members, our friends. Most of our participants are single women travelers, friends and an occasional couple or two. And due to our small group size, along with our shared interest in getting the best photographs and seeing the destination unlike a tourist, we become fast friends on trips like these – meeting folks you'll want to travel with again and again.
Full Price: $15,000 $10,499 per person
Special Early Bird Discount: Save $1,300 with your Early Bird Discount when you sign up today.
The full price of this workshop is $10,499 but you'll pay just $9,199* when you add your $1,300 Early Bird Discount and register today.
If your spouse or a guest would like to join you, he or she can do so for just $8,399.
(*Note: Additional discounts may apply. You can click through to the registration form at the link below to learn more.)
Easy Payment Plan: What's more, if you'd like to take advantage of our easy payment plan, you can register today for just $1,534 down.
Here's how it works:
Reserve a seat on the expedition for just $1,534 when you put your name on our attendee list today.
When you do, you'll automatically lock in the discounted workshop price of only $9,199* – a full $1,300 SAVINGS for you! (*Note: Additional discounts may apply.)
We'll bill your credit card $1,534 today, and 5 equal monthly payments thereafter. So you spread out the payments comfortably over 6 months between now and when the workshop starts in August.

The registration fee for the workshop includes:
Eight nights' first-class accommodation in safari lodges and luxury tent camps…
Eight days of safari game drives in "the best safari country in Africa," where you'll have an authentic experience and not be caught in a crowd of Jeeps…
Your flight from Arusha to the Northern Serengeti region of Kogatende…
An opportunity to witness the great wildebeest migration, thunder across the Mara River as we travel to the northern reaches of the Serengeti for the very first time…
An opportunity for amazing landscape photos as the weather changes and the clouds roll in and out…
Expert hands-on tuition from professional photographers and videographers Joe and Kathy Sindorf…
Modified vehicles built exclusively for photography, with removable rooftops and sand bags you can use to stabilize your camera and lenses…
Breakfast, lunch, and dinner daily…
A limit of four photographers per Jeep, with an instructor by your side the whole time…
All your park fees…
Airport transfers are included if you stick to the itinerary. If you arrive early or stay late, you'll need to arrange your own transfers to the hotel in Arusha. We can help you with this…
Access to an exclusive, members-only Facebook group where travelers can ask questions, share their plans, meet one another before the event, and stay connected post-event…
Pre-Event Guidance from Great Escape Publishing Staff including what to expect, what to pack for the weather, equipment list, travel tips, and more…
Your Registration Does NOT Include:
Airfare to and from Tanzania (Kilimanjaro International Airport)
Equipment – you must bring your own camera and accessories (e.g. memory cards, batteries, etc.)
Gratuities – at this level of service, gratuities are expected even when they say they're not. Please allow $30-$40/day for this.

For more details on itinerary, pricing, and instructors, click on the links at the top of this page.
Meet Your Instructors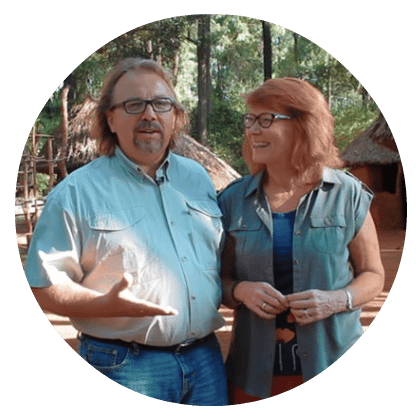 Your instructors on this trip, Joe Sindorf and his wife Kathy, have lived all over the world including Tanzania.
Joe is an award-winning photographer and international humanitarian filmmaker.
His still photographs have been published in National Geographic Traveler, Outside, and American Photo, among others. His video work has won international film festivals, the NATAS Emmy Award, the George Foster Peabody Award, and more. And Kathy Sindorf is a university professor who teaches photography, video production, and writing for digital media.
They're both talented photographers and phenomenal teachers – not to mention incredibly approachable people. Their patience, knowledge, and friendliness will ensure a fantastic experience our members have come to expect from all our Great Escape Publishing tours.
"Loved Joe – he taught me how to finally go full manual and was a great resource. Fun, insightful and a great pro to have in the keep!" – Sharri Speaker
"Joe is a superb human being. He is extremely knowledgeable about all things photographic, and was very helpful in many ways. His presence was invaluable to the success of this trip." – Alex Dominick
"Joe has a lot of patience with inexperienced photographers also great technical know how. Very approachable. A great artist willing to share all and very easy to understand." – Deborah Kolb
On this expedition, we'll also devote a few class sessions to creating short video clips you can sell in addition to your still photos. Joe is currently earning 20 times the income from his video stock footage than he is from his stills of exactly the same scene. In Tanzania he'll explain how that's done, and you'll work on collecting video clips with your camera or smartphone in addition to still photographs.
Plus, throughout your trip, Joe and Kathy will put together a video diary for you, depicting your experiences on this adventure. You'll get behind-the-scenes pictures and video to share with your friends and family when you get home.
Meet Your Guides
Victor Nyakiriga, our trip leader and ground operator in Tanzania, was born in the Serengeti. At a very young age, his grandfather taught him how to track animals and take care of himself in the bush. Years later, he attended the Wildlife College for two years, learning more about natural history and science, camp management, outdoor leadership, ecology, birds, and guiding skills.
He then moved back to the Serengeti to live among the animals – tracking lions, cheetahs, leopards, elephants, and the rare rhino by naming them. This helped him better understand their unique animal behaviors and life strategies, and eventually landed him jobs working with some of the top wildlife photographers in the business.
Before leading safari tours, Victor's team of guides learned all the ins and outs of Tanzania's wilderness by working in camps that follow the great migration. Today, they use their expertise to show us the best locations for viewing wildlife and landscapes – areas that most tourists never get to see.
Not only do they have extensive training and knowledge of all things wild – mammals, birds, and insects alike – but they're also well-versed in photography. They know exactly how to position the vehicles and find the best light, so you have the greatest advantage for capturing stunning images.

For more details on itinerary, pricing, and instructors, click on the links at the top of this page.
Your Lodges in Tanzania
The African Tulip (August 15)

Kaskaz Mara Camp (August 16-18)
Serengeti Sopa Lodge (August 19-20)
Ngorongoro Sopa Lodge (August 21-22)

For more details on itinerary, pricing, and instructors, click on the links at the top of this page.
Here's what fellow readers have to say
about their experience on our photo expeditions…
"Every day was an adventure and a great photo opportunity. I can't choose just one highlight." – Francesca Burack
"In my case, I appreciated that the instructor zeroed in on what I need to learn and correct (composition and focus) and still teach me much more than I expected to learn…– Susan Birkenshaw
"The workshop was fun. I learned a lot… I met interesting people and I became excited about trying to make money from photography. The workshop is an excellent value and provides information that is difficult to acquire in other ways. – Susan H.
"I learned more in three days than I have all year. Between Thursday's photos shot and Saturday's photo shots – it is like night and day." – Lynda I.
"You all did an awesome job. I have learned so much in 7 days … totally priceless." – Nelda Bernal
Skills Required:
All skill and experience levels are welcome, and the concepts introduced are doable by anyone.
Point-and-shoot cameras are welcome but note: we prefer to send you a link where you can rent better gear. In some places we can't go off-road so a bigger lens is best for capturing great images. You can sometimes rent this gear for less than $200 and we think it's worth it.
While all levels are welcome, beginners will be provided with a complimentary pre-workshop course to ensure you get the most out of the excursion.
ACTIVITY LEVEL: MODERATE
Most of this workshop will be spent out-and-about in customized Jeeps made for photography. Game drives during the day can be quite long, often sitting for several hours and bouncing around on the very bumpy, un-paved roads. While this may not be considered strenuous activity, it can be uncomfortable and physically demanding on the body.
On this expedition, you must be able to climb in and out of the raised safari vehicles and be able to stand on your seat in the jeep in order to shoot photos from the roof. Please understand that if you are unable to get up and down on your seat, you may be limited to only shooting out the side window.
You should also be able to walk around our camp accommodations, sometimes over uneven or rocky terrain. The lodges have beautiful pathways and the rooms are spread throughout the property. This means you may have up to a 5-minute walk to your hotel room from the main lobby area, so please be prepared for that or let us know ahead of time if you have physical limitations.
If you are unable to keep up with the group, please understand that you might not be able to participate in an activity. If you have concerns about physical limitations, please contact a Great Escape Publishing staff member before registering. You can email us at workshops@greatescapepublishing.com or call (561) 860-8266.
** This is a small group trip. Our Jeeps seat 8 people but we only fill them with 4 to give each photographer plenty of shooting room. This expedition is limited to 12 attendees only. One instructor per Jeep so you always have someone by your side to answer questions. **

For more details on itinerary, pricing, and instructors, click on the links at the top of this page.
← View All Events