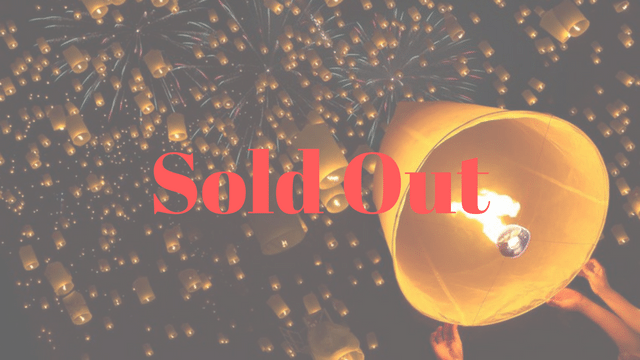 2017 Thailand Photography Expedition

Experience the Excitement of the Photographer's Life … Become an Elephant Caregiver for a Day… And Photograph the Famous Yi Peng Flying Lanterns

Imagine caring for an elephant for the day as if he were your favorite pet. You feed him, brush him, wash him, and then climb on board his neck for an impressive uphill ride to lunch where other elephants lumber. You take out your camera to capture the fairytale scene… you expertly snap a few shots… and capture a shot that you'll sell to a magazine when you get home.
Then picture waking the next morning to explore the colorful and exotic fruits at local markets… before heading to the Yi Ping lantern festival at night to photograph the release of more than 10,000 paper lanterns into the sky. 
It's a site so beautiful you actually forget you're there to take photos and instead put your arms down to your side and stare in awe as your eyes fill with tears.  It's quite possibly the most beautiful thing you've ever seen and you flew half way around the world to experience it.
If the adventurous life of a photographer interests you… if you want to find an income source that lets you travel whenever you like and live wherever you prefer… then this is, hands down, the best place to begin.
Join us in heavenly Thailand… 
and plunge yourself into the photographer's 
delicious, adventure-filled life.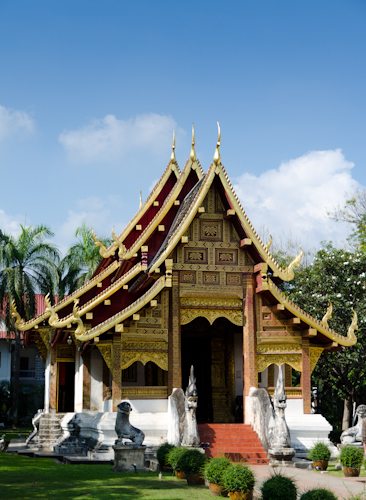 This fall, escape the cold for nine warm, action-packed days in exotic Thailand. With a professional photographer by your side, you'll explore the glittering Buddhist temples, Royal Palace grounds, and bustling street markets of Chiang Mai.
While you're there, you'll also get to tour the fruit market, filled with a myriad of fruits you may never have seen… and sample local Thai dishes – think coconut curries and pad Thai when we visit a local restaurateur for a private tour and photo shoot.
And you'll visit an elephant sanctuary, local temples, and photograph the famous Yi Peng flying lantern festival.
Yi Peng is celebrated throughout Thailand with the release of thousands of paper lanterns into the air for good luck. We'll be on the ground in Mae Jo when the big release happens. Plus, we'll spot flying paper lanterns each and every day in Chiang Mai, as it's often celebrated throughout the week in preparation for the festival.
Watching thousands of lanterns float into the night sky during Yi Peng is a truly unforgettable experience. Something you MUST add to your bucket list.
And adding to that beauty are fireworks displays, floating lanterns released on the water ways, bedazzled local homes, temples adorned with blossoms, dancers in traditional costume, and more.
You'll be sure to walk away with some breathtaking photos and a new appreciation for this beautiful country and culture.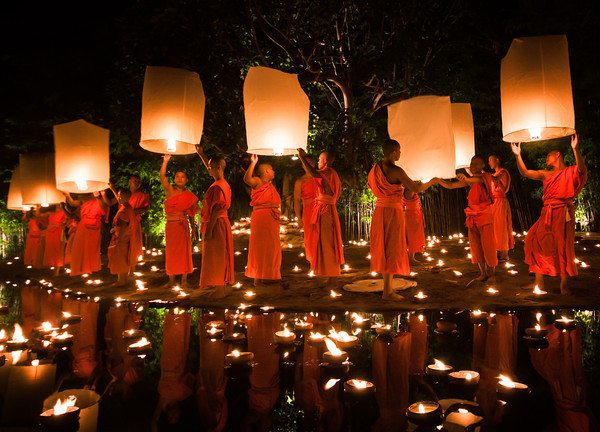 Your Itinerary
October 27 – November 4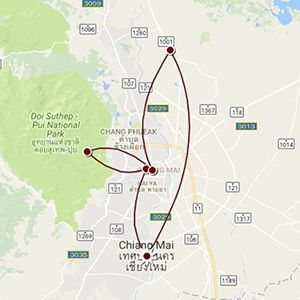 Day 1 – Friday, October 27
Class starts today at 2:00 p.m.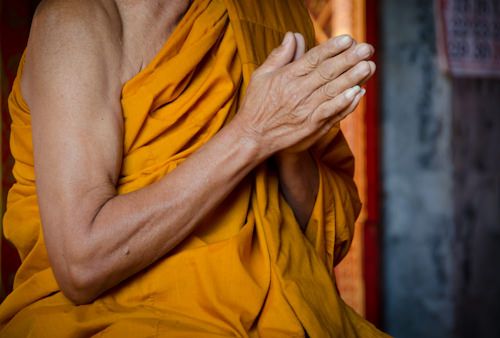 If you're flying direct into Chiang Mai (airport code: CNX), you'll either arrive in the morning and transfer to the hotel or you'll arrive the night prior and get a good night's sleep before diving straight into photography on the 27th.
At 2:00 p.m. you'll meet your instructor, Shelly Perry. She will give you the lay of the land, starting with your first photography lesson.
Dinner is on your own tonight but we typically eat together as a group someplace local.
Day 2 – Saturday, October 28
After a delicious breakfast, you'll take a morning walk to visit some of the main temples of the old city: Wat Phra Singh and Wat Chedi Luang. Temples are abundant in Thailand and they're good for practicing composition, exposure and people photography. You'll get plenty of hands-on practice with your camera and settings here.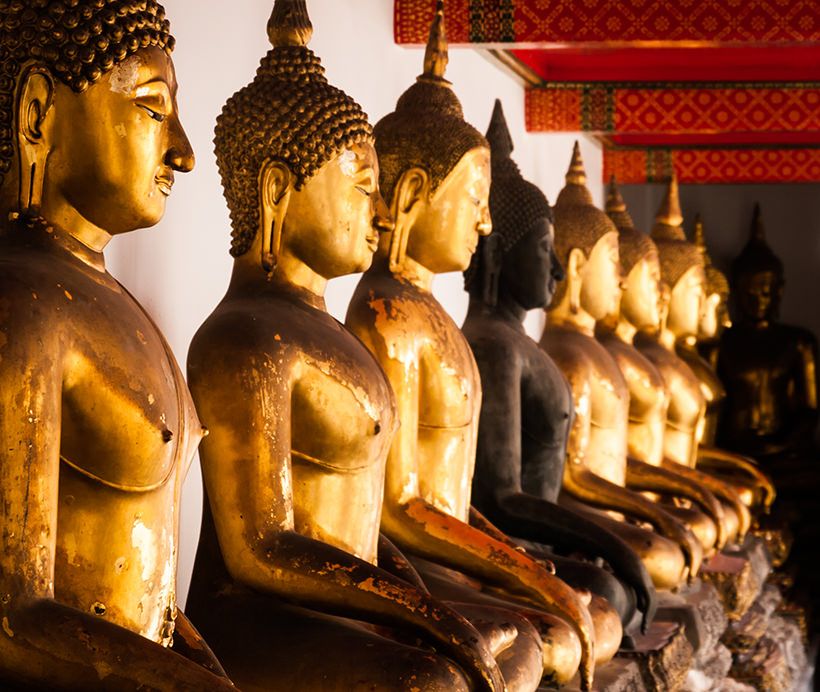 We'll return to the hotel in the afternoon for our first photo review where Shelly will really focus on the elements that will help you improve most on this trip. We'll go through your photos from the day and provide feedback paying extra attention to your problem areas and any questions you might have about your camera and creating the special effects you want with it.
After class we'll head out to the famed Wat Doi Sutep temple on the hill above Chiang Mai for sunset photos. Here, it is said that a sacred white elephant chose the location of the temple.
Night photography is an important part of this trip because we'll later photograph the famous Yi Peng flying lantern festival. You'll find that Yi Peng and Loi Krathong (the floating lantern festival where lanterns are placed on the rivers instead of released into the sky) are often celebrated throughout the week and not just on the day of the official ceremonies so we'll never run out of interesting things to shoot.
You'll also learn that photographing still objects at night and moving objects are two different things. You'll start the learning process here at the temple with both still statues and walking monks in orange robes.
Day 3 – Sunday, October 29
We'll take it easy this morning, since we'll be out later tonight for the famous night market. You'll meet after a late breakfast in the classroom to review your images, and pick out your best for submission to online stock agencies, magazines, newspapers and more.
After class, we'll visit Baan Chang Nak—the home of the carved wooden elephants, where you'll meet the artisans and get a chance to photograph these intricate carvings. You'll have a special group lunch today, where you'll taste the traditional Khao Soi dish.
In the evening you'll head to the Silver Temple and Wat Phan Tao where you'll also find the huge, colorful night market and the best prices on souvenirs and crafts. Make sure to bring a list of Christmas gifts, and get ready to bargain!
Day 4 – Monday, October 30
You'll have free time this morning to enjoy breakfast at your leisure and relax, enjoying the shops and sites of Chiang Mai. Indulge in a local Thai massage—available in many of the shops just steps from the hotel entrance… or use this time to relax or work on your photos.
In the afternoon, you'll meet your local guide and get ready to indulge in the delicious flavors and aromas of Thailand. You'll head to a local restaurant where you'll get a VIP tour with the chef as he explains how he creates his best-selling dishes. You'll have plenty of opportunities to photograph his creations and keep practicing with your camera.
You'll learn the best secrets to whipping up easy and delicious Thai cuisine. When we're done with our photo shoot, get ready to eat a LOT of good food and come away with amazing photos of your experience.
If you're feeling adventurous, meet the group after dinner for an optional night shoot in town. We'll get some practice using our tripods and shooting at night before the big festival experience later this week.
Day 5 – Tuesday, October 31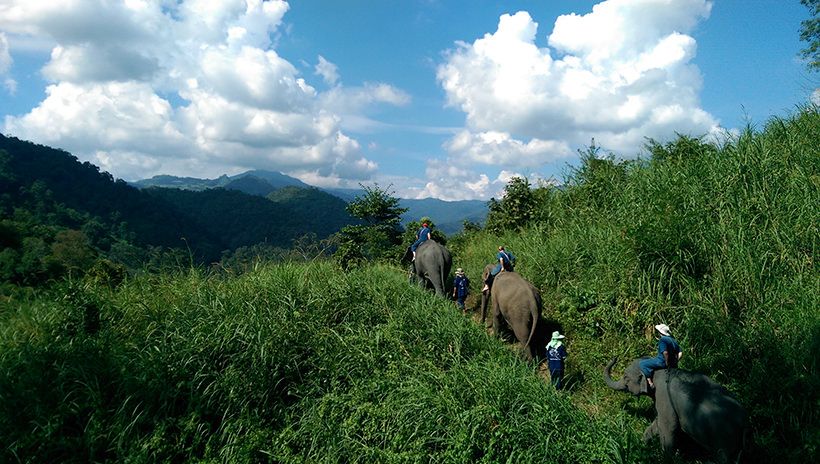 Today holds a very special, rare treat — a visit to the elephant refuge where you'll be their "mahout" for the day. You'll bathe your elephant, feed him (a lot!), care for his feet and skin and then ride him for exercise. Each elephant has its own mahout for life, and the two become bonded together as partners. As a mahout for a day, you'll feel this bond as well. It's a unique connection.
Some people choose to take pictures on this day, others let the Elephant Refuge team take the photos. No matter your choice, you'll have a great time and build memories that'll last for a lifetime.
In the evening, we'll meet in the classroom for class and photo review.
Day 6 –Wednesday, November 1
Enjoy a hot breakfast together at our hotel this morning. Then, armed with new skills and a strategic plan for improving your photography, you'll take off with a local guide for a taste of true local life. You'll visit (and photograph) local craftspeople in their home compounds where they make colorful paper and intricately sewn umbrellas, along with other crafts to sell at the market.
There's an opportunity here to get something painted. Attendees on earlier expeditions brought t-shirts, notebooks and cell phone cases. Some also requested paintings on the side of their camera lens hood, camera bag, laptop cover… they're willing to paint on almost anything! This area is a little touristy but very iconic, fun, and well worth a visit.
You'll have some free time this afternoon, and we'll meet up this evening for photo review.
Day 7 – Thursday, November 2
FREE DAY. This day is free for you to explore Chiang Mai on your own, do some shopping, get a Thai massage, or simply relax by the hotel pool. Our staff will have plenty of recommendations for you if you're looking for more activities.
Day 8 – Friday, November 3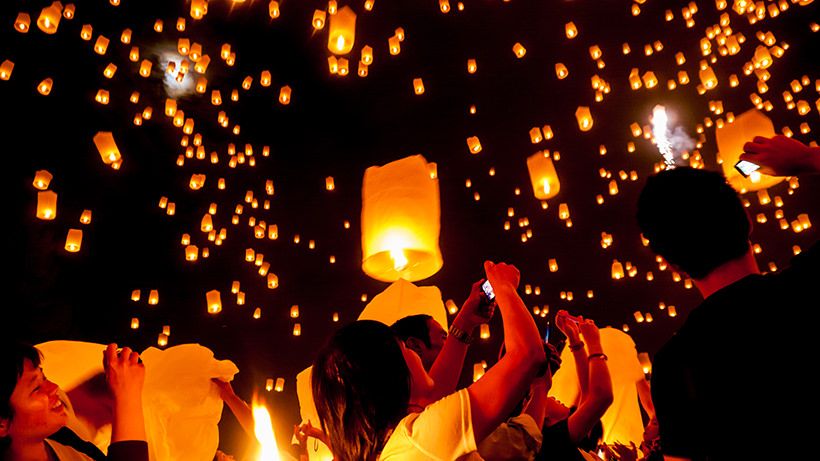 By this point, you'll be well trained in the art of taking and editing saleable photos but you'll still want feedback. We'll host a group review in the morning and talk about some more advanced Lightroom features that'll make tracking and selling your photos a breeze.
We'll also review the techniques you've been practicing for the famous Yi Peng flying lantern festival.
Though noteworthy celebrations take place all over Thailand, Mae Jo is THE place to be for the most unforgettable experience and best photographs. So, together, by private transfer, we'll head to Mae Jo and take our seats. Get ready for thousands of paper lanterns! After the festivities, we'll head back to our hotel by private transport.
Day 9 – Saturday, November 4
After a late breakfast today, you'll spend the morning river-side photographing the exotic flowers, and spices in the flower market and Warorot market in Chinatown. After lunch, we'll meet again for photo reviews to review your shots from last night.
You'll also learn more specifically how your instructor sells her photos, what you can do to sell yours, what your first steps will be when you leave Thailand to turn your photos into an income.
You'll have a special farewell dinner tonight as a group.
Day 10 – Sunday, November 5 (Departure Day)
Today, you can fly home or continue your trip for a 3.5-day tour of Bangkok with our local tour operator (itinerary and pricing below). I can also suggest a third party travel tour operator who can help you arrange for tours in Laos, Vietnam, and Cambodia – all fantastic options should you wish to see any of these three other countries on this trip.
Note: Schedule and instructors are subject to change.
Optional Extension – Bangkok Tour
The Bangkok tour is not part of our expedition and no one from our staff will be present during this tour.  It's simply a way for you to see a new city, and take advantage of tour operators we've worked with in the past so that you're taken to all the best spots without being dragged through a t-shirt or gem shop like you'll likely find if you book this tour on your own online. There will be no photography instruction on this part of the tour.
Day 1 – Sunday, November 5 (Transfer to Bangkok)
Group flight to Suvarnabhumi Airport, Bangkok (BKK). Group transfer and check into your hotel. In the late afternoon, you'll head out in a private, air-conditioned van with your local tour guide to visit Wat Trimitr, the world's largest golden Buddha. Afterwards, you'll take a walk through Chinatown and enjoy Bangkok's delicious street food before heading back to the hotel for the evening.
Day 2 – Monday, November 6
After breakfast at the hotel, you'll zip off by private van to the awe-inspiring Wat Pho, also known as the Temple of the Reclining Buddha. And after a tasty lunch at a local restaurant, you'll head to Wat Phra Kaew (the Temple of the Emerald Buddha) and the Grand Palace – THE holiest site in Thailand. After lunch, you'll take off on a boat tour of the old canal neighborhoods surrounding Bangkok, and catch a glimpse of canal life. You'll finish the day with a visit to the Temple of Dawn (Wat Arun.)
Day 3 – Tuesday, November 7
After breakfast at the hotel, you'll head to the train market of Mae Klong where vendors set up stalls along the railroad tracks and you'll watch the train come through—just narrowly passing by the stalls. Next, you'll take off on a boat tour of the old canal neighborhoods surrounding Bangkok, and catch a glimpse of canal life. From there, you'll head to the floating market, where you'll watch (and photograph) local women selling fruit, hats, crafts, and cooking entire meals from the front of their wooden boats. Enjoy lunch as a group at a local restaurant.
To finish the day, you'll head to Baan Benjarong, where you can see the creation of traditional Thai pottery. And you'll stop at a local temple engrossed by a huge Banyan tree. You'll return to the hotel in the early evening.
Day 4 – Wednesday, November 8
After breakfast, you'll leave for a visit and tour of the Jim Thomson House—a private museum of world famous Thai Silk. After the tour, you'll visit Erawan Shrine, where locals and tourist come to pay respect to the four faces god. Local Thai dance troupes are often seen performing at this shrine, so have your camera on hand. Return to the hotel to relax and pack before tomorrow's departure.
Day 5 – Thursday, November 9
Check out and transfer to airport for your flight home. You can book your airport transfer with your Bangkok hotel on arrival and pay them directly. There is no need to arrange this ahead of time.
Bangkok tour is priced separately at $999 per person. There is a $100 discount for spouses or guests sharing a hotel room. It includes four nights of hotel, breakfast daily, three and a half days of tour, flight and airport transfers from Chiang Mai to Bangkok, and all your guide fees. It does not include other meals and expenses or gratuities. And there is no photography instruction with this part of the tour. Please allow at least $20/day or more for these extra expenses.

Pricing and What's Included in your
Nine-Day Thailand Expedition:
Full Price: $4,759 per person
Special Summer Sale Discount: Save $100 when you sign up today and pay just $4,659.
If your spouse or a guest would like to join you, he or she can do so for just $3,999.
(*Note: Additional discounts may apply. You can click through to the registration form at the link below to learn more.)
Easy Payment Plan: What's more, if you'd like to take advantage of our easy payment plan, you can register today for just $999 down and split up your remaining payments evenly over the next 4 months.
Optional: Add on a 3.5-day, 4-night Bangkok tour including hotel and flight to Bangkok for just $999 ($899 for spouses and guests sharing a room).
Your Registration Fee Includes:
A photography tour of Chiang Mai… local temples… a visit to an elephant sanctuary, with a ride on an elephant… tours through local crafts villages…
A chance to attend and photograph the Yi Peng lantern celebration…
Eight full days and one half-day of photography lessons spent partly in class and partly out-and-about in each location…
Nine nights of first-class hotel accommodation…
Special presentations and demonstrations by a pro on how to create better photos and sell them…
Group reviews where you'll learn what it takes to create a magazine-quality photo…
Class sessions on how to manipulate your photos in editing software like Adobe Lightroom…
Breakfast daily, two lunches, and a group dinner…
Free time to explore and visit the silk markets… artisan villages… or relax with a traditional Thai massage…
Transportation to and from all photo shoots…
Roundtrip airport transfers from Chiang Mai International Airport to our hotel…
Access to an exclusive, members-only Facebook group where travelers can ask questions, share their plans, meet one another before the event, and stay connected post-event…
Pre-Event Guidance from Great Escape Publishing Staff including what to expect, what to pack for the weather, equipment list, travel tips, and more…
Your Registration Does NOT Include:
Your roundtrip flight to Thailand. Flights typically range from $999 to $1,500 depending on your U.S. departure city and whether or not you fly out of Bangkok or Chiang Mai. (If you register for the Bangkok add-on you'll want to schedule a flight into Chiang Mai (CNX) and out of Bangkok (BKK). Your flight from Bangkok to Chiang Mai is included in your add-on fee.)
The 3.5-day tour in Bangkok unless you add that on to your event fee
Meals not listed above (please allow $20/day for this, more if you're always a fine diner or big drinker)
Equipment — you must bring your own camera and accessories (memory cards, tripod, laptop, etc.)
Tips for our guides. Please allow $3-5 per day for our drivers, and $5-10 per day for our tour guides.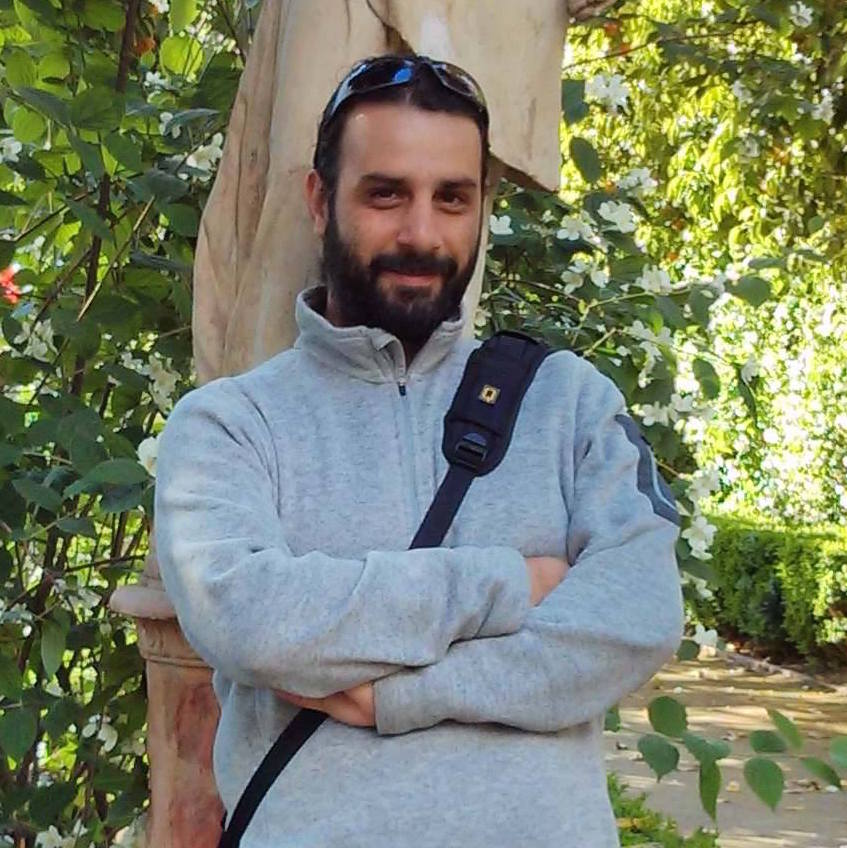 Daniel Nahabedian is a freelance travel and cultural photographer. Just like you, he didn't start out as a professional photographer.... [Read More]
More details coming soon!
Here's What Past Great Escape Publishing Workshop Attendees Have to Say…
"Great Escape Publishing pulls out all the stops to plan an 'experience' not a 'trip.' Absolutely recommend them for seasoned and novice travellers alike." — Connie Owens
"Great Escape Publishing keeps their workshops small on purpose so that each individual has one-on-one time with instructors and comes away with tangible results. You feel that they sincerely want you to be successful because they understand that your success… is their success! Destination workshops and world travel – works for me!" — Sarita Simmons
"My experiences from the 4 events I've attended with Great Escape Publishing have been fantastic! The people have been tremendous and the help and guidance given throughout have been topnotch. I can't wait for the next one." — Scott Noe
"Great Escape Publishing is the only group I want to travel with on my journeys around the world." — Sheri Escobar
"These workshops are a wonderful opportunity to travel to a new locale and explore while learning a new skill." — Sandra M.
"I would definitely recommend this workshop to others. It's a great way to explore a city and one's own creativity." — Heather G.
"You all did an awesome job. I have learned so much in 7 days… totally priceless." — Nelda Bernal
What to Expect
Health:  As with all overseas travel, it's recommended that you're up to date on all routine vaccinations. These include measles-mumps-rubella (MMR), diphtheria-tetanus-pertussis vaccine, varicella (chickenpox) vaccine, polio vaccine, and your yearly flu shot.
The Center for Disease Control and Prevention (CDC) also recommends Hepatitis A and Typhoid for travelers going to Thailand. You can find all this, as well as more information pertaining to health precautions such as safe food and water practices on the CDC Website.
Visa Entry/Exit Requirements: If you're a U.S. citizen, you need a current passport that's valid at least SIX months after the date you plan to return, so make sure to check the expiration date on your passport. If your passport expires before May 2018, you'll need to renew. See this site for more details: http://travel.state.gov/passport/renew/renew_833.html
If you are a U.S. citizen, you do NOT need a VISA to travel to Thailand for stays of up to 30 days. If you're not from the U.S., check with the Thai consulate for your country for details.
Insurance:  We highly recommend insurance coverage for cancellation.  This should be taken at the time you book the trip.  We also recommend supplemental travel insurance to protect yourself in case of unplanned medical emergencies.
Money: The currency in Thailand is the Thai baht. You'll want to get baht out of the ATM as soon as you arrive at the airport so you'll be able to tip your driver. You can probably take out 3,000 baht (just under $100), and that will hold you for a while.
Also, check with your bank before you leave to make sure your card will work in Thailand. Have them add a note to your account that says you'll be making withdrawals in Asia (some banks will freeze your funds if they suspect someone has stolen your card.)
Internet Access: All rooms at our hotels in Chiang Mai are equipped with free Wi-Fi.  Please be aware that the connection might be slower than what you're used to here in the U.S.
Electrical: You'll need a two-prong "Type C" adapter plug (and possibly a converter) for your equipment. Almost all laptops and camera battery chargers have an electricity converter built in to the power cord (that means you don't need a converter). For these things, you simply need an ADAPTER plug, which you can usually find at Target, Best Buy, Radio Shack, or Circuit City.  Or type: "type c adapter" into Amazon.com and buy online.
Prerequisites: There are no prerequisites. This workshop is for people of all skill levels and experience and the concepts discussed are doable by anyone. Point and shoot cameras are welcome.
If you need an extra helping hand with your camera or you're new to photography, please use the space indicated on the registration page.  We're happy to help new photographers and, in fact, encourage new photographers to participate in these expeditions to improve their skill in the fastest and most hands-on way possible.
Activity Level: Very high activity. Most of this workshop will be done out-and-about on foot. You'll need your walking shoes every day, and you'll need to be able to get in and out of tuk-tuks on your own. Climbing and riding an elephant is optional but encouraged.
If you are unable to keep up with the group, please understand that you might not be able to participate in an activity. If you have concerns about physical limitations, please contact a Great Escape Publishing staff member before registering. You can email us at workshops@greatescapepublishing.com or call (561) 860-8266.
This expedition is limited to just 11 people, to ensure you get plenty of time with your instructor.
So please, register here now by clicking below or if you have any questions call our office today at (561) 860-8266 (U.S. Eastern time zone). You can also email me at lori@greatescapepublishing.com.
CANCELLATION POLICY: The Thailand Photography Expedition is non-refundable. If we can fill your seat with another paying participant before the event, we can offer you a Workshop Credit good toward another event in the amount of what you paid minus a $300 credit card processing fee. Refunds to your credit card are not permitted. If you cancel due to reasons that are covered by your purchased travel-insurance policy, we will advise the insurance company that your travel and conference fees are non-refundable.
← View All Events