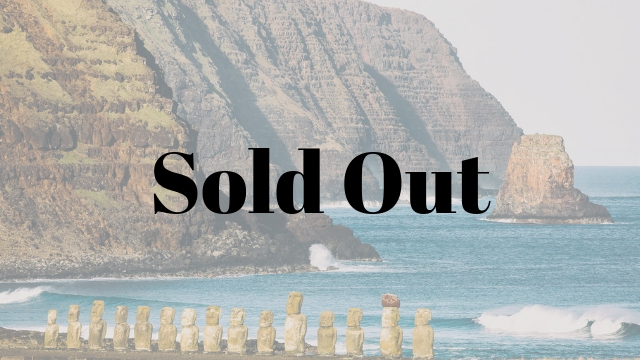 Easter Island Photography Expedition
April 1-7, 2019
Easter Island
Coming Soon
Photographers Wanted:
Join us for a rare opportunity to explore and photograph the mysteries of Easter Island—one of the planet's most isolated inhabited islands, rich with history and gorgeous photo opportunities…
Announcing:
Easter Island Exploration & Photography Expedition
with James Kao & Marc Shields
April 1 – 7, 2019
Over 6 adventure-filled days in the remote seas of the South Pacific, you'll:
Watch the sunrise over the mysterious "Easter Island Heads," the world-famous Moai statues, carved way back in the 13th century…
Travel with like-minded photographers ready to stop and wait for the perfect light at all the best photo spots…
Enjoy a private photo shoot—arranged just for us—where locals wear traditional dress in iconic locations across the island…
Indulge in fine foods, wine, and cheese as you watch the sunset over the Pacific… followed by traditional dance…
And so much more…
Plus, you'll do it all with professional photographers by your side—one of which is an island local—ready to show you all his best-kept secrets.
Easter Island has long been one of the world's best-kept secrets.
But on Easter Sunday, in 1722, a Dutch explorer discovered the island, and it finally became known to the western world.
At 2,290 miles from the Chilean coast, it's no wonder it remained a secret for so many years.
This remote volcanic island—known by natives as "Rapa Nui"—is a Chilean territory most famous for its archeological sites, including the more than 900 statues called "moai" that were created by the island's earliest inhabitants — and remain much of a mystery to this day.
But the intrigue of the moai is just one of many reasons to visit this remote island.
Photographers will also marvel at the rugged coastline… hidden caves… jaw-dropping landscapes… unpolluted starry night skies… fascinating local culture… pristine beaches… and colorful sunsets and sunrises.
And with two photographers by your side with intimate knowledge of Easter Island, there's no better way to explore this mysterious wonderland than by joining us on this trip (limited to just 12 photographers) in April 2019.
The focus of this expedition is on creating amazing and saleable photos—so you'll be out and about shooting at the best times of day from all of the best vantage points on the island.
Beginners are welcome on this tour.
Meet your instructors
Professional photographer and world-traveler James Richard Kao and local guide and photographer Marc Ross Shields created this expedition exclusively for Great Escape Publishing, after they fell in love with the beauty of this remote island and culture. Now, they're eager to share it with you next spring.
James Richard Kao is an award-winning professional photographer from Redondo Beach, California. He specializes in sports, travel, lifestyle and documentary photography. He is a regular contributor to Trail Runner Magazine and his work has been featured in other magazines like Triathlete, Hana Hou! (the in-flight magazine of Hawaiian Airways), and AAA.
James worked professionally as an urban and city planner for nearly two decades prior to pursuing photography. After studying photography at the Rocky Mountain School of Photography in Missoula, Montana, he continues to travel the world in pursuit of his photography. Fluent in Spanish, James has made two prior trips to Easter Island in 2014 and 2016—the latest to document the annual two-week Tapati Festival.
Marc Ross Shields was born and raised in New Zealand. At twenty years old, he set out to explore the world, living in London and Istanbul and traveling extensively through Europe, the Middle East, Asia, and South America.
In 2007, Marc met his future wife Tuhiira, a native from Easter Island, and soon after moved to her beloved island. The couple continues to live there with their three children, and today, Marc runs highly-rated photography and star-gazing tours. A photographer himself, he enjoys travel, spear fishing, and showing people the wonders of his island home. Marc is also the author of the photography book, Easter Island – Rapa Nui, Amazing imagery from Te Pito o Te Henua.
As a local expert, Mark will be your go-to-guide for all things Easter Island, as he's a local expert—and it's an added bonus that he's a pro photographer, too, which will ensure you get the best photos possible from your time on the island.
You'll also have with you on this trip:
Joe Sindorf is not only one of our most-beloved instructors, he's also an award-winning photographer and international humanitarian filmmaker who has worked in more than 75 nations around the world. To us, he's an amazing workshop leader, and will be your guide on this trip.
As the leader of our previous expedition to Namibia, Joe received rave reviews from our guides and guests alike. Joe is the perfect host and instructor to accompany you on this expedition across the Pacific. His still photographs have been published in National Geographic Traveler, Outside, American Photo, World and Professional Photographer magazines, among others. His video work has won international film festivals, the NATAS Emmy Award, the George Foster Peabody Award (often referred to as the Pulitzer Prize for broadcast media) and others.
Joe is both a talented photographer and a phenomenal teacher and trainer—not to mention an incredibly approachable person. His patience, knowledge, and friendliness will ensure everyone, regardless of skill level, feels supported and encouraged, and his endless stories will keep you amused!
Your "Island Time" schedule
Day 1 – Monday, April 1 (Arrival)
You'll schedule your flight to arrive on this day or the day before. LATAM Airlines has a daily flight arriving from Santiago, Chile around midday to Mataveri Airport in Hangaroa (airport code IPC).
Arriving at the island, you'll barely believe that your plane is the only one at the airport, and you'll feel like a celebrity when greeted by friendly hotel staff and Marc, who will transport you in style to one of the top island accommodations.
If you plan to arrive a day early, you can arrange a day tour with the hotel, or simply relax at the pool and spa or explore the town of Hangaroa on your own.
Settle in and relax, then at 3 p.m., we'll meet for tea and orientation in the hotel reception and lounge area. Your instructors James and Marc will introduce the island and review the itinerary for the week.
After some free time in the afternoon, we'll meet up again at 6 p.m. to board our van to Tahai—the island's most popular spot to watch the sunset behind moai statues. There, we will celebrate your safe arrival to the island and the start of our adventure with wine and cheese.
After watching your first sunset on the island, you'll be free to depart and explore the many culinary options in town for dinner with your new friends.
Day 2 – Tuesday, April 2
You'll wake up early for our first sunrise shoot back at Tahai at 6 a.m. Although most people visit this site at sunset, it is equally—if not more—stunning before sunrise in the early morning light. And the best part is, the tourist groups arrive hours later… so there's almost no one there.
By the time they arrive, you'll already be on your way back to the hotel for a leisurely and hearty breakfast.
After breakfast, we'll visit the Sebastian Englert Anthropological Museum. Here, you'll learn about all things moai and Rapanui—essential to appreciating all the sites that you'll be photographing the next few days.
After lunch in town, we'll reconvene around 3 p.m. for your first photography class with James Kao. James will first share some of his own work, and then cover the basics of essential travel photography gear and shooting techniques you can use throughout the week.
Following your first class, we'll make our way to the harbor and board a small boat for an afternoon ride along the coast. Seeing the island from the water will give you an entirely different perspective and also increase your amazement at how the Rapanui people were able to travel vast ocean distances to arrive at such a remote place.
After the boat ride, grab a quick dinner in town as we'll be meeting up again at 7:30 p.m. for an evening stargazing tour at Anakena Beach.
Marc and James will give you the basics of astrophotography, and you'll get a chance to practice these techniques on a perfectly moonless night, free of light pollution. Have your camera, tripod, and a good headlamp ready to go.
Day 3 – Wednesday, April 3
Enjoy a more leisurely breakfast this morning before we make our first visit to Rano Raraku, the ancient stone quarry where the majority of the island's moai statues were carved.
Known as the "nursery," this site is slightly eerie as stone faces are seemingly everywhere and will be sure to leave a lasting impression.
After getting your fill of moai, we'll return to the hotel for a late morning Basic Lightroom training session with Marc. Marc will show you how this program is essential to enhancing and organizing the hundreds of new images you've already made on this expedition.
Lunch today will be on your own, with some free time to check out some of the local sights, stores, and restaurants in town. Bring your passport and visit the post office to get a special Easter Island stamp!
In the late afternoon, we'll regroup to visit the sites Ahu Akivi—an ancient star observatory and one of the most sacred places on the island—along with Puna Pau crater and quarry. Finally, we'll explore hidden island caves, once used as tombs by the indigenous people years ago.
Dinner is on your own tonight, with some free time to rest before tomorrow's early morning.
Day 4 – Thursday, April 4
Today we will rise even before the local roosters as we head out to the eastern side of the island to shoot stars and the night sky at the island's most impressive collection of standing moai—Ahu Tongariki.
The sheer massiveness of this construction will take your breath away, as well as the morning sunrise behind the moai.
You'll have enough time to get your shots and even a few selfies before we return to the hotel for breakfast.
After we've eaten and had our morning coffee, James will lead us in a session on working with models. Part of being a successful travel photographer is the ability to quickly establish rapport with models and to give them proper direction. We'll be working with local models tomorrow, so this will be your chance to get your settings, take notes, and ask lots of questions.
Lunch is on your own today. Take some time to wander around Hangaroa and meet some friendly locals. Many of them speak English, and if you know Spanish, even better, as it's the official language (Easter Island is a Chilean territory).
After exploring the ancient mysteries of this fascinating island, this afternoon, we'll head to the town harbor to catch an intimate look at modern island life. There, we'll watch and photograph local fishermen at work… kids swimming and jumping off the dock… surfers nearby… and possibly turtles!
Enjoy a relaxing evening on your own.
Day 5 – Friday, April 5
Today you'll have the rare opportunity to meet and photograph Easter Islanders in their traditional dress by the white sands and jewel-toned waters of Anakena Beach.
Joining us will be several local models who look like they came straight off the set of Kevin Costner's 1994 film "Rapa Nui." We will have the models stationed strategically around the beach and divide the group up so everyone will have a chance to work with each one.
If you've never worked with models before—have no fear. Beginners are always amazed at how much fun these shoots are! We'll teach you exactly what to do.
We'll later return to the hotel for a much-deserved breakfast. You'll have a few hours on your own today to work on your images and grab lunch in town.
In the mid-afternoon, we'll gather in the hotel lounge for a photo review session, followed by a late afternoon shoot with our models at a new island location.
This evening, we've arranged a special event for you.
The Rapa Nui are fiercely proud of their culture and traditions and nowhere is this better expressed than in their song and dance. Tonight, you'll visit Te Ra'ai, the island's best dance and dinner show.
You'll get to sample a traditional Rapanui meal, cooked underground with hot stones, and a rousing dance performance that will have you out of your seats in applause.
With our cameras in-hand, we'll have plenty of photo opportunities and a chance to take photos with the performers after the show.
Day 6 – Saturday, April 6
Our last full day together will start off with an early morning hike along Rano Kau—the largest volcanic caldera on Easter Island—where you can catch a glimpse of the blue and green pool of water in the middle of this volcanic circle.
Next, we'll make a stop at the stone village of Orongo, the ceremonial home of the bird-man cult.
After breakfast back at the hotel, James will give his final class presentation on improving your travel-photo compositions, and your final photo review.
Lunch will be on your own. If you haven't done so, you may want to visit one of the several restaurants along the beach or harbor.
In the afternoon, we'll head out for a final shoot along the coast at Ana Kai Tangata, the "Cave of the Cannibals," with its legends and cave paintings, and Ahu Vinapu, with its ancient stone masonry reminiscent of Incan architecture, in that each stone fits with the next perfectly.
In the evening we'll convene for our farewell dinner in town.
Day 7 – Sunday, April 7 (Departure)
We'll meet for our final breakfast together and then you'll have time to finish your packing and check out. You'll have a little time this morning to grab any last-minute souvenirs or spa treatments or just roam around the town.
You may even want to attend Sunday mass at the island's Catholic church, the Iglesia Hanga Roa. It's worth a visit for its spectacular wood carvings that integrate Christian doctrine with Rapanui tradition. You will see the islanders dressed in their Sunday best and belting out rousing hymns.
Around the middle of the day, hotel staff will take you back to the airport… but you will not want to leave, so the Islanders will welcome you to return to ensure that you do.
Accommodations
Throughout the expedition, you'll be based at one of the nicest hotels on the island—the Hangaroa Eco Village and Spa. With its ocean views, spanning grounds, pools, and lauded cuisine, you'll be happy to relax here after our long days out exploring.
Take in the sunset by one of the pools or treat yourself to a spa treatment during your free time.
Activity level: HIGH
Uneven terrains, rock and sand walkways, small boats and other activities on this trip require good mobility and reflexes. The village itself is small and walkable so for trips around town, you can either walk from the hotel or rent a bicycle during your stay.
Pricing and what's included
Full Price: $6,699
First-Alert List Discount: Save $700 with our First-Alert Discount. You'll pay just $5,999 when you register today.
Easy Payment Plan: What's more, if you'd like to take advantage of our easy payment plan, you can register today for just $999 down.
Here's how it works:
Pay $999 today.
Lock in the discounted workshop price of only $5,999—a full $700 savings for you! (*Note: Additional discounts may apply on the registration page here.)
Then divide your remaining payments evenly over the next 5 months until your balance is paid in full.
Additional discounts may apply. 
Your registration includes:
Six nights' private room accommodation in Hangaroa at the high-end Hangaroa Eco Village & Spa…
Daily breakfasts and afternoon coffee and tea…
Five days of insider photography tours, instruction, and photo reviews with professional photographers James Kao and Marc Shields—through the stunning calderas, beaches, caves, and archaeological sites of Easter Island…
Extra photography help from your GEP tour leader and award-winning photographer, Joe Sindorf…
An opportunity to witness, up close, the fascinating and mysterious moai statues and the daily life of the modern-day Rapanui people with our unique access to the local culture, food and archaeological sites…
Sunrise, sunset, and night-time star shoots in iconic locations across the island…
Model shoots with locals in some of the best secret photo spots on the island…
Expert hands-on assistance from James and Marc, who will be right by your side throughout the adventure…
Transportation to shoots around the island and National Park entrance fees…
Transport to and from the airport (so long as you stick to our itinerary—if you arrive early or stay late, you'll need to arrange this on your own)…
Gratuities for our guides and drivers…
A wine and cheese party during sunset on our first evening together…
A farewell dance and dinner show on our final evening…
Pre-event guidance and on-the-ground support from our GEP staff…
Lifetime access to a private Facebook page so you can keep in touch with your fellow attendees and instructors before, during, and after the expedition…
And so much more!
Your registration fee does NOT include:
Airfare to and from Easter Island
Equipment—you must bring your own camera and accessories (e.g., memory cards, tripods, etc.)
Meals not listed in this brochure (allow $30-$50 per day)
Bike or car rentals on the island for transportation on your free time
Personal souvenirs
Our commitment to affordability
We pledge to offer expeditions at the best possible price.
We create tours for travelers, not tourists. Folks who want unique experiences they wouldn't likely find on their own. And we strive to make each and every expedition better than the last.
The only way we can ensure affordable tours without sacrificing these experiences, is to offer them one at a time, which means we don't publish a yearly expedition schedule on our website.
Many other tour companies use a simple formula, designed to shuffle tourists from one place to the next. They'll use the same itinerary year after year, without making modifications. And that's not who we are.
To keep our prices low, and our itineraries fresh, we stay on top of the trends, deals, and best-value opportunities that we can get our hands on. This sometimes means we'll put together a trip very quickly, and you might not have as much advance notice.
But you'll have a great price (oftentimes $2,000-$3,000 less than what you'll find elsewhere), and a great itinerary. That's our pledge to you!
Please note: If you're someone who needs more advanced notice for budgeting and planning purposes, we have plenty of trips that are announced 9-12 months in advance. But other trips require quicker planning and execution, so please understand that sometimes we announce trips with just 3-6 months advance notice.
What to expect
Weather: April temperatures in Easter Island average a high of 76 degrees and a low of 65 degrees. There is the possibility of rain during this month, too, so bring rain gear and protection for your photo equipment.
Health: As with all overseas travel, it's recommended that you're up to date on all routine vaccinations. These vaccines include measles-mumps-rubella (MMR) vaccine, diphtheria-tetanus-pertussis vaccine, varicella (chickenpox) vaccine, polio vaccine, and your yearly flu shot.
The Center for Disease Control and Prevention (CDC) also recommends Hepatitis A and Typhoid for travelers going to Chile. You can find all this, as well as more information pertaining to health precautions such as safe food and water practices on the CDC Website.
Visa entry/exit requirements: If you're a U.S. citizen, you need a current passport that's valid for the period of your travel. When you enter Chile, you will be issued a Tourist Card that is good for 90 days of travel. You must surrender this card at departure—if lost, you will pay a fine. See this site for more details: https://cl.usembassy.gov/u-s-citizen-services/entry-exit-requirements/
Insurance: We highly recommend insurance coverage for cancellation. This should be taken at the time you book the trip. We also recommend supplemental travel insurance to protect yourself in case of unplanned medical emergencies.
Money: The currency in Easter Island is the Chilean Peso. U.S. dollars are accepted at many businesses. There are only two ATMs on the island, both a short walk from the hotel. Your best bet is to exchange for pesos at the airport in Santiago or in the city if you arrive early and don't make a connecting flight the same day.
Also, check with your bank before you leave to make sure your card will work in Chile. Have them add a note to your account that says you'll be making withdrawals in Chile and Easter Island (some banks will freeze your funds if they suspect someone has stolen your card.)
Internet access: All rooms at our hotel in Easter Island are equipped with free Wi-Fi. The hotel also has a business center. Please be aware that the connection might be slower than what you're used to here in the U.S.
Electrical: Chile and Easter Island use 220V and 50Hz and the European type plugs with two round plugs. You will need a plug adapter, the Southern European/Italian type. You may also need a voltage converter if your appliance is 120V and 60Hz.
Time: Easter Island is two hours behind Santiago time. Santiago is in the same time zone as New York City so Easter Island is on Mountain Time.
To register now, please click below or call (561) 860-8266 Monday through Friday, 9:00-4:00 Eastern Time. You may also email: lori@greatescapepublishing.com
Here's to having the adventure of a lifetime in Easter Island next spring!

Lori Allen
Director, Great Escape Publishing
P.S. Space on this expedition is limited to just 12 photographers, so don't delay!
©2018 Great Escape Publishing 
All Rights Reserved. Protected by copyright laws of the United States and international treaties. This content may only be used pursuant to the subscription agreement and any reproduction, copying, or redistribution (electronic or otherwise including on the world wide web), in whole or in part, is strictly prohibited without the express written permission of Great Escape Publishing 101 SE 6th Ave., Suite A Delray Beach, FL 33483.