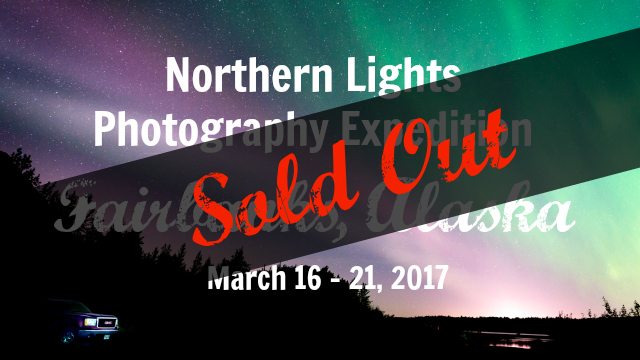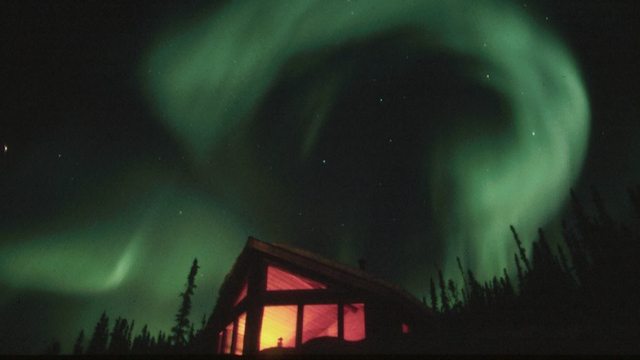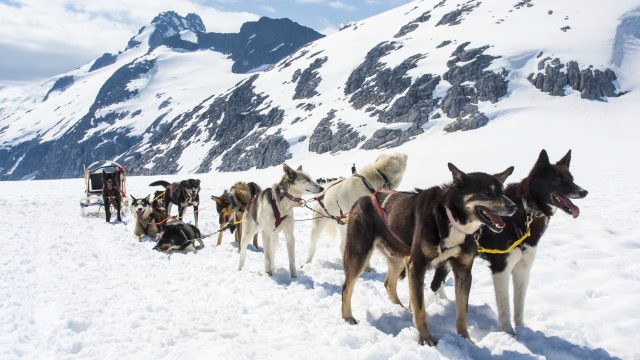 Alaska Northern Lights Photography Expedition
Northern Lights Photography Expedition
Fairbanks, Alaska
March 16-21, 2017
The Northern Lights—also known as the Aurora Borealis—are one of the most amazing natural wonders known to man. These natural light displays occur in the sky of high-latitude areas in a variety of mystical shapes, sizes, and colors…
Capturing these light shows with your camera is an exciting challenge… and very few people ever get to witness this amazing phenomenon in their lifetime, much less capture it through their camera lens.
So this March 16-21, I invite you to join professional photographer Kristen Bentz — and just eleven other attendees — in Fairbanks, Alaska for the Northern Lights hunt of a lifetime!
When you join us on this adventure, you'll learn exactly how to turn your passion for photography (and travel) into a lucrative side income or even a whole new career… all while photographing the magnificent northern lights.
Over five adventure-filled days in Alaska, you'll:
Learn advanced techniques Kristen Bentz uses to shoot pictures that sell for $400, $600 – and more… over and over again…
Get hands-on practical experience applying your new skills – while you explore The Last Frontier…
Discover how fine art photographers create and market their photos – and how you can double or even triple your photography income…
Find out how to turn your photos into cash – and enjoy the freedom, independence, and travel opportunities that freelance photography delivers…
If you're intrigued by the prestige of seeing your photos in magazines or hanging in galleries… if you long for a career or sideline that lets you travel whenever you like and live wherever you prefer… then this is, hands down, the best place to begin your adventure.
Take Your Photo Skills to New Heights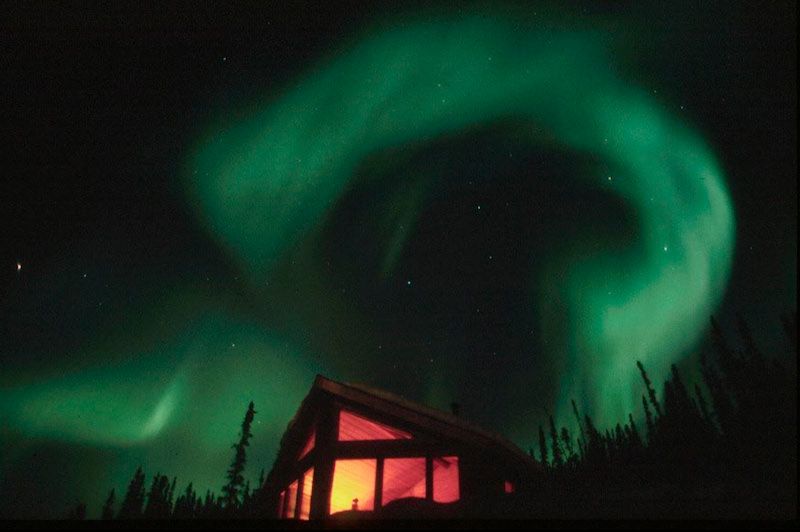 March in Fairbanks is the BEST time to view the Northern Lights. And we'll be based at the authentic Chena Hot Springs Resort — whose sole mission is for their guests to experience the Northern Lights.
From the comfort of the lodge's very own "aurorium" you'll have front-row access to nature's amazing light show.
Once the lights are "on" and your camera is set, you'll hop outside with the group to capture the magic and share in the exhilaration of photographing this natural wonder.
The lodge staff knows we're photographers. And they'll do whatever they can to make sure you get to experience the aurora's magic. The hotel will be standing by to phone your hotel room just as soon as the bright splendid colors of the aurora begin to fill the dark night sky.
You'll grab your camera—head to the aurorium and shoot until your memory cards are full…
What are the Northern Lights?
Throughout history, many civilizations speculated what the Aurora is and what caused it… could it be spirits of loved ones, a sky bridge between the gods and earth, moving and burning clouds, or simply a reflection of the sunlight?
Surprisingly it wasn't until the 1950s the phenomenon behind the northern lights – electrons hitting the earth's atmosphere – was scientifically proven. What that science means for us is that it is now easy to predict it… making it much easier to photograph!
This magical colored light, appearing to blow in the night's sky like clouds in the wind… ever changing and always different… is nothing short of stunning. And this workshop is all about getting AMAZING photographs of it!
A Unique Experience, All Around
Did I mention we're doing this at a hot spring? Chena Hot Springs Resort sits at a natural geothermal hot spring pool, which you can enjoy at all times of the year.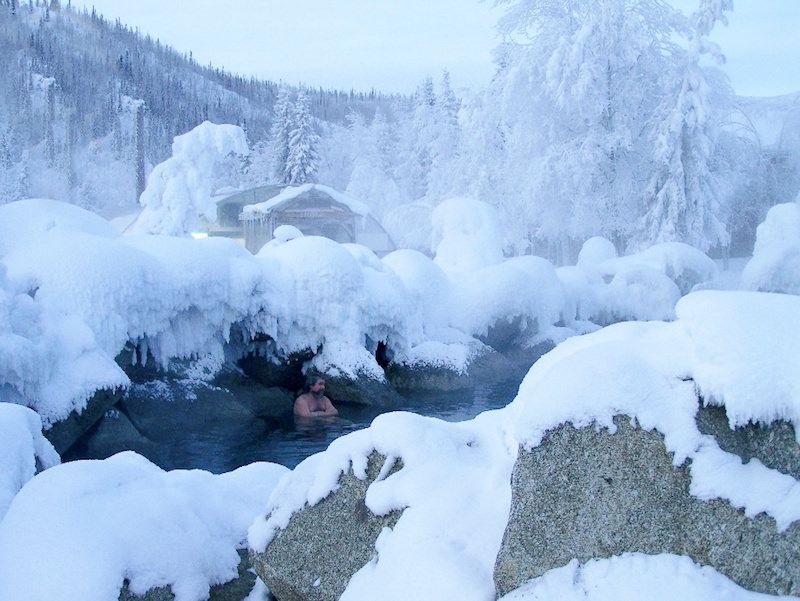 With the aurora season at its peak, and a number of authentic Alaskan adventures on the schedule, plus all the charm and character of the hot springs resort at your fingertips, you'll have so many opportunities to get out and have fun experimenting with your camera.
And you'll do it all under the guidance of Kristen Bentz, whose job it is to make sure you return home with stunning photos you can sell to galleries, newspapers, websites, and more.
Kristen has a schedule that takes in both the crisp arctic fun by day… and the magic of night shooting where you'll capture the beauty of the dark sky only Alaska can offer.
Not only will you come away with a real passion for Alaska – having discovered it with a photographer's eye – but you'll also learn all the ins and outs you need to take amazing photos, and sell them. You'll be amazed at how you'll see your own hometown in a whole new light, too… and start uncovering photo opportunities at every turn…
By the way, you don't need to be a camera whiz to take magazine-quality photos. Bring your camera and a tripod, and by the end you'll be an expert at "manual" settings… though you'll see how easy it really is.
And this March 16-21, 2017 in Fairbanks, we'll show you exactly how it's done.
Whether you have little experience and modest equipment or you're already a talented amateur photographer, this expedition will give you everything you need to establish yourself as a true pro.
A True Alaska Adventure…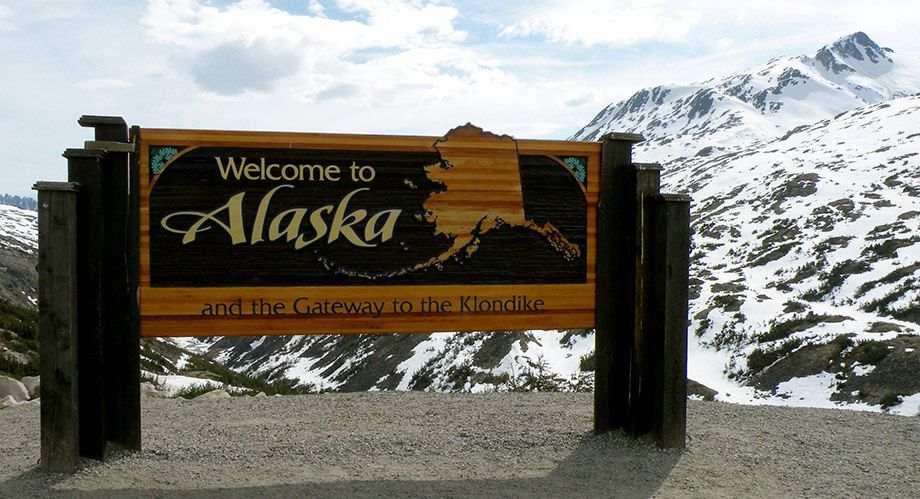 With Kristen by your side, you'll spot and track geomagnetic storms as they are forming, find positioning in the best photographic locations, and capture images like never before!  
During the day you'll focus on capturing the diverse weather and wildlife of the arctic, and explore the unique features of Chena Hot Springs, such as the onsite hot spring pools, ice museum, and aurorium cabin specifically designed for comfortable northern lights spotting.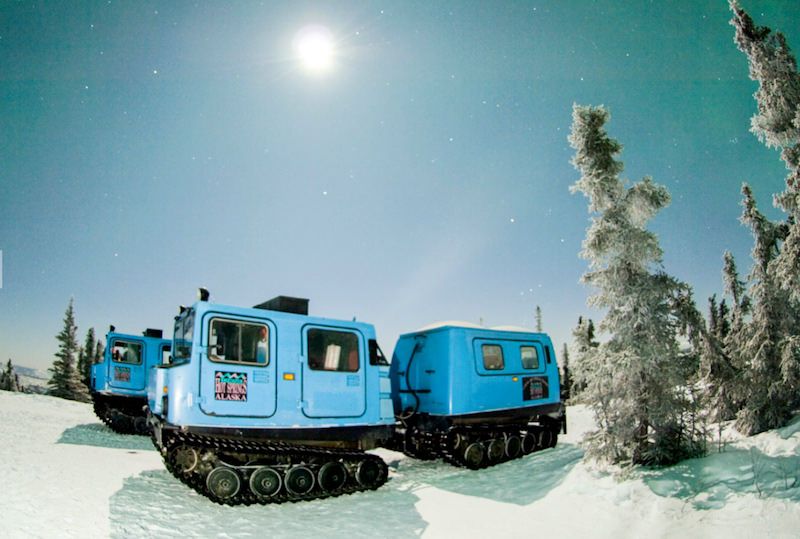 One of the highlights of this Alaskan adventure will be a special trip in the Aurora Snow Coach. Designed like an enclosed snowmobile train, this exciting tour will whisk you away to one of the best northern lights viewing spots in the world… High up on the ridge sits a heated yurt full of all the warm beverages one could wish for, ideally positioned in a dark location for no other purpose than photographing the aurora. 
Of course, no Alaska trip is complete without taking a ride with the sled dog team! So, we've organized a behind-the-scenes kennel tour… puppy snuggling… mushing… and lots of photo opportunities.
We're keeping the group small — limited to just 12 attendees — so you get to have the best experience… and as much of Kristen's time as you need to take your photography to a whole new level.
Attendees of these live workshops boast great successes, in fact, Kristen attended our South Africa expedition several years ago, and the images she recorded there are among her BEST-selling stock shots. And you needn't have a lick of experience to join the ranks, all you really need is a passion for exploring the world (even your own backyard), camera in hand.
Kristen's presentations on selling and reselling your photographs will include everything from taking the right kinds of photographs… to knowing and understanding which market will be most likely to buy them.
Our Participants in Similar Programs are
Enjoying Great Successes
Programs like this one in Alaska boast an unbeatable track record – it really does propel people from amateur to pro, fast.
Take Lynnia Allison. She attended our workshop in The Bahamas, and one month later, she displayed some of her photographs at a local gallery exhibit and sold four at $500 a piece.
And there's Sue Wright, who attended our workshop in Paris and sold more than $1,500 worth of photos within three months of returning home.
They both paid for their workshop fees in short order, and the skills they used to do it are the same ones you'll learn in Alaska this spring!
We'll teach you everything you need to know to create your own successes… and turn your photos into cash so you can enjoy the freedom, independence, and amazing travel opportunities freelance photography can deliver.
Discover the Skills and Secrets You Need to Turn Your Snapshots into Cash… and Your Travels into Paid Vacations…
This Alaska program will focus on fine art photography and selling your images to magazines, tourism bureaus, and locally in your own hometown.
Shoots and presentations on this expedition will focus on…
How to get the best possible pictures every time, no matter what kind of camera you have…
Creating high-impact, long-exposure images of weather phenomena and much more…
Composing your photographs for maximum effect when marketing them for fine art, magazines, and stock…
How to prepare your submissions to maximize your chances of selling your pictures to magazines, galleries, through contests, and more…
How to use social media to gain exposure and market your work…
How, specifically, to sell the photos you take on this trip…
Processing tips to really make your photos "pop"…
And much more…
Capture Winter Weather, Animals, & Northern Lights Shots That Will Sell!

You'll find this expedition fast-paced, hands-on, and fun! You really will see Alaska in a way most tourists NEVER experience. We have a full itinerary planned for each day and most of the workshop will be done out-and-about on foot, so you'll need to be prepared for high-activity throughout the week.
You'll also benefit from unique one-on-one instruction with Kristen throughout the five days, both during shoots and special classroom sessions.
And you'll learn about which types of subjects sell best for fine art in galleries, editorial in magazines, and stock.
Almost every day there'll be special group photo reviews, where you'll learn what you're already doing well and what you can do to improve your photos and bump up your success. Kristen will provide you with the insights you need to really put your camera to work for you and, once you've captured the shots you want… how to sell them.
For more details on itinerary, pricing, and instructors, click on the links at the top of this page.

Here's a run-down of what you can expect …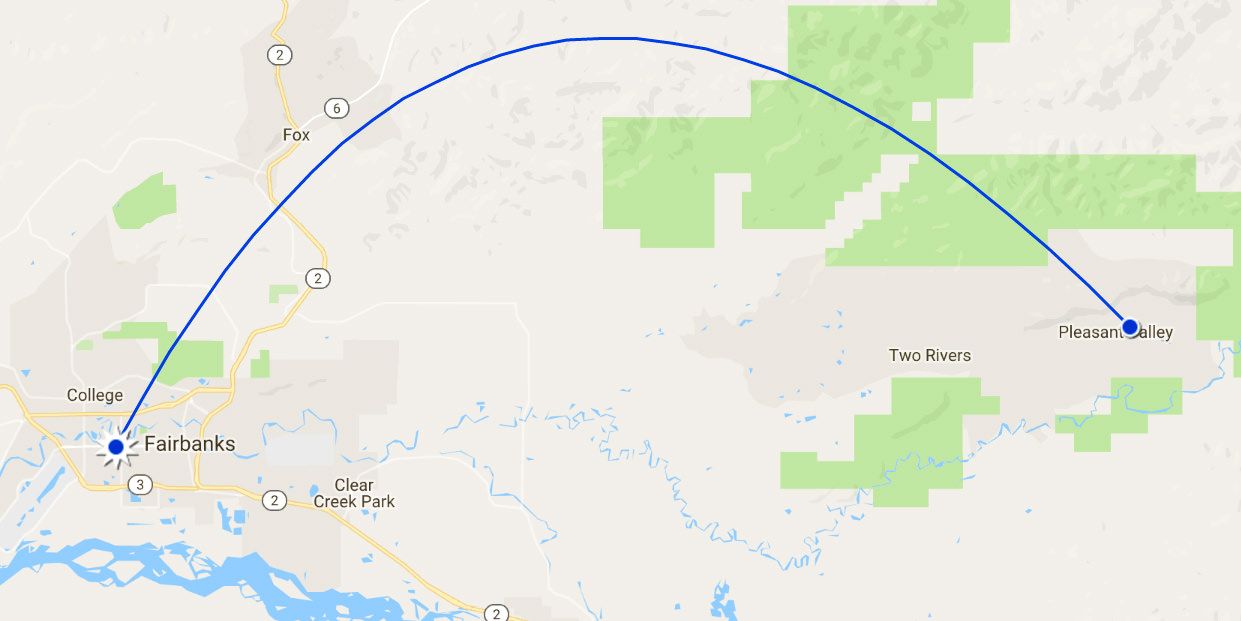 Day 1 (half day): March 16
You'll arrive in Fairbanks this morning and transfer to Chena Hot Springs, your home for the next few days. You'll meet with Kristen and your group in the afternoon and get right down to business. After a brief introductory meeting at the hotel, you will look through some of Kristen's favorite shots of Alaska and hear about how one lightning photograph launched her photography career into overdrive.
Next you'll learn all about night photography and long exposures… both integral in Aurora photography. You'll receive specific instruction to take outstanding aurora photos right from the start.
Additionally, Kristen will walk you through some compositional suggestions and techniques that you can use to improve all your shots right off the bat.
After dinner, gear up as you begin to track your first geomagnetic storm! Expect to shoot the northern lights well into the night.
Day 2: March 17
Sleep in after a night of Northern Lights photography. Take some time to enjoy the hot springs or other resort amenities because this afternoon you'll get a behind-the-scenes look at how Chena Hot Springs operates… with a geothermal tour.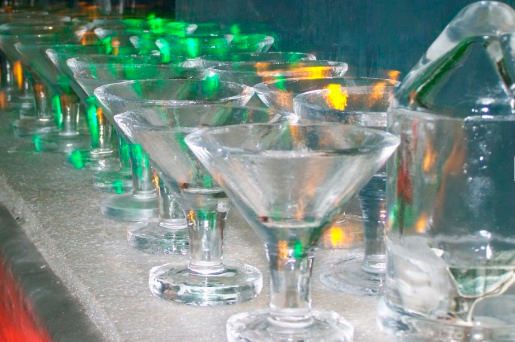 Then step into Alaskan history with a tour through the ice museum and bar… complete with your very own authentic ice glass, full of Chena's signature Appletini!
After dinner, you'll head back to the classroom for photo reviews and Kristen will share tips for photographing aurora featuring stunning points of interest within your shots.
In the evening, you'll be back on the hunt for Northern Lights.
Day 3: March 18
This morning, you'll have time for some rest, relaxation, and breakfast before the day's activities.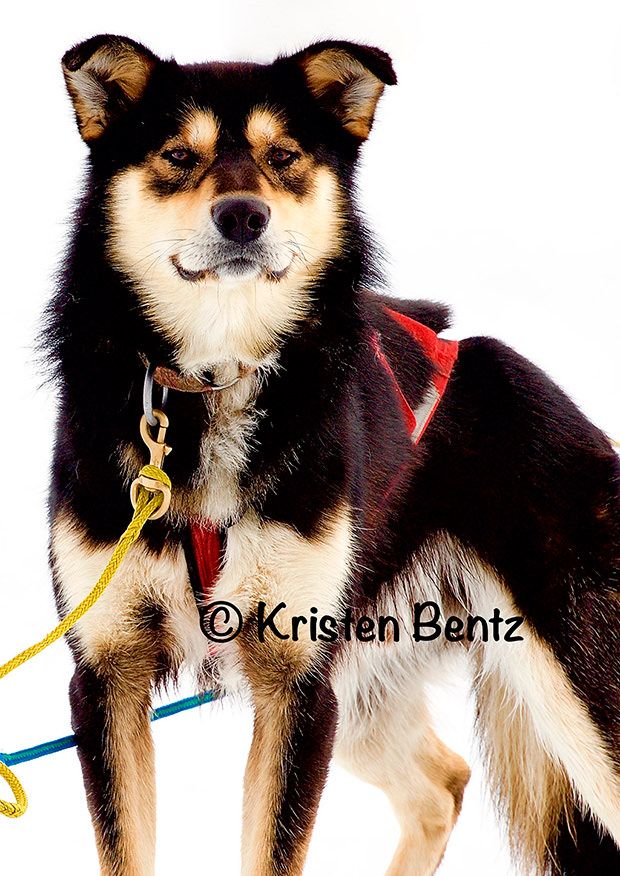 This afternoon you'll head to the kennel for a sneak peek at what many Alaskans still use as their winter mode of transportation… sled dogs! And no kennel visit is complete without taking the sled for a spin.
After dinner, you'll dive into editing your photographs with a quick intro to Lightroom, followed by a hands-on session to edit some of the shots you've gotten thus far.
You'll have a photo review of your edited images before getting back on the Northern Lights hunt.
Tonight you'll visit the Aurorium, enjoy some hot chocolate, and shoot the lights with the resort as a fabulous backdrop.
Day 4: March 19
Today you'll have the morning free to explore the resort on your own, enjoy the hot springs, snowshoe, take a flight-seeing expedition to the Arctic Circle… and more.
You'll meet up with Kristen and your fellow photographers later tonight for the Aurora experience of a lifetime when you embark on the famous Snow Coach!
This snow-mobile-like train will take you on an exciting journey through the woods up to the ridge… the highest viewpoint in the area, where you'll arrive at our heated yurt. This yurt is the ultimate luxury in Aurora viewing.
Day 5: March 20
This afternoon, you'll set out on a photo walk around the Chena property to see what kind of wildlife and amazing scenery there is to photograph. Many moose, caribou, and other critters call this resort home.
After dinner, you'll meet back for more photo reviews, a presentation on where to sell the photos you've taken this week, and Kristen's 10-Day Quick Start Plan to making money with photography.
You'll have ample time to ask any remaining questions you may have before your last night full of Northern Lights photography. 
Day 6: March 21 – Departure Day
Sleep in and enjoy the hot springs one last time before checking out and taking the shuttle back to Fairbanks.
*Note: Our workshop schedules are always subject to change due to weather and construction.  The primary focus of this workshop is on photography and areas that are good for travel photographs.
Kristen, who you'll hear from in Alaska, brings with her many years of photography experience. She's created a systematic approach to learning photography that anyone can follow…
… a system that, when coupled with a bit of persistence, is so powerful, our past workshop attendees are finding great success.
The information you'll gain at this workshop could, quite literally, change your life — it has already for so many of our past attendees who, today, are making money as photographers and enjoying the freedom and flexibility this life can offer.
For more details on itinerary, pricing, and instructors, click on the links at the top of this page.

Our Commitment to Affordability
We pledge to offer expeditions at the best possible price.
We create tours for travelers, not tourists. Folks who want unique experiences they wouldn't likely find on their own. And we strive to make each and every expedition better than the last.
The only way we can ensure affordable tours without sacrificing these experiences, is to offer them one at a time, which means we don't publish a yearly expedition schedule on our website.
Many other tour companies use a simple formula, designed to shuffle tourists from one place to the next. They'll use the same itinerary year after year, without making modifications. And that's not who we are.
To keep our prices low, and our itineraries fresh, we stay on top of the trends, deals, and best-value opportunities that we can get our hands on. This sometimes means we'll put together a trip very quickly, and you might not have as much advance notice.
But you'll have a great price (oftentimes $2,000-$3,000 less than what you'll find elsewhere), and a great itinerary. That's our pledge to you!
Please note: If you're someone who needs more advanced notice for budgeting and planning purposes, we have plenty of trips that are announced 9-12 months in advance. But other trips require quicker planning and execution, so please understand that sometimes we announce trips with just 3-6 months advance notice.
Pricing and What's Included in Your 5-Day
Northern Lights Expedition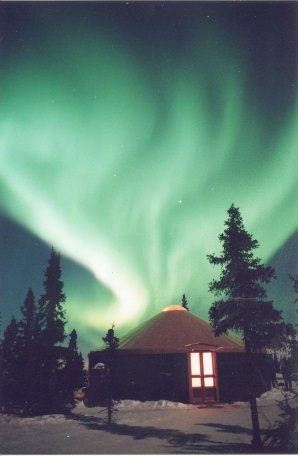 Full Price: $4,399 per person
First-Responder Discount: Save $500 with your exclusive First-Responder Discount when you sign up today.
The full price of this workshop is $4,399 but you'll pay just $3,899* when you add the $500 First-Responder Discount and register today.
If your spouse or a guest would like to join you, he or she can do so for just $2,899.
(*Note: Additional discounts may apply. You can click through to the registration form at the link below to learn more.)
Easy Payment Plan: What's more, if you'd like to take advantage of our easy payment plan, you can register today for just $998 down.
Here's how it works:
Reserve a seat on the expedition for just $998 when you put your name on our attendee list today.
When you do, you'll automatically lock in the discounted workshop price of only $3,899* – a full $500 SAVINGS for you! (*Note: Additional discounts may apply.)
We'll bill your credit card $998 today, and 3 monthly payments of $964 thereafter. So you spread out the payments comfortably over 4 months between now and when the workshop starts in March.
We're only hosting one event like this in 2017. So if you're ready to start selling your photos this year, I encourage you to reserve your place right now. Sign up today and you'll receive a HUGE discount.  Don't sit on the fence on this one, seats go fast and this discount will expire soon.
The full price of this event is $4,399 and its worth every penny for all the real-world advice, personal assistance, and years of experience our expert Kristen Bentz delivers, but when you register for this event today, you'll receive a HUGE discount.
The registration fee for the workshop includes:
Admission to five days of intensive class sessions geared to produce photos you can SELL…
Five night's hotel accommodation at Chena Hot Springs Resort (March 16-21)…
Breakfast daily…
Your Roundtrip airport transfers to and from the airport to Chena Hot Springs…
Transportation to and from all photo shoots…
Special presentations and demonstrations by professional photographer, Kristen Bentz…
Hands-on, in-the-field instruction from Kristen Bentz…
Personalized photo review sessions…
Entrance fees to the Ice Museum & complimentary signature appletini served in an authentic ice glass…
Admission to the Chena Hot Springs Geothermal Tour…
Guided tour and behind the scenes look at a true Alaskan dog sled kennel operation…
Traditional dog sled ride…
Snow Coach aurora viewing…
Winter photo walk through the natural setting of the resort grounds…
Admission to the BEST hot springs in Alaska…
Access to a private Facebook group where travelers can ask questions, share their plans, meet one another before the event, and stay connected post-event…
Pre-Event Guidance from Great Escape Publishing Staff including what to expect, what to pack for the weather, equipment list, travel tips, and more…
Your Registration

Does NOT

Include:
Meals not listed on this flyer (allow $30 to $40 a day).
Airfare to and from Fairbanks, Alaska.
Activities not listed on this flyer (Chena Lodge offers many other activities you can schedule in your free time).
Equipment – you must bring your own camera and accessories (e.g. memory cards, tripod, cold weather gear, etc.)
Tips for Chena Hot Springs staff and employees.
Space is limited and this is the only photography workshop we'll be hosting in Alaska this year. I strongly urge you to sign up soon. I expect this expedition to fill up quickly. And I'd hate for you to miss out.
So please, register here now by clicking below or call our office at (561) 860-8266 (Eastern time zone). You can also email us here.
I hope you'll join us for the adventure of a lifetime!
For more details on itinerary, pricing, and instructors, click on the links at the top of this page.
Instructor Kristen Bentz is a full-time professional photographer specializing in weather, nature and travel photography, now based in Anchorage, Alaska. 
Her photographs have appeared in TravelAge West magazine, the Arizona Tourism Guide, and ad campaigns for the American Sugar Association, CBS 5 AZ, Continental Tires, and more.
Before moving to Anchorage specifically to photograph the Northern Lights, Kristen grew up in Gilbert, Arizona where she spent her time learning to track and chase lightning storms, perfected the art of creating beautiful weather imagery, and earned the title of Monsoon Photographer of the Year. In other words, she knows exactly where to go, what to shoot, and how to make money creating AMAZING photographs!
In Fairbanks, she'll show you how to sell your photos through galleries, to travel magazines, guidebooks and as stock. She'll also share her secrets for selling locally to fund your vacations… all while introducing you to the absolute BEST Alaska has to offer, and helping you navigate the night sky like never before.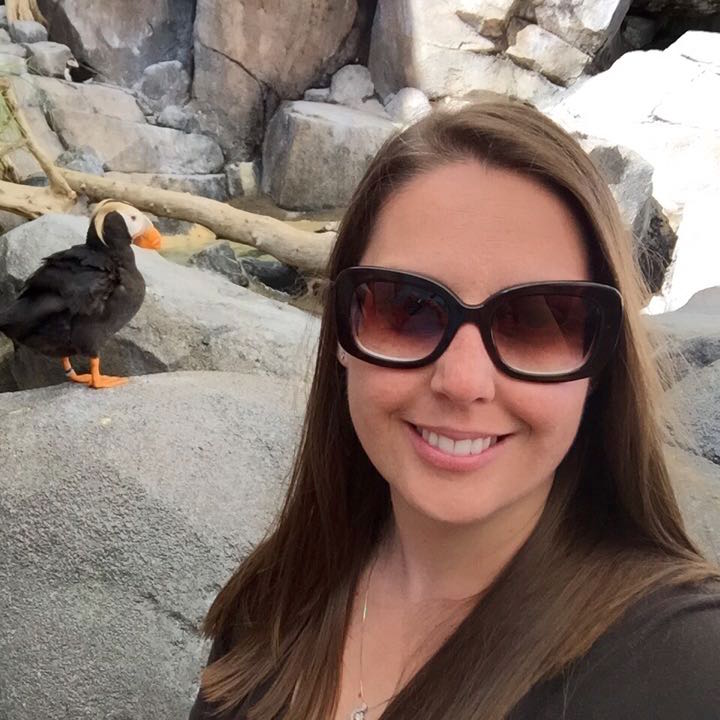 Kristen Bentz is a part-time photographer from Phoenix, Arizona. Graduating in the top of her class, with degrees in Business... [Read More]
Where You'll Stay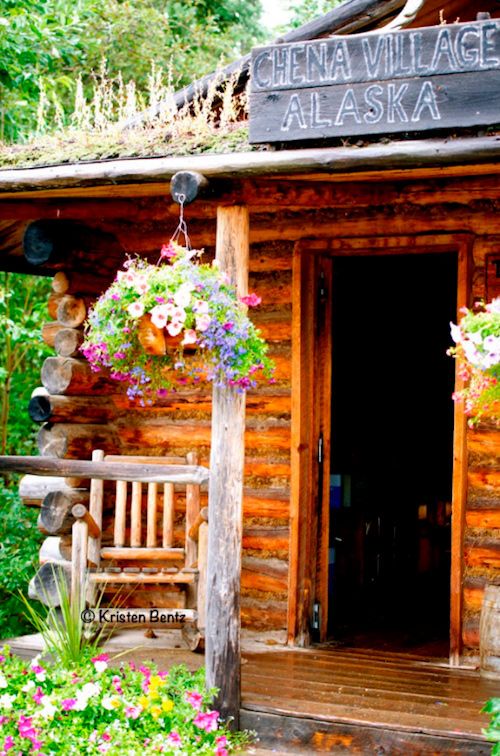 Situated an hour due East of Fairbanks, Alaska, the quaint Chena Hot Springs Resort will be your home for the duration of this expedition.
This 100-year-old Lodge is the ultimate in aurora viewing locations, because it's both near the Arctic Circle and away from the city lights.
Because of this, the resort has geared itself toward the aurora photographer by providing countless outstanding photo ops, creating an aurorium where you can sit (warm and comfortably) drinking hot chocolate, and watch through the all-glass front windows until you see the magnificent dance of the lights.
In addition to offering one of the most exciting aurora coach tours around, there is nothing quite like submerging yourself in the therapeutic hot springs counting shooting stars as they pass through the dancing lights!
While Chena Hot Springs focuses on Northern Lights viewing opportunities, they in no way skimped on good ole' fashioned Alaskan fun!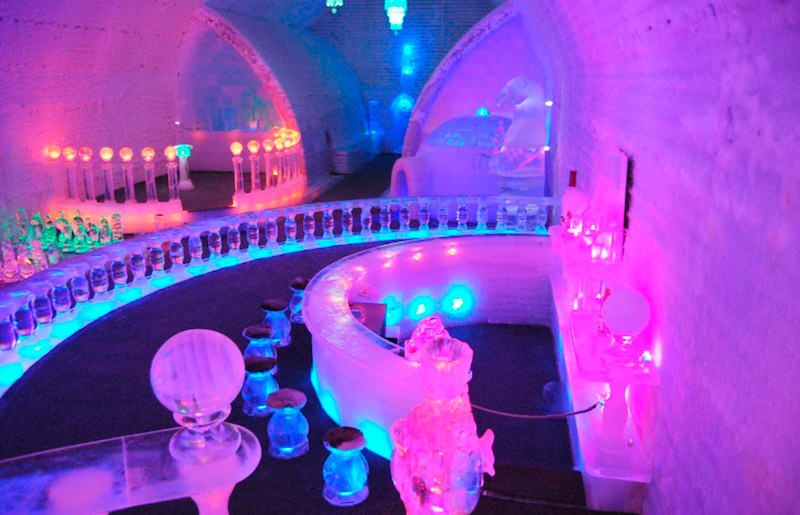 This resort offers onsite dog mushing, an Ice Museum maintained full-time by World Ice Art Champion carvers, its own airstrip for many an extra flight-seeing adventure, and a plethora of equipment available for rent… whether you want to snow shoe, cross country ski, or ice skate. And don't forget about the spa, horse drawn sled rides, and snow machine tours.
Best of all… you won't have to leave the resort for anything. Everything is right outside your front door. This means more hands-on instruction and shooting time!
It's safe to say that while exploring Alaska, you can't help but find something to photograph everywhere your eyes alight.  And that's why we've chosen it for this special, small-group photography expedition this spring.
For more details on itinerary, pricing, and instructors, click on the links at the top of this page.
"Great Escape Publishing is top notch all the way! These guys know what is happening, where it is happening and give you the tools to make it happen for you too!" – Troy Nelson
"Great Escape Publishing pulls out all the stops to plan an "experience" not a "trip." Absolutely recommend them for seasoned or novice travelers alike." –Connie Owens
"Love the variety of trips on offer together with the superb expertise of the photographers leading the expeditions. Love the small groups and the chance to make friends with like-minded people with the same passion for photography. I also love the very comfortable hotels you always choose!" –Linda Nicol
And here's what past workshop attendees have to say about Kristen and her teaching style:
"Kristen is AWESOME! Knowledgeable, available, creative, hardworking, and always ready for adventure. I can't wait to travel and shoot with her again!" –Jennifer Hess
"Kristen is a delight – an expert with great information and tips to share. Lots of fun to be with – helpful; wants participants to have a great experience and take great photos." –Scott Holmes
"Kristen is an experienced photographer who's enthusiasm for photography is infectious; she is able to impart knowledge is a very easy informal way. She ensures that everyone knows what they are doing and nothing is too much trouble." –Linda Nicol
 Prerequisites
There are no prerequisites. This workshop is for people of all skill levels and experience, and the concepts discussed are doable by anyone. Point-and-shoot cameras are welcome, as long as they allow for manual settings to be entered, as required for long exposure photography.
DSLR cameras are highly recommended, for the situations we will be shooting in, to best create images you can sell. Additionally, a tripod will be required and a remote shutter trigger and cold weather cover for your camera are highly recommended.
Activity Level: High activity
Most of this workshop will be spent out-and-about on foot throughout the resort in Alaska. You should be able to climb 3-4 flights of stairs and walk at least 1 mile with no problem to take this tour. You'll need your walking shoes on every day of this workshop. If you are unable to keep up with the group, please understand that you might not be able to participate in an activity. If you have concerns about physical limitations, please contact a Great Escape Publishing staff member before registering. You can email us here or call (561) 860-8266.
Weather
Keep in mind this is a cold weather workshop. You will need to bring thermal clothing (hats, gloves, scarves) as well as a heavy coat. You'll get a full packing list after registration. Highs are typically in the 20s or 30s, with overnight lows dipping into the teens. Be prepared with your cold weather gear!
Late Nights 
This is also a late-night workshop. You'll be staying up late (possibly all night if there's an amazing geomagnetic storm) to photograph the northern lights, as they are only visible in the dark hours. Daytime activities will start later in the afternoon to allow everyone to catch up on sleep in the mornings. But please be prepared for long nights. The photos will be well worth it.
Cell Phone & Internet Access
Due to the remote location of Chena Hot Springs, cell phone service at the Resort is limited to ACS Alaska & Verizon networks. Currently, AT&T, GCI, Sprint, T-Mobile do not have reception at this time. Each hotel room is equipped with a landline telephone (remember those?). Currently, the Activity Center, Pool, and Restaurant/Bar are now WiFi accessible for a fee of $8/day. What better excuse to put away your phones and computers, and truly immerse yourself in the beauty of Alaska!
PROTECT YOUR INVESTMENT
We strongly suggest you protect your investment by purchasing a trip-cancellation insurance, and we would be happy to recommend a policy to you. I've written articles about travel insurance before – how to know when you need it and whether or not it's a good deal – so I can send you those when you register. 
Cancellation Policy
All our workshops and expeditions are non-refundable. If, however, you are unable to attend – and you give us at least 60 days notice – we will be happy to apply your payment toward a future workshop, minus a $200 processing fee for expeditions. Cancellations with less than 60 days' notice may be subject to extra fees.
THE GREAT ESCAPE PUBLISHING
DIFFERENCE
Here at Great Escape Publishing, we're committed to creating tours and experiences that are unlike anything you'll find elsewhere. Here's our 4-POINT PROMISE about what you can expect on this expedition and what makes us different.
1. SMALL GROUPS
You'll be part of a small group of like-minded travelers…folks who want to explore, experience, and enjoy what's unique and authentic about a place. The group size is just 9-16, so you get the chance to know everyone in the group, and you get plenty of one-on-one time from our staff and instructors.
2. AUTHENTIC ACCOMMODATIONS
It's important to us that our accommodations match the destination. We avoid big chains like Hilton and Marriott because they're the same around the world. And instead we opt for small, family-run boutique hotels that match the splendor of the city. Each hotel has the same level of comfort and amenities as these bigger brands, but with a lot more charm and character.
From Hacienda-style lodges in Ecuador… to luxury tent camps on the Serengeti in Tanzania… a garden inspired boutique hotel in Thailand… or a luxury boat in Ha Long Bay… our choice of lodging might just be your favorite part of the trip! And here in Alaska you'll be staying at the Chena Hot Springs Resort.
3. INSIDER EXPERIENCES
We like to explore something the average tourist might not know about. We make connections on the ground so we can visit the best sites, markets, restaurants, cafés, and shops that would be hard to find on your own. We use local guides where possible instead of well-advertised companies and we gear all our schedules toward photographers or writers, so you can skip right to the heart of the city and capture something the regular tourist never will. Our on-the-ground guides know that our goal is to get the best photos at the best times possible, so we're able to adjust our itineraries to make that happen.
4. GENEROUS TEACHERS
Photography tours are a dime a dozen. But try to find a tour that teaches you how to take good photos AND how you can sell those photos for a nice side income, and you'd be hard pressed.
The truth is, a lot of photographers today aren't crazy about sharing their marketing secrets and their income-earning advice with newbies. But the photographers who lead Great Escape Publishing trips are some of the most generous teachers out there. They know that the need for great photos and great articles is only increasing—so the more people who can fill this need, the better for everyone!
On this expedition, you'll have an expert by your side every step of the way, ready to share their professional insights and secrets to help you capture stunning images of Alaska you can sell again and again… and they'll hold nothing back.
For more details on itinerary, pricing, and instructors, click on the links at the top of this page.
← View All Events