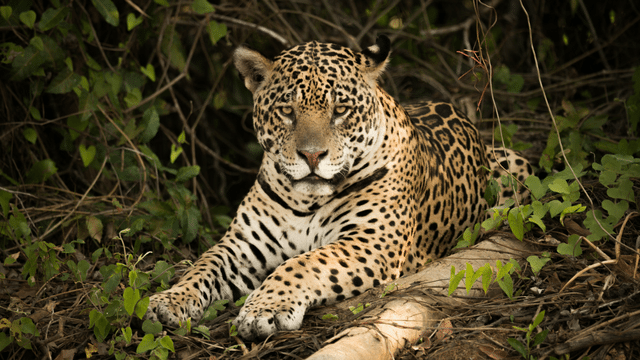 Brazil Photography Expedition
November 8-16, 2019
Brazil
Coming Soon
Join us in the depths of the Brazilian rain forest… on the trail of the magnificent Pantanal jaguar…
And learn all the insider tricks you need—straight from a pro—to become a money-making, 
globe-trotting photographer.
Brazil Jaguars Photography Safari
November 8-16, 2019
Learn from award-winning photographer Joe Sindorf the tricks and techniques he uses to shoot pictures that sell for $200 – $500 and even higher…
Get hands-on experience honing your new photography skills—while exploring the largest tropical wetland in the world—from aboard specially-constructed photo boats that will carry you right to the heart of the action…
Discover how travel photographers create a need for their photos—and how you can double or even triple your photography income…
Find out just how easy it is to turn your snapshots into cash—and experience the freedom, independence, and travel opportunities that freelance photographers enjoy…
More details below…
Dear Photographer,
You may have seen the jaguars of Brazil featured on National Geographic television… or on the BBC's "Wild Brazil" series…
But what about getting up close… I'm talking within actual photographic range of these fantastic creatures… as they roam free in their natural habitat?
Here's your chance…
Our first-ever Brazil Jaguars Photo Expedition, Nov. 8-16, 2019, is not only an opportunity to explore South America's Pantanal Region—a UNESCO world heritage site—but to do it in the company of an award-winning photographer and filmmaker who is eager to share his skills and take your photography skills to a whole new level…
Not only that, but you'll be traveling on the same photo boats—and with the same local guides—that hosted those National Geographic and BBC photographers some years back…
It's the equivalent of a VIP, front-row seat to one outstanding wildlife show…
In fact, National Geographic writes:
"Unlike the Amazon, where the thick jungle obscures the view, the Pantanal lays out its wild kingdom like a Broadway stage packed with high-kicking dancers."
If you love taking photos… but find that they never come out of your camera just how you'd like…
If you dream of seeing your photos in the pages—and on the cover—of glossy travel magazines…
If you long for a career or sideline that lets you travel whenever you like and wherever you prefer… then this is the perfect place to begin your adventure…
With a professional photographer by your side all the way—and a local guide to track the movements of the jaguar—you're guaranteed to have a host of four-legged models at your disposal… and all the expert help you need to turn your jungle shots into images you can sell over and over again… to magazines… as fine-art… as stock photos… and more… 
Jaguars by day… ocelots by night… welcome to the world's largest wetlands!
We've planned this adventure for November when it's nearing the end of the dry season in the Pantanal.
It's the best time of year for wildlife watching in the region… when those hungry jaguars are forced out of hiding and come down to the local watering hole to find lunch…
The Pantanal jaguar is the largest of its own species—and the third largest big cat to roam the earth today. These guys can be as much as 9 feet in length—and weigh more than 200 pounds.
To capture one of these super cats on camera would be any photographer's dream… and now, you'll have the opportunity to do it every day we're together in Brazil…
We'll spend much of our field trips on the trail of the jaguars, but we'll be paying attention, too, to all the other species around us…
The brown capuchin and black-tailed marmoset… giant river otter… yellow anaconda… marsh deer… and giant anteater are just some of the photogenic species native to the Pantanal… not to mention more than 400 species of birds (including great egrets, harpy eagles, tiger herons, guira cuckoos, woodpeckers, toucans, and king vultures).
Professional photographer Joe Sindorf will be your instructor for these seven days.
Not only will he show you the ropes of a travel photographer's life, but he'll also share his insights into capturing the heart and soul of this natural wonderland.
Meet Your Instructor
Joe Sindorf is an award-winning photographer and international humanitarian filmmaker who has worked in more than 75 nations of the world. His work normally takes him to places where people are at their worst—in the aftermath of major natural disasters; surviving famine or drought; and suffering intense injustice. 
His still photographs have been published in National Geographic Traveler, Outside, American Photo, World and Professional Photographer among others. His video work has won international film festivals, the NATAS Emmy Award, the George Foster Peabody Award (commonly referred to as the Pulitzer Prize for Television) and others. Joe has led multiple GEP photo expeditions and our guests always comment on his good humor, kindness, knowledge and ability to share his skills with others.
Beginners are welcome on this tour—even if you're just starting to learn your camera.  Eight days of full immersion—back-to-back instruction—is exactly what you need to learn your gear and understand the basics of photography.  That or "level up" from whatever skills you have today to the next step.  Even if the next step is simply learning the difference between a good photograph and a saleable one.
Also on this trip will be our own Bonnie Caton. You may know Bonnie as founder and chief of our Breakfast Stock Club. Today, in addition to her full-time job here at Great Escape Publishing, Bonnie makes up to $10,000 a year from her photos. All in her spare time.
Along with Joe, she'll be by your side in Brazil to help make sure you leave the expedition with your own saleable photos. She'll share with you her insights and tricks for breaking into stock photography… and how to earn income while you sleep…
And, with a local guide who knows all the best spots to catch the local wildlife at their best—you'll go from photographing the majestic jaguar as he prowls the banks in search of prey… to keeping pace with playful brown capuchins as they swing through the rain forest.
About Our Local Host, 
Dr. Charles Munn
Dr. Charles Munn is a legend in ecology and a noted ornithologist, having almost single-handedly saved the gorgeous hyacinth macaw (the largest species of parrot in the world) from extinction. He is an expert in Amazonian birds and jaguars.
Beyond his noteworthy work in Brazil, he is credited with being responsible for the protection of millions of acres of reserves and national parks in the Peruvian, Bolivian, and Ecuadorian Amazon. We're lucky to have him by our side each step of the trip!
In your down time, you'll enjoy the tranquil surroundings of your jungle accommodation. We'll stay two nights at an eco-lodge and six nights at a "flotel"… where you'll have every comfort you need… while staying at the heart of this extraordinary natural playground…
Activity Level – 
HIGH
High activity. You'll travel by photo boat for most of the expedition, so you'll need to be able to board and disembark the boat by yourself from the dock several times a day. If you have questions about physical limitations, please contact us before registering.
Pacing – 
HIGH
On this expedition you can expect activity-packed days with very little down time to rest. We'll have early morning and late evening photo shoots. Much of the daytime will be spent either out and about on excursions by car or by boat, or back at our hotel in photo review or class sessions. Be prepared to be on the go for all 7 days!
Prerequisites
All skill and experience levels are welcome, and the concepts introduced are doable by anyone. Point-and-shoot cameras are welcome, as well.
Your Itinerary*
November 8-16, 2019
Your expedition starts in the afternoon of Friday, November 8 so you'll want to arrive in Cuiabá (CGB) that morning at the absolute latest.
To break up your trip and allow you to be more rested when we begin our adventure, you may want to fly in a day early (depart the U.S. on November 6, fly overnight and arrive in Brazil November 7) and spend a night in Cuiabá and rest up in one of nice hotels in the city (we have recommendations for you upon registration and can help with your reservation). This extra night is not included in your workshop fee, but it's highly recommended.
Day #1 – Friday, November 8
Arrive in Cuiabá (CGB), the gateway city for jaguars in Pantanal—a less than three-hour flight (from any of the three primary airports above). From there, we'll meet with our local guide and drive three hours into the Pantanal to SouthWild Pantanal Lodge, stopping along the way to see the abundant wildlife on Transpantaneira Road.
We'll arrive at the lodge before dark. After some time to relax over dinner, we'll take a night game drive in a photo safari truck.
Your photography goals are important to us on this trip.  If you're a beginner and you're just getting used to your camera, we'll recommend camera settings and a style of shooting that works best for beginners.  If you're more advanced and you have something specific you'd like to work on, we'll discuss it together and come up with the next step you can use to level up your skills.
Most pros, including Joe and Bonnie, do not shoot on full manual. They shoot in a semi-automatic mode like Aperture or Shutter Priority. If you'd like a shooting mode that's flexible and creative, one of these is likely the best fit for you. Before the tour, we'll discuss your goals for this trip—and then we'll work together to make them happen.  Beginners can expect to see a very big difference in their photos from Day 1 to Day 8.
Day #2 – Saturday, November 9
After breakfast, we'll spend the day exploring the surroundings of our Pantanal eco-lodge—a 3,800-acre private nature reserve composed of a mosaic of savannas and forests on the banks of the wildlife-rich Pixaim River.
Here you can see three species of monkeys and up to 400 bird species—it's to this lodge that serious birders are drawn (more so than to any other area in the Pantanal). With feeding stations surrounding the gardens to attract birds to the camp, you'll have plenty of opportunity to photograph feathers of all color.
You'll also have the chance to explore the lodge's grid of forest trails and use its two observation towers—strategically located at ideal spots: one looking down into a Jabiru Stork nest and another deep in the forest where you'll see a myriad of birds, along with brown capuchin monkeys and black-tailed marmosets.
Along the river is one of the best sites in the world for predictable viewing of wild, endangered giant river otters (sometimes only a few feet away). During the day, it's possible to spot the occasional jaguar on the riverbank. Come evening at the lodge, you're likely to spot an ocelot or two.
Day #3 – Sunday, November 10
We'll depart early (after breakfast) for Porto Jofre with stops along Transpantaneira Road to take in the wildlife.
Once we reach the end of the road, we'll take boats eight miles upstream to Jaguar Research Center Reserve—our base for the next six days—where we'll have lunch before hopping on a boat wildlife excursion.
After dinner, we'll meet for an evening class where Joe will prepare you to get the best out of your camera over the coming days.
Days #4 – #8 – Monday, November 11 – Friday, November 15
Over these days, we'll be based at the Jaguar Research Center Reserve's "flotel"—where all suites are exclusively reserved for our Brazil Jaguar Photo Expedition guests and instructors. We'll have the comfort of having the place to ourselves for our regular photo review sessions and meals… all while we get to know each other and learn from each other in an intimate group.
Following breakfast each day, we'll take to the photo boats for our prime mission: the on-river search for the elusive jaguar and endangered giant river otters.
Then, we'll come back to base for lunch… before embarking on an afternoon boat tour.
The two boats we'll use are specifically designed for comfortable photography and stability. As we travel, our boat guides will be in radio contact with spotters along the Three Brothers, Black Channel, Cuiabá and Piquiri rivers, so we can quickly move to any location when a jaguar has been spotted.
Day #9 – Saturday, November 16
Following breakfast, we'll drive to a jungle landing strip to board chartered planes for the 45-minute flight to Cuiabá Airport.
From there, connect to your return flight home.
*PLEASE NOTE: Itinerary is subject to change. We wish to ensure a trip that will take your photography to a higher level (no matter where you are now), allow you plenty of opportunity to bump up your photo portfolio thanks to our daily wildlife mission trips, and also give you time just to sit back and soak in these amazing surroundings. We'll continue to be in contact with our local guides in confirming our exact location, day by day—many of which are dependent on the movement of the jaguars. And, we may add in other experiences, e.g. a visit from a local Indian tribe to learn about their culture… a close-up viewing of endangered tapirs… a walking photo tour in the jungle (all of which, should they be added, will be covered in the price of your ticket). 
Brazil Jaguars Photography Expedition
November 8-16, 2019
Pricing and what's included:
Full Price: $9,499
First-Alert List Discount Price: $7,999
Loyalty Club Discount Price: $7,299
When you reserve your spot now, you can lock in your $1,500 discount with a small deposit of just $500 down today.
When you do, you lock in the discounted expedition price and you split your fee into eleven easy payments. You can spread them out comfortably over the next few months… and still lock in your $1,500 early registration discount.
To register a guest and pay less for the second seat, please call our office at (561) 860-8266. The office is closed after 6 PM on Fridays and does not reopen until 8 AM Monday morning.
Your registration includes:
A photography tour of the world's largest tropical wetland where you'll spot and photograph jaguars, ocelots, endangered giant river otters, monkeys, tropical birds, and more.
Boat outings—two per day—at a Jaguar research center reserve. Three radio-equipped boats will track and spot wildlife activity for us to photograph.
A highly trained, English-speaking guide, who will accompany our group at all times and give information and guidance on local bird species and the ecosystem
Special activities at a nature reserve on our first night, which include a walk in a scientifically-designed trail system, access to observation towers, and night photography of ocelots at close range.
Dinner on your first night, as well as breakfast, lunch, and dinner on days #2 through #8. Breakfast on the morning of your departure.
Two nights' stay in an eco-lodge on a 3,800-acre private nature reserve followed by six nights' accommodation in a "flotel"—a specially adapted floating hotel
Airport transfers from Cuiabá airport to our lodge in Pantanal.
Return flight from Jagland airstrip to Cuiabá airport
Special presentations, evening classes, and group reviews with Joe Sindorf to teach you how to create better photos and videos and sell them…
Gratuities for your tour guides…
And so much more!
Your registration fee does NOT include:
Your round-trip flight to Cuiabá, Brazil (airport code: CGB)
Early or late transfers from Cuaibá airport to our hotel
Travel insurance
Meals not listed above
Equipment—you must bring your own camera and accessories (memory cards, tripod, laptop, etc.)
Cancellation Policy: All our workshops and expeditions are non-refundable. If there is an emergency or a medical reason you need to cancel—and we can fill your seat with another paying participant before the event—we can offer you a Workshop Credit good toward another event in the amount of what you paid minus a $500 credit card processing fee. Refunds to your credit card are not possible.
This workshop is for digital cameras only. You're welcome to shoot in film if you like, but due to time and space, we will focus only on the digital medium of photography and the publications that buy digital photographs. Point-and-shoot digital cameras are welcomed (and encouraged for first-time snappers).
©2019 Great Escape Publishing 
All Rights Reserved. Protected by copyright laws of the United States and international treaties. This content may only be used pursuant to the subscription agreement and any reproduction, copying, or redistribution (electronic or otherwise including on the world wide web), in whole or in part, is strictly prohibited without the express written permission of Great Escape Publishing 101 SE 6th Ave., Suite A Delray Beach, FL 33483.