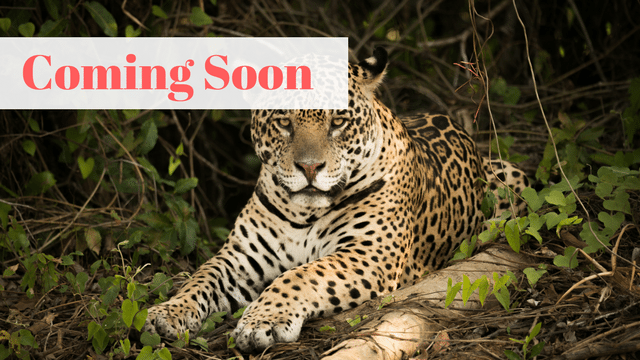 Brazil Photography Expedition
November 8-16, 2019
Brazil
Coming Soon
Get up close and personal with one of the world's most elusive big cats on a photography expedition unlike any other. Traveling on a specially constructed photo boat, you'll head along a river into the Brazilian jungle to photograph the distinctive spot patterns and travel habits of 135 wild jaguars in their natural habitat.
On this trip, you'll get the kind of access to this beautiful animal that few other photographers ever get. You're following in the footsteps of some of the world's most renowned photographers and media outlets: National Geographic TV and the BBC's Wild Brazil series have both shot specials in the privately-owned jaguar conservation where you'll be hosted.
You'll also get the chance to spot endangered giant river otters, yellow anacondas, brown capuchin monkeys, the crab-eating fox, capybaras, giant anteaters and many other species.
You'll do all this in the company of a photography pro, a resident research biologist, and just 11 other attendees.
Over Seven Wildlife-Filled Days You'll…
Learn from a professional photographer and filmmaker the techniques he uses to shoot pictures and videos that sell – and pick up the camera skills you need to do the same…
Practice applying your new skills while exploring Brazil's Pantanal Region – a UNESCO World Heritage Site for its amazing animal and plant life
Hone and perfect your camera setting skills as you capture the jaguars in motion, getting personalized feedback along the way
Find out how to turn your travel photos into cash – and enjoy the freedom, independence, and travel opportunities that freelance photographers enjoy…
The details aren't set and the plans aren't complete, but if you add your name to our Workshop Alert List and show interest in going with us, you'll get a big discount on your seat.
There's no obligation to putting your name on this list.  You'll simply be alerted as details become more finalized for the trip.
More details coming soon!