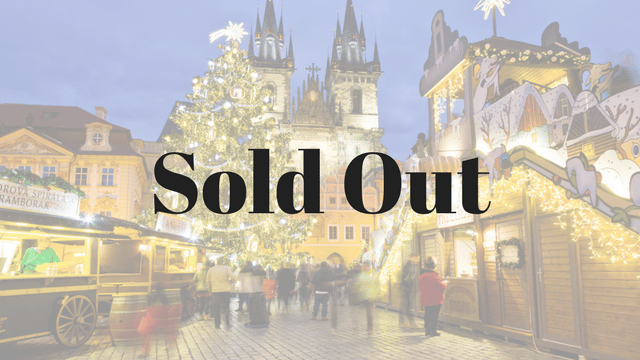 Christmas Markets Expedition

Experience the Magic of Christmas in Budapest, Vienna, and Prague…
On a tour designed to have you learn a new skill AND see fascinating places in an extraordinary way.
Nov. 29-Dec. 11, 2017
---
Dear Reader,
If you like to travel… you love cultural experiences and sharing those moments with others… you seek adventure and enjoy learning new things… then join us this fall in three of Europe's most fascinating cities and find out how to turn your love of travel into a nice side income that will have you exploring the world when you want… as often as you choose… without paying for airfare, travel, or hotels.
Greg Anderson is making money from his travels in a very interesting way — he plans amazing trips and extraordinary experiences and then finds others to go with him.
He took our Creating Niche Tours program in 2013 and now he's traveling up to eight times per year and profiting $5,000 – $15,000 per trip.
It's a full-time income for Greg but that's not why he loves it. He loves it because the trips he plans are bucket-list wishes for folks who want to see the world but don't necessarily have the time or know-how to plan it.
Every happiness expert in the world will tell you that making yourself happy is about making others happy and Greg is learning this first-hand. And every friend who tells you that life is about "the journey" will also confirm that the journey means nothing if you don't like the people you're sharing it with.
Greg thought creating tours was about seeing all his favorite places every year. He thought it was about replacing his day job with something fun and interesting and getting others to pay for his travel expenses.
But turns out, planning tours for those who don't have the time or know-how to plan extraordinary trips… people just like him who like and love all the same things… tops his happiness chart.
He's having the time of his life. He's meeting amazing people who are becoming life-long friends. And he has a job he LOVES, working with people who love him back because they're so appreciative of the work he puts in to crafting the ultimate trip.
When you join us this Nov. 29 – Dec. 11, we'll show you how to turn ANY interest (horses, golf, food, adventure, history, yoga, music, or natural health) into an opportunity to escape… to get your airfare, meals, and accommodations paid for… to pocket a nice side- or full-time income sooner that you think, and we'll do it all on one of Greg's FAVORITE tours — the Christmas Markets of Europe…
Experience Europe's "Winter Wonderland" While Learning a New Skill that Will Fund a 
Lifetime of Free Travel…
Your adventure (and start of a new sideline income) starts in Budapest, Hungary—known for its small, intimate neighborhood Christmas markets.
Wander through stalls of delicately hand-crafted ornaments and gifts, and nibble on traditional delicacies al fresco while the tantalizing aroma of roasting chestnuts fills the air.
Explore Buda Castle, cross Trinity Square, and enjoy all the Old City has to offer within its historic stone walls. You can even rent a pair of ice-skates and glide around the Palace ice rink at Vajdahunyad Castle.
Then, it's off to Vienna, Austria.
You'll travel by train to Vienna, then take in its imperial squares—transformed into magical winter wonderlands this time of year.
The scent of freshly-baked cookies and hot cider welcomes you to the City Hall market through a towering arched gateway, aglow with twinkling candles.
Vienna's grand markets boast ornate decorations to match—and countless vendors line the city's narrow alleyways. You can't help but get into the holiday spirit as traditional Christmas carols float through the air and grand evergreen trees twinkle and shine.
The final stop on your European adventure is Prague, Czech Republic. Here, centuries-old Gothic, Renaissance, and Baroque architecture surround the Old Town Square market… with a grand Christmas tree as the focal point, adorned with hundreds of glittering lights.
Take a step back in time as vendors dress in period costumes and carollers wear long, fur-trimmed capes while serenading visitors in front of picturesque palaces and castles.
For 14 adventure-filled days you'll explore these fairytale cities with an expert tour guide by your side, showing you the best markets and unforgettable sites, and teaching you everything you need to know about planning, organizing, and advertising trips like this on your own.
With plenty of classroom instruction, in-the-field tips, and hands-on experience, you're sure to return home with the tools and know-how for creating tours that revolve around your passions and interests so you can explore the world how you want to… and get paid to do it.
Turn Your Interests into Cash 
Using the Skills and Secrets 
You'll Learn This Fall
You won't just see the wondrous Christmas markets of Europe, you'll experience them. You'll discover the world through the eyes of a tour creator and you'll learn how to plan unforgettable adventures you can share with others… so you can take bucket-list trips of your dreams without any of the expenses.
Greg is excited to share with you (and just 11 others) his years of experience and knowledge, providing lots of one-on-one feedback that will turn your love of adventure into a lifetime of free travel and a great income.
You don't need any special skills. No college degrees or months of study…
All you need is an appreciation for seeing more of the world… some ideas or places you'd like to visit and bring others to… and an understanding of how the tour world works and what you need to be part of it. And you'll get all that on this expedition.
Here's What Past Great Escape Publishing Workshop Attendees Have to Say…
"Great Escape Publishing pulls out all the stops to plan an 'experience' not a 'trip.' Absolutely recommend them for seasoned and novice travelers alike." — Connie O.
"Great Escape Publishing keeps their workshops small on purpose so that each individual has one-on-one time with instructors and comes away with tangible results. You feel that they sincerely want you to be successful because they understand that your success… is their success! Destination workshops and world travel – works for me!" — Sarita S.
"My experiences from the 4 events I've attended with Great Escape Publishing have been fantastic! The people have been tremendous and the help and guidance given throughout have been topnotch. I can't wait for the next one." — Scott N.
"Great Escape Publishing is the only group I want to travel with on my journeys around the world." — Sheri E.
"This expedition was so 'hands on' during actual photographing with immediate answers to why something wasn't working, or when it was, that the learning really 'stuck' in my brain, finally :-)." – Soraya V.
"I would definitely recommend this workshop to others. It's a great way to explore a city and one's own creativity." — Heather G.
"You all did an awesome job. I have learned so much in 7 days… totally priceless." — Nelda B.
Meet Your Guide…
Greg Anderson is a lifelong traveler. From his long career in the motion-picture industry to his years as a program chair and instructor in higher education, and his current work as a tour leader and writer, Greg has logged over a million travel miles, visiting all 50 U.S. states and more than 45 countries. He's led tours to Europe, Asia, and the Americas and is excited to share with you all his knowledge and experience so you can start leading your own adventures.
With Greg by your side, you'll quickly learn how to…
Carve your own tour niche and choose the right destination to make your trips
stand out…
Build a compelling itinerary that not only you'll love, but also travelers who share the same interests as you will enjoy…
Create a pricing structure that will cover all your costs and land $3,000 – $10,000 in your pocket every time you lead a tour…
Market, promote, and advertise your tour so you can fill seats and explore your favorite destinations…
And much more. 
Where You'll Stay
In Budapest, you'll be based at the enchanting Lion's Garden Hotel, a boutique hotel right in the midst of historic Budapest. Here, our modern, stylish rooms are just a short walk to countless attractions throughout the capital like City Park, Hero's Square, and the magnificent Vajdahunyad Castle.
In Vienna, you'll enjoy the elegance and comfort of Hotel Messe Prater Wien, offering afabulous view of Green Prater Park and Vienna's landmark Giant Ferris Wheel.
While in Prague, you'll spend your evenings at the charming and historic Hotel Green Garden. Built in 1894, the Green Garden hotel offers a mix of traditional comfort with a modern twist, all in a beautiful and historic setting.
Have Fun, Travel Anywhere, Any Way You Like…
And Get Paid to Do It…
You'll find this program fast-paced and fun! You'll see Europe at Christmastime in a way you never could as a regular tourist.
We have a full itinerary planned for each day, and most of the workshop will be done out and about on foot, so you'll need to be prepared for high activity throughout your two weeks.
You'll benefit from unique one-on-one instruction with Greg throughout the 14 days, both in-the field and in special classroom sessions. And you'll learn how to transform your interests into tours that sell… trips travelers will happily pay you to plan and organize.
Whether you're looking for a whole new career, or simply a side income to feed your love of travel, you'll return home with all the information and tips you need to get started.
Here's a Run-Down of What You Can Expect…
Day 1 – Tuesday, Nov. 28: Arrival in Budapest
This is our lengthiest tour to date and it includes transportation to all three countries once you arrive in Budapest.
You'll schedule your flight into Budapest Ferenc Litszt International Airport (BUD) on this day and transfer to our hotel.
At 6:30 p.m., you'll meet with Greg – your instructor – and fellow attendees to go over the schedule and get acquainted.
Dinner is at your own expense tonight, but we typically eat together as a group someplace local.
Day 2 – Wednesday, Nov. 29
After breakfast at the hotel, you'll meet in the classroom for your first session on what makes a successful tour — from choosing the right destination to carving out your niche as a guide. Then in the early afternoon, you'll set out to explore the historic and iconic sights of Budapest.
After a quick metro ride to Buda Castle, you'll be free to explore the "Buda" side of the city, visiting sites like the Hungarian National Gallery, the Hungarian History Museum, Matthias Church, Trinity Square, or taking a stroll down Gentlemen's Street with sweeping views of the "Pest" side of city, situated on the Eastern banks of the Danube River.
In the evening, after you've had some time to rest, together you'll head out to the Christmas Fair at St. Stephen's Basilica where you can enjoy a beautiful light show and delicious street food and warm drinks.
Day 3 – Thursday, Nov. 30
Enjoy breakfast at the hotel in the morning, followed by your next class on building an itinerary filled with authentic travel experiences, sure to satisfy and impress your attendees.
In the late morning, you'll explore the "Pest" side of the city with a tour of the Hungarian Parliament Building, see the Shoes on the Danube Bank Memorial, and stroll through the Central Market Hall. While out, you'll also have time to enjoy lunch at one of many quaint neighborhood restaurants.
In the evening, we'll enjoy dinner together at a traditional Hungarian restaurant, then make our way to the spectacular Hero's Square and Vajdahunyad Castle. Here, you can rent a pair of ice-skates and glide around the castle's massive Christmas ice rink or take in the sights while sipping on hot cider punch.
Day 4 – Friday, Dec. 1
After a hearty breakfast at the hotel, we'll come together for our next class on tour expenses. You'll learn the simple formulas for decreasing your costs, so you can make a handsome profit on every tour you run.
In the late morning, we'll take part in a Hungarian cooking class, learning more about the local culture and cuisine. After lunch, we'll tour the Christmas Market at Deák Ferenc Street and Vörösmarty Square, then make our way back to the hotel in the evening to unwind and rest before the next day.
Day 5 – Saturday, Dec. 2
Once you've enjoyed breakfast at the hotel, you'll have a free day to explore Budapest on your own.
You can venture to the famous thermal baths… walk the Chain Bridge… return to Buda Castle and tour the labyrinth of underground passageways… hike to the Liberty Statue and Citadella… or simply meander through town, learning more about the local culture. We'll have plenty of suggestions if you're not sure how to spend the day.
In the evening, you'll come back to the hotel and prepare for our morning departure to Vienna, Austria.
Day 6 – Sunday, Dec. 3: Travel to Vienna
After breakfast, hop aboard a mid-morning train and head north to Vienna, arriving in the city at mid-day.
Once you've settled into the hotel and had some time to rest, together we'll venture out into the city to the kiosks and street food stalls of the St. Stephen's Church Christmas Market.
Day 7 – Monday, Dec. 4
In the morning, you'll enjoy breakfast at the hotel followed by our next class on finding the right travelers for your tour. You'll learn how and where to find them, plus keys for making yourself stand out against the competition. After class, take a short metro ride to the magnificent Schönbrunn Palace where you can explore the massive palace grounds and meander through the nearby Christmas market. From the palace to the gardens… museums and the zoo… you'll enjoy a full day of exploration and learn about Austria's imperial past.
Dinner this evening will be on your own.
Day 8 – Tuesday, Dec. 5
Once you've enjoyed breakfast at the hotel, we'll come together for another tour class—this time you'll learn the importance of communication. Every traveler wants to feel prepared before going on a trip… from insurance to travel documents… packing to customs… and money matters to jet lag.
This session will show you how good communication can really "wow" your attendees, help them feel prepared, and have them wanting to travel with you again and again.
In the late morning, we'll set out to visit the Kunsthistorisches Museum and take in the masterpieces and exhibits from five millennia of human history. Then, after lunch on your own, make your way to Vienna's Giant Ferris Wheel for a ride in the sky.
And in the evening, you'll explore the grand Viennese Christmas market, situated directly in front of City Hall. With over 150 booths present, you'll meander through the market, finding unique hand crafted gifts, culinary treats, and warm drinks to enjoy.
Day 9 – Wednesday, Dec. 6
Once you've enjoyed breakfast at the hotel, you'll be free to explore Vienna on your own.
You can walk in the world of great composers, visiting the homes and birthplaces of Beethoven, Strauss, Schubert or Haydn… tour the Vienna Opera House… visit one of many world-class museums of art and history… or even find another Christmas Market to explore.
And, in the evening, you'll come back to the hotel to rest and pack for our morning departure to Prague, Czech Republic.
Day 10 – Thursday, Dec. 7: Travel to Prague
After an early breakfast at the hotel, you'll board a mid-morning train and make your way to Prague.
Arrive mid-day, and take some time to get settled before heading to Old Town Square, home of the famed Astrological Clock, Old Town Hall, and St. Nicholas Church. Here you'll find brightly-decorated wooden kiosks selling beautiful handcrafted gifts and ornaments. You can also sample local foods and pastries or sip on a cup of mulled wine as you explore the square.
Day 11 – Friday, Dec. 8
After breakfast you'll meet for your next class on advertising. Greg will show you the best practices for how and where to market your tour so you can quickly and easily fill seats and make a profit.
After class, we'll make our way to the historic Charles Bridge, crossing the Vltava River. Here, you'll see St. Vitus Cathedral, the Powder Tower, the Old Royal Palace, and Vladislav Hall.
You'll also have a chance to see the famed John Lennon Wall and the Kafka Museum.
Dinner this evening will be on your own.
Day 12 – Saturday, Dec. 9
Enjoy breakfast at the hotel and meet the group for your last class session. You'll learn how to get (and stay) organized on the ground, the value of contracting local guides to help you in the field, and what to do if you need to make last-minute changes to the itinerary.
Following this morning's class, venture to Wenceslas Square and then make your way through the Jewish Grotto. Afterwards, you'll take a short tram ride across the Vltava River, followed by a 1,000-foot ride up to Petrin Hill for a tour of the landscaped gardens complete with a miniature Eiffel Tower and mirror maze.
In the evening, enjoy dinner together at beautiful Café Louvre, followed by a trip to a local jazz club to enjoy the sounds of Prague.
Day 13 – Sunday, Dec. 10
After breakfast at the hotel, you'll be free to explore Prague on your own.
You can settle in to one of countless historic beer halls… enjoy a cruise on the Vltava River with sweeping views of the city… savor traditional Czech cuisine at one of countless local eateries… or simply wander the streets of Prague, exploring local shops and watching street artists perfect their craft.
In the evening, you'll come back to the hotel and prepare for your morning departure back home.
Day 14 – Monday, Dec. 11: Departure from Prague
Fly home from the Czech Republic on this day or extend your visit and do some exploring on your own.
Note: Schedule and instructors are always subject to change. We finalize all our plans a week or two before a tour and, if anything needs to change, we give you a new schedule by email, print it for you when we arrive, and/or make changes on the ground.

Pricing and What's Included in Your 14-Day Christmas 
Markets Expedition:
Full Price: $6,299 per person
If your spouse or a guest would like to join you, he or she can do so for just $4,999.
(*Note: Additional discounts may apply. You can click through to the registration form at the link below to learn more.)
Easy Payment Plan: What's more, if you'd like to take advantage of our easy payment plan, you can register today for just $999 down.
Here's how it works:
Reserve a seat on the expedition for just $999 when you put your name on our attendee list today.
When you do, you'll automatically lock in the discounted workshop price of only $5,899* – a full $400 SAVINGS for you! (*Note: Additional discounts may apply.)
We'll bill your credit card $999 today, and 4 equal monthly payments thereafter. So you spread out the payments comfortably between now and when the workshop starts in late November.
Your Registration Fee Includes:
Admission to 14 days of intensive class sessions geared towards jump-starting your new career or sideline as a tour leader…
Walking tours of the best sites and Christmas markets in three incredible cities – Budapest, Vienna, and Prague…
Thirteen nights' hotel accommodation…
Breakfast daily…
Transportation by train from Budapest to Vienna and Vienna to Prague…
A MetroPass for transportation within all three cities…
One group dinner in each city…
Expert hands-on tuition from professional tour guide Greg Anderson, right by your side throughout this adventure…
Free time to explore each city…
Access to an exclusive, members-only Facebook group where travelers can ask questions, share their plans, meet one another before the event, and stay connected post-event…
Pre-Event guidance from Great Escape Publishing staff including what to expect, what to pack for weather, equipment list, travel tips, and more…
Your Registration Does NOT Include:
Meals not already listed above (allow $20-$60 a day for this depending on whether you want fine-dining experiences or local eats)…
Airfare to Budapest and from Prague International Airports…
Equipment – laptop, notebook, camera, etc…
Tips– please allow $5-15 per day for miscellaneous tips (guides, drivers, bellman, etc.)

Our Commitment to Affordability
We pledge to offer expeditions at the best possible price.
We create tours for travelers, not tourists. Folks who want unique experiences they wouldn't likely find on their own. And we strive to make each and every expedition better than the last.
The only way we can ensure affordable tours without sacrificing these experiences, is to offer them one at a time, which means we don't publish a yearly expedition schedule on our website.
Many other tour companies use a simple formula, designed to shuffle tourists from one place to the next. They'll use the same itinerary year after year, without making modifications. And that's not who we are.
To keep our prices low, and our itineraries fresh, we stay on top of the trends, deals, and best-value opportunities that we can get our hands on. This sometimes means we'll put together a trip very quickly, and you might not have much advance notice.
But you'll have a great price (oftentimes $2,000-$3,000 less than what you'll find elsewhere), and a great itinerary. That's our pledge to you!
Please note: If you're someone who needs more advanced notice for budgeting and planning purposes, we have plenty of trips that are announced 9-12 months in advance. But other trips require quicker planning and execution, so please understand that sometimes we announce trips with just 3-6 months advance notice.
What to Expect
Health: As with all overseas travel, it's recommended that you're up-to-date on all routine vaccinations. These include measles-mumps-rubella (MMR), diphtheria-tetanus-pertussis vaccine, varicella (chickenpox) vaccine, polio vaccine, and your yearly flu shot.
Visa Entry/Exit Requirements: If you're a U.S. citizen, you need a current passport that's valid at least SIX months after the date you plan to return and one blank page per location (3 blank pages total) for your entry and exit stamps. Make sure to check the expiration date on your passport. If your passport expires before June 2018, you'll need to renew. See this site for more details: http://travel.state.gov/passport/renew/renew_833.html
If you are a U.S. citizen, you do NOT need a VISA to travel to Hungary, Austria, or the Czech Republic for stays of up to 90 days. If you're not from the U.S., check with the Hungarian, Austrian, and Czech consulates for your country for details.
Insurance: We highly recommend insurance coverage for cancellation. This should be taken at the time you book the trip. We also recommend supplemental travel insurance to protect yourself in case of unplanned medical emergencies. We'll send you more information about this after you register. Some credit cards and health insurance plans include insurance so supplemental travel insurance isn't right for all. Please watch for our email that walks you through the pros and cons of different plans.
Money: The currency in Budapest is the Hungarian fortin while currency in Vienna is the euro, and the currency in Prague is Czech crowns.
You'll want to get Hungarian fortin out of the ATM as soon as you arrive at the airport, so you'll be able to tip your driver from the airport to the hotel. We will send more details after you are registered for the event on how much money you should bring with you in total.
Also, check with your bank before you leave to make sure your card will work in each country. Have them add a note to your account that says you'll be making withdrawals in Europe (some banks will freeze your funds if they suspect someone has stolen your card.)
Internet Access: All our hotels on this trip are equipped with free Wi-Fi. Please be aware that the connection might be slower than what you're used to here in the U.S.
Electric: You'll need a two-prong "Type F" or "Type C" adapter plug (and possibly a converter) for your equipment. Almost all laptops and camera battery chargers have an electricity converter built into the power cord (that means you don't need a converter). For these things, you simply need an ADAPTER plug, which you can usually find at Target, Best Buy, Radio Shack, or Circuit City or Amazon.com.
Prerequisites: There are no prerequisites. This workshop is for people of all skill levels and experience, and the concepts discussed are doable by anyone. The expedition is not photography or travel-writing focused but most participants will want to bring a camera and a notebook. Photos will be important to promote your tours and the notes you take can help remind you of details for planning and marketing in the future. A DSLR or a good point-and-shoot camera will be good for this purpose.
Activity Level: Very High Activity. Most of this workshop will be done out-and-about on foot. You may walk several miles in a single day. You'll need your walking shoes every day on this trip, and in many cases, need to be able to go up and down uneven stairs and over uneven cobblestone and brick sidewalks while carrying a camera and/or day pack. You will be provided a metro pass for transportation to destinations not within walking distance.
Weather: Visiting these cities in wintertime is part of the magic, but please keep in mind that it's going to be COLD this time of year! You'll need a heavy winter coat, gloves, hat, and scarf to stay warm. We'll send a detailed packing list upon registration.
If you're unable to keep up with the group, please understand that you might not be able to participate in an activity. If you have concerns about physical limitations, please contact a Great Escape Publishing staff member before registering. You can email us at workshops@greatescapepublishing.com or call (561) 860-8266.
This expedition is limited to just 12 people, to ensure you get plenty of time with your instructor.
Cancellation Policy: All our workshops and expeditions are non-refundable. If, however, you are unable to attend due to unforeseen circumstances – and you give us at least 60 days' notice – we'll be happy to apply your payment toward a future workshop, minus a $350 processing fee. If you cancel due to reasons that are covered by your purchased travel-insurance policy, we will advise the insurance company that your travel and conference fees are non-refundable.

← View All Events