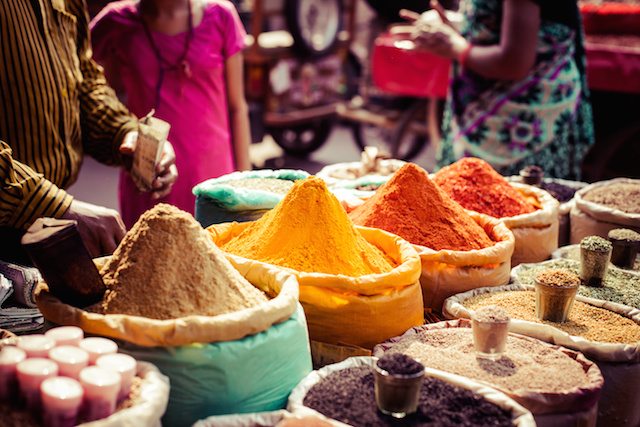 India Festival of Colors Travel Writing Expedition
February 23 – March 5, 2018
India
First-Responder: $6,199
This winter… join us in India and experience the Holi Festival as a travel writer.
Dating back to the 7th century, Holi is the traditional Hindu celebration marking the victory of good over evil.
Over thousands of years, this annual celebration has evolved into the Festival of Colors, commemorating the same victory of good over evil with the added element of color to mark the beginning of springtime—celebrating new life and energy for the season.
It's a day for play and laughter… a time to forgive and forget… and a day for removing traditional barriers of caste, class, age, and gender.
On the evening of the full moon, locals light bonfires to purify the air of evil spirits. The following morning, they're out in the streets dancing, singing, and throwing paint.
And, this February, when you join us in India, you, too, can celebrate among the locals, smearing a rainbow of powdered colors on one another, throwing colored water in the air, and welcoming spring in with dance and song.
And while the festival will certainly be the highlight of our 10-day adventure in Northern India, you'll get a taste of everything else that India has to offer, too…
You'll travel to four of India's most fascinating cities—Old Delhi, Jaipur, Amber, and Vrindavan—and visit the iconic Taj Mahal under the glow of the full moon.
Explore ancient forts and sacred temples… sample savory local delicacies… wander through bustling bazaars … and soak up India's rich, spiritual heritage…
From opulent palaces and ancient holy villages to lively modern cities teeming with color, chaos, and culture… take it all in with professional travel writer Margot Bigg by your side, ready to teach you the simple, proven techniques she uses to create in-demand travel articles you can sell when you return home.
Turn your stories into cash and your travels into paid vacations using the skills and secrets you'll learn in India
If you've ever dreamed of seeing your articles—along with your name—spread across the glossy pages of magazines…
If you long for the type of career (or sideline) that allows you the luxury of traveling whenever you like and living wherever you choose…
Then this is, hands down, the best place to begin your adventure.
With your pen and notebook in hand, you'll not only visit India, but experience it. You'll see the world through the eyes of a travel writer, learning how to write articles editors want to buy.
You'll explore the royal history of Jaipur… experience the pulse of urban India in Delhi… see the Taj Mahal in Agra under the light of the full moon… celebrate the festival of colors in Vrindavan… and learn all the ins and outs you need to travel like an esteemed travel writer—taking trips like this… time and time again… without paying a dime.
No matter your level of ability or experience (beginners welcome!), you'll gain valuable insights geared toward propelling your career as a travel writer forward.
The bottom line is: You don't need prior experience to sell your stories to magazines and newspapers. You, too, can learn to write the kind of stories that editors will buy and readers will love.
And this February in India, we'll show you exactly how it's done… while having the adventure of a lifetime with just a small group of 11 fellow adventurers!
Here's what past Great Escape Publishing Workshop attendees have to say…
"Great Escape Publishing pulls out all the stops to plan an 'experience' not a 'trip.' Absolutely recommend them for seasoned and novice travelers alike." — Connie Owens
"Great Escape Publishing keeps their workshops small on purpose so that each individual has one-on-one time with instructors and comes away with tangible results. You feel that they sincerely want you to be successful because they understand that your success… is their success! Destination workshops and world travel – works for me!" — Sarita Simmons
"My experiences from the 4 events I've attended with Great Escape Publishing have been fantastic! The people have been tremendous and the help and guidance given throughout have been topnotch. I can't wait for the next one." — Scott Noe
"Great Escape Publishing is the only group I want to travel with on my journeys around the world." — Sheri Escobar
"These workshops are a wonderful opportunity to travel to a new locale and explore while learning a new skill." — Sandra M.
"I would definitely recommend this workshop to others. It's a great way to explore a city and one's own creativity." — Heather G.
"Great Escape Publishing is top notch all the way! These guys know what is happening, where it is happening and give you the tools to make it happen for you too!" – Troy Nelson
Meet your instructor
Your instructor, Margot Bigg, is a full-time freelance writer and editor. She writes about travel, social issues, and the arts for publications around the world including National Geographic Traveller India, Travel + Leisure, Rolling Stone India, Slate, Sunset, VICE, and The Oregonian.
Margot has spent much of her life overseas, first in England and France, and then in India, where she worked on the editorial staff for Time Out Delhi and wrote several guidebooks including Moon Living Abroad in India, Moon Taj Mahal, Delhi & Jaipur, and Moon Spotlight Delhi. She is also a co-author of Fodor's Essential India and Fodor's Pacific Northwest.
Having lived in India for five years, Margot knows this destination like a local and has used her insider knowledge to create a custom itinerary for us that will ensure you walk away with articles that tell a story far beyond the typical tourist perspective.
On the ground, Margot will show you how you, too, can turn your love of travel into a career. She'll provide personal feedback on your work, with guidance on how to improve. She'll also share her secrets for writing top-notch reviews of hotels and restaurants.
Here's what past workshop attendees have to say about Margot:
"Margot is a professional travel writer and takes her craft seriously. She is eager to share her knowledge and insights and took us to the most interesting locations giving us excellent material for writing while enjoying an exciting journey. She is fun and flexible ensuring everyone had a great time." – Colleen Bessel
 "Margot is fun, interesting, engaged and an authentic person who is very talented, experienced, and knowledgeable about her craft. She shared her 'secrets' without hesitation." – Mady Chaber
"Margot is personable, kind, funny, knowledgeable about our subject, India, and travel writing. She has the right experience for our trip. Being an editor, she knew how to tell us to write so the editors would read our pitch, and be less likely to reject it." – Melanie Wood
With Margot by your side, you'll quickly learn:
The tricks travel writers use to travel for free and what it takes to get started…
How best to get on the invite list for free trips so that offers for free stays come directly to you…
The proper way to contact an editor if you want to score an assignment…
How to look like a pro, even when you're not…
Which travel markets and publications are eager to work with freelancers…
Where to sell your India stories when you get home…
And more.
Learn by doing in a small group of like-minded friends

This trip is more than a travel writing workshop and more than a sightseeing tour.
It's your opportunity to meet and interact with the real people of India and participate in one of the country's most important festivals.
Not only that, but you'll learn a new skill at the same time. You'll benefit from unique, small-group instruction on a daily basis from your instructor Margot Bigg. It's this kind of learning experience that can improve your skills in record time.
Plus, you'll find out which types of stories sell best for magazines or for online sites, and exactly how to get your first by-line.
What's more, every attendee will have access to an exclusive online Facebook group, so you can continue to support each other on your journey, ask questions, and share your successes when you return home.
Whether you're just starting out and have little experience, or you've already had stories published, you'll benefit from the one-on-one feedback throughout this expedition.
Margot will provide you with all the insights you need to write your stories, get them published, and get paid.
Here's a run-down of what you can expect…
(Day 1) Friday, Feb. 23: Arrive in Jaipur
You'll schedule your flight to Jaipur International Airport (JAI) on this day and transfer to our hotel in Jaipur. You'll have some time to relax and adjust before our first travel lesson and tour the next day.
(Day 2) Saturday, Feb. 24: Jaipur
After breakfast, you'll meet your instructor, Margot, and fellow attendees to go over the schedule and have your first travel-writing lesson. We'll then make our way to the old Pink City, home to historic sites such as the City Palace and the Hawa Mahal—the Palace of the Winds.
In the afternoon, you'll have free time to enjoy lunch and explore some of the best shopping opportunities in the country.
The Pink City is home to several bazaars, each with their own specialty. From household tools and kitchen utensils to bangles made of lacquer or glass… fragrant floral garlands, various dyes, fabrics, and saris… beautiful hand-bound books filled with traditional stories of years gone by… and much, much more.
In the evening, we'll make our way back to the hotel to rest and write. Dinner is at your own expense tonight, but we typically eat together as a group someplace local.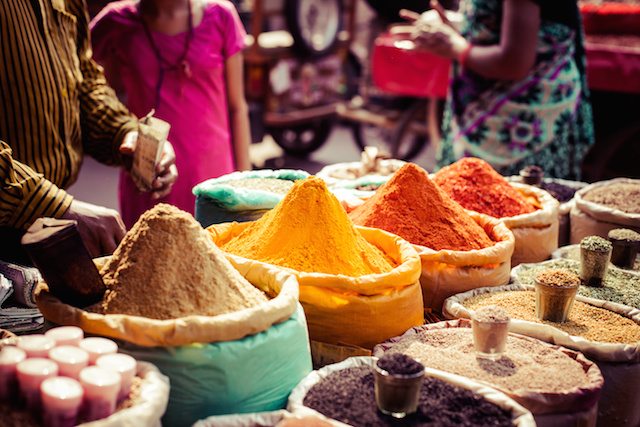 (Day 3) Sunday, Feb. 25: Jaipur – Amber
After breakfast at the hotel, we'll spend the morning at Amber Fort on the outskirts of Jaipur.
As the former state capital until 1728, Amber Fort is a crowning jewel of Indian Muslim architecture. While there, you'll not only visit the fort temple but also Jai Mandir—also known as the Hall of Glory—embellished in ornate mirrors and colored foil.
After, we'll make our way back to Jaipur for a visit to the Albert Hall Museum—one of the oldest museums in the state of Rajasthan, exhibiting rare collections of ancient paintings, metals, carpets, and more.
Today, lunch will be on your own before our second travel-writing lesson.
In the evening, we'll head out to Chokhi Dhani, a traditional Rajasthani village, for a classic Rajasthani dinner—on us.
(Day 4) Monday, Feb. 26: Jaipur – Kesroli
In the morning, we'll make our way to Kesroli, a 14th-century fort hotel that will be our home for the next two days. Along the way, we'll stop by the visually spectacular Chand Baori stepwell, made up of hundreds of stone steps and thousands of elegantly-carved stone water storage wells.
After checking in and freshening up, we'll enjoy lunch at the hotel followed by our third travel-writing class.
(Day 5) Tuesday, Feb. 27: Kesroli
After a leisurely morning, we'll meet for our next travel-writing lesson. The rest of the day will be devoted to relaxation and writing time at the hotel.
In the afternoon, we'll have an optional outing to the quiet town of Alwar—one of the oldest cities in Rajasthan.
(Day 6) Wednesday, Feb. 28: Kesroli – Agra
We'll enjoy one last breakfast in Kesroli and head to Agra, home of the iconic Taj Mahal.
Along the way, we'll stop in the UNESCO World Heritage ghost town of Fatehpur Sikri. This ancient capital, built by the emperor Akbar in 1659, was later abandoned due to its lack of water. In this once noble town, you'll see elegantly-designed buildings like the Jama Masjid, a monumental mosque containing elements of Persian and Indian design… the Salim Christi tomb (a marble structure built in honor of the saint who blessed the emperor with a son)… and the Panch Mahal—a five story structure designed for relaxation and entertainment.
In the evening, we'll make our way to the Taj Mahal for an incredible visit under the light of a full moon.
(Day 7) Thursday, Mar. 1: Agra – Vrindavan
In the morning, you'll have the option to revisit the Taj Mahal in time for sunrise and to view the interiors before breakfast.
After breakfast, we'll travel to nearby Vrindavan, a famous Hindu pilgrimage city associated with Lord Krishna and the most famous place to celebrate Holi, the Festival of Color.
We'll have an afternoon travel-writing class before heading out to visit local temples during the time of celebrations.
(Day 8) Friday, Mar. 2: Vrindavan
After breakfast in the morning, we'll meet for our next travel-writing class, and then head into town with powdered colors to play and celebrate Holi with the locals.
This annual festival marks the beginning of spring, and the victory of good over evil, and is marked by throwing powdered and liquid colors on friends old and new. Wear old clothes that you don't mind having covered in colors and be prepared for a wild time!
(Day 9) Saturday, Mar. 3: Vrindavan – Delhi
Today, after breakfast at the hotel, we'll continue on to Delhi, our final city of the trip.
Once we've checked into our hotel and freshened up, we'll take an evening rickshaw ride to the vibrant market area of Chandni Chowk in Old Delhi.
Dinner will be on your own tonight.
(Day 10) Sunday, Mar. 4: Delhi
We'll meet in the morning for breakfast and our final travel-writing class together. You'll share your stories from the trip and get personalized feedback from Margot on your writing.
After class, we'll head to Hauz Khas Village—a trendy area full of artsy boutiques and great restaurants, plus an adjacent park full of old Mughal era monuments and lots of green space. Lunch will be on your own today.
In the afternoon, we'll visit Bangla Sahib Gurudwara, Delhi's most important Sikh Temple, to learn about the Sikh faith and then visit the temple's volunteer-run community kitchen. After, we'll return to our hotel to freshen up and come together for our goodbye dinner!
(Day 11) Monday, Mar. 5: Depart from Delhi
Today, you'll fly home from Indira Gandhi International Airport (DEL) in Delhi or continue your trip on your own.
Note: Schedule and instructors are subject to change. The primary focus of this workshop is on travel writing and locations or events that provide interesting story ideas. While no photography lessons are included in our itinerary, we strongly recommend bringing your camera. You will capture photos as you go, for yourself and to support your stories. A DSLR camera is best, but don't feel it is necessary. A good point-and-shoot will suffice.
Pricing and what's included
Full Price: $6,699 per person (but you won't pay anywhere near that when you register today.)
Special First-Responders Discount: Save $500 with your First-Responders Discount when you sign up today.
The full price of this workshop is $6,699 but you'll pay just $6,199* when you add the $500 First-Responders Discount and register today.
If your spouse or a guest would like to join you, he or she can do so for just $5,599.
(*Note: Additional discounts may apply. You can click through to the registration form at the link below to learn more.)
Easy Payment Plan: What's more, if you'd like to take advantage of our easy payment plan, you can register today for just $1,579 down.
Here's how it works:
Reserve a seat on the expedition for just $1,579 when you put your name on our attendee list today.
When you do, you'll automatically lock in the discounted workshop price of only $6,199*–a full $500 SAVINGS for you! (*Note: Additional discounts may apply.)
We'll bill your credit card $1,579 today and three equal payments of $1,540 thereafter. So you spread out the payments comfortably over four months.
The registration fee for the workshop includes:
Eleven days of exploration throughout northern India, with admission to nine full days of intensive class sessions and reviews geared toward producing stories you can sell to magazines, newspapers, and online publications
Ten nights' accommodation in four different towns
Breakfast daily
Transportation to and from group activities
Entrance to all events and destinations
Local, English-speaking guide
Classic Rajasthani dinner on Day 3 and a special farewell dinner on our last night
Expert, hands-on tuition from professional travel writer Margot Bigg, right by your side through this adventure
Access to a private Facebook group where travelers can ask questions, share their plans, meet one another before the event, and stay connected post-event
Pre-Event Guidance from Great Escape Publishing Staff, including what to expect, what to pack for the weather, equipment list, travel tips, and more…
Your Registration Does NOT Include:
Roundtrip airfare to and from India
India visas
Meals not listed above
Equipment—laptop, notebook, camera, etc.
Tips for tour guides and drivers (tipping is at your discretion, but I usually budget $10/day for a great tour guide, and $3-5/day for bus drivers.)
Our Commitment to Affordability
We pledge to offer expeditions at the best possible price.
We create tours for travelers, not tourists. Folks who want unique experiences they wouldn't likely find on their own. And we strive to make each and every expedition better than the last.
The only way we can ensure affordable tours without sacrificing these experiences, is to offer them one at a time, which means we don't publish a yearly expedition schedule on our website.
Many other tour companies use a simple formula, designed to shuffle tourists from one place to the next. They'll use the same itinerary year after year, without making modifications. And that's not who we are.
To keep our prices low, and our itineraries fresh, we stay on top of the trends, deals, and best-value opportunities that we can get our hands on. This sometimes means we'll put together a trip very quickly, and you might not have as much advance notice.
But you'll have a great price (oftentimes $2,000-$3,000 less than what you'll find elsewhere), and a great itinerary. That's our pledge to you!
Please note: If you're someone who needs more advanced notice for budgeting and planning purposes, we have plenty of trips that are announced 9-12 months in advance. But other trips require quicker planning and execution, so please understand that sometimes we announce trips with just 3-6 months' advance notice.
Workshop Details:
What to Bring:
Your passport
Your favorite notebook (or a few) and pen
Your camera
Spare batteries and charger (plus an adaptor and/or transformer if needed)
Spare memory cards
Your laptop (if you don't have one, that's ok, but you'll really find it a great benefit for typing up stories and ideas in the evenings.)
Layers and comfortable shoes for walking
A sense of adventure!
What to Expect:
Activity Level: MODERATE TO HIGH 
Most of this workshop will be spent out-and-about walking on foot through northern India. You should be able to walk 2-3 miles comfortably per day while carrying a day pack.
Although we won't be doing significant trekking during this adventure, we will often be walking up and down hills, on irregular stairs, in dusty conditions, and often on uneven terrain.
If you're unable to keep up with the group, you may be asked to sit out of an activity. If you have concerns about physical limitations, please contact a Great Escape Publishing staff member before registering. You can email us at workshops@greatescapepublishing.com or call (561) 860-8266.
We reserve the right to refuse the participation of any participant that we deem not suitable due to their fitness level.
Health and Immunizations: As with all international travel, it's recommended that you're up to date on all routine vaccinations. These include measles-mumps-rubella (MMR), diphtheria-tetanus-pertussis vaccine, varicella (chickenpox) vaccine, polio vaccine, and your yearly flu shot.
The Center for Disease Control and Prevention (CDC) also recommends Hepatitis A and Typhoid for travelers going to India. The Zika virus has been reported in India, therefore travel by pregnant women is not advised. You can find all this, as well as more information pertaining to health precautions, on the CDC website. Visitors from other countries should check their application requirements and recommendations.
Visa entry/exit requirements: If you're a U.S. citizen you'll need a current passport that is valid at least six months after the date you plan to return with two blank pages for your entry and exit stamps. If your passport expires before September 2018, you'll need to renew it. See this site for more details: http://travel.state.gov/passport/renew/renew_833.html
All U.S. citizens (as well as Canadians and Australians) need a valid passport and valid Indian visa to enter and exit India. U.S. citizens seeking to enter India solely for tourist purposes, and who plan to stay no longer than 60 days, may apply for an electronic travel authorization at least four days prior to their arrival in lieu of applying for a tourist visa at an Indian embassy or consulate. You can find more details here: https://indianvisaonline.gov.in/visa/tvoa.html
Insurance: We highly recommend insurance coverage for cancellation. This should be taken at the time you book the trip. We also recommend supplemental travel insurance to protect yourself in case of unplanned medical emergencies.
Money: India uses the Indian Rupee (INR), which is currently at about 64 Rupees to the US dollar. ATMs are widely available and while many restaurants and shops accept Visa and MasterCard, India is still very much a cash economy, so make sure to keep cash on hand.
Electrical: India operates on 220-240 volts and has a frequency of 50 hertz, using electrical prong type D, so you'll likely need a converter. Some electronic devices and charges may have dual voltage.
Clothing: India is a very modest country. Both men and women should bring modest clothing that cover your shoulders and extends below the knee, made in light, breathable fabrics that wick away moisture.
Consider bringing shoes or sandals that are comfortable to walk in and slip off easily, as Indians remove their shoes when entering into temples, homes, and some other spaces as well. Don't forget to bring a shawl or sweater for potentially cool evenings or air-conditioned interiors.
Also bring a set (or two) of old clothes for participating in the color throwing celebrations of Holi. We recommend white clothing as it shows the colors best, but anything you don't mind having covered in powdered and possibly liquid color is best.
Prerequisites: It doesn't matter what level of writer you consider yourself to be, or if you've never tried selling your travel articles… all the skills and concepts introduced are doable by anyone.
This workshop is a once-in-a-lifetime opportunity for folks who truly want to get paid to travel. Not only will you explore India, pen and notebook in hand, but you'll have the rare opportunity to travel with a professional travel writer by your side, providing personal feedback and sharing all her hard-won insights and secrets for creating travel articles that sell. You'll learn a LOT in ten days, all while enjoying Incredible India and celebrating the famed Festival of Colors.
Space is limited to just 12 attendees for this once-in-a-lifetime trip. I strongly urge you to sign up today. We've had a number of requests to save seats already—this expedition will fill up quickly! And I'd hate for you to miss out.
So please, register here now by clicking below, or, if you have any questions, call our office today at (561) 860-8266 (Eastern time zone). You can also email me at lori@greatescapepublishing.com.
Here's to having the adventure of a lifetime in India this February!
P.S. If you can write a simple paragraph, you have what it takes to become a successful freelance travel writer. It's that easy. The many successful folks who have attended one of our workshops in the past don't do anything you can't learn to do. You don't need a journalism degree. And you don't need writing experience to get started. In India, you'll get all the real-world know-how you need to turn a trip here or a vacation there into a little cash on the side… or even jump in full-time. To turn 2018 into the year you transform your life, join us in India and learn how you can pursue your dreams of travel writing and get paid to do it…
NOTE: You may qualify for additional discounts on The India Travel Writing Expedition. Click below on the Register Today button for details or call our office at (561) 860-8266 to find out how much you can save.
PROTECT YOUR INVESTMENT We strongly suggest you protect your investment by purchasing trip-cancellation insurance, and we would be happy to recommend a policy to you. I've written articles about travel insurance before—how to know when you need it and whether or not it's a good deal—so I can send you those when you register.
Cancellation Policy: All our workshops and expeditions are non-refundable. If, however, you are unable to attend due to unforeseen circumstances we will be happy to apply your payment toward a future workshop, minus a $300 processing fee if you give us at least 60 days notice. Refunds to your credit card are not permitted. If you cancel due to reasons that are covered by your purchased travel-insurance policy, we will advise the insurance company that your travel and conference fees are non-refundable.