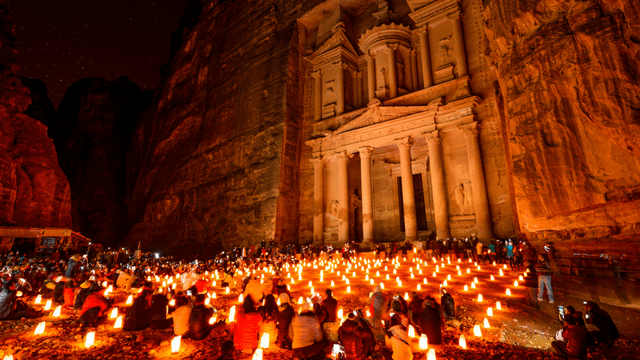 Jordan Photography Expedition
April 25 – May 2, 2018
Jordan
$4,959
From urban Amman to the lost city of Petra and the marvels of the Dead Sea and Wadi Rum Desert, join us as we explore the ancient civilizations of Jordan and learn how to take magazine-quality images that sell for $50, $150 or even $500. This spring, alongside award-winning photographer and videographer Joe Sindorf, you'll:
Explore the "lost city" of Petra by day, then return to experience its quiet magic by candlelight…
Camp under the dazzling night sky in Wadi Rum desert…
Watch the golden sunrise over The Dead Sea… then float weightlessly and enjoy its healing properties…
Wander the bustling and colorful markets of Amman…
And more…
All while learning everything you need to know to improve your photography skills, sell your images, and earn an income from your vacations. And feel the pride and prestige that comes with seeing your photos on the pages of travel magazines or on top stock photography sites.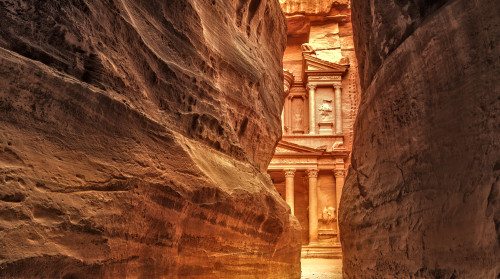 If you've ever dreamed of being able to travel to far-off and exotic locations and capture images that you can sell to help pay for your next adventure… Whether you're interested in travel photography as a new career or just want a nice side income to supplement your travels… Now is your chance to make it happen. Join us April 25-May 2, 2018 in Jordan as we journey back in time and discover the "lost city" of Petra, camera in hand. You'll spend seven days exploring all that Jordan has to offer in a way you never could as a typical tourist—with a professional photographer who has spent much time there by your side, ready to share his tips and secrets with you for creating images you can sell, again and again.
If Jordan Isn't On Your Bucket List, It Should Be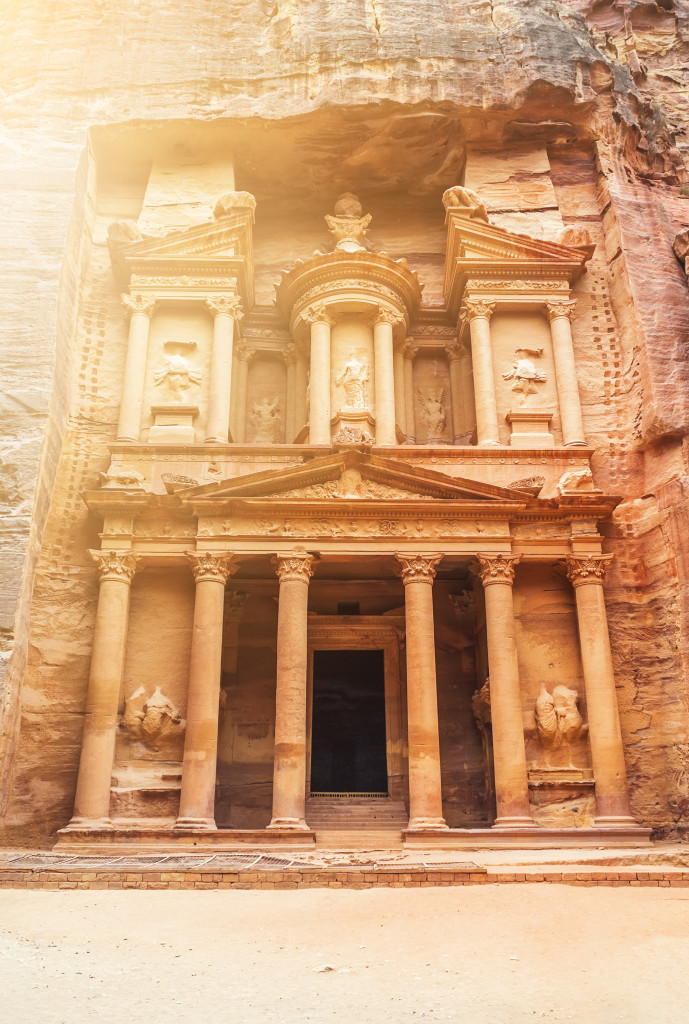 Home to some of mankind's earliest settlements, Jordan is a land steeped in history. Relics of many of the world's great civilizations are still scattered across the Jordanian landscape today. And this April, you'll explore this lavish tapestry of cultures as you traverse vibrant cities, ancient ruins, breathtaking landscapes, and star-dazzled nighttime desert skies. Explore the narrow, colorful, fragrant corridors of the bustling souks (markets) in Amman and climb over the millennia-old ruins of its ancient Citadel. Remove your shoes and silently witness prayers at the splendid King Abdullah Mosque. Travel to the lowest point on the planet—the Dead Sea—where you'll float weightlessly in its soothing salt waters. You may even opt for a luxurious spa treatment with its world-renowned healing powers (optional, additional cost). Wake up early the next morning to photograph the first rays of sunrise as they illuminate the rugged Judean hills across the sea to Israel. Venture through the Siq, its beautiful red-hued sandstone cliffs towering 500 feet high on either side, and emerge to the jaw-dropping site of the lost city of Petra as the most famous archeological façade in the world—The Treasury—comes into view. Dramatic photo opportunities are endless as we form a camel caravan and ride, together, through the UNESCO world heritage site of Petra. Experience the magic of Petra by candlelight, spellbound as the red sandstone is illuminated by the soft flickering light of thousands of candles and oil lamps. And we will hang around after the other travelers have left and have a unique photographic opportunity to capture the candle-lit magic without the throngs of people in our photos. With your camera in hand, you'll be free to wander the city; practicing your new skills and capturing unforgettable images.
Explore Jordan in the Company of Like-Minded Friends
This spring is your chance to transport back in time to the historic, desert lands of Jordan. You'll journey through the other-worldly terrain of Wadi Rum, transfixed as the sun slices through its chiseled canyons at dawn or melts the division between rock and sand at dusk. Photograph your footprints in the endless drifts of red sand before boarding jeeps to go deeper, photographing the amazing desert vistas reminiscent of movies like Lawrence of Arabia. You'll capture the stunning view as the sun slips over the boundless horizon, then pull out your tripod and learn the art of night photography as you capture the glittering stars of one of the darkest night skies on earth, unpolluted by city lights. Spend the night in a luxury Bedouin tented caravan camp which, it is said, "has a way of stripping your soul back to basics."

Here's What Past Great Escape Publishing Workshop Attendees Have to Say…
"Great Escape Publishing pulls out all the stops to plan an 'experience' not a 'trip.' Absolutely recommend them for seasoned and novice travelers alike." — Connie Owens "Great Escape Publishing keeps their workshops small on purpose so that each individual has one-on-one time with instructors and comes away with tangible results. You feel that they sincerely want you to be successful because they understand that your success… is their success! Destination workshops and world travel – works for me!" — Sarita Simmons "My experiences from the 4 events I've attended with Great Escape Publishing have been fantastic! The people have been tremendous and the help and guidance given throughout have been topnotch. I can't wait for the next one." — Scott Noe "Great Escape Publishing is the only group I want to travel with on my journeys around the world." — Sheri Escobar "These workshops are a wonderful opportunity to travel to a new locale and explore while learning a new skill." — Sandra M. "I would definitely recommend this workshop to others. It's a great way to explore a city and one's own creativity." — Heather G.

"You all did an awesome job. I have learned so much in 7 days… totally priceless." — Nelda Bernal
Turn Your Photos into Cash and Your Travels into Paid Vacations Using the Skills and Secrets You'll Learn in Jordan
This April you'll not only visit Jordan, but experience it. You'll see the world through the eyes of a professional photographer and videographer, all while learning how to capture what you see in dramatic, vivid, and saleable images.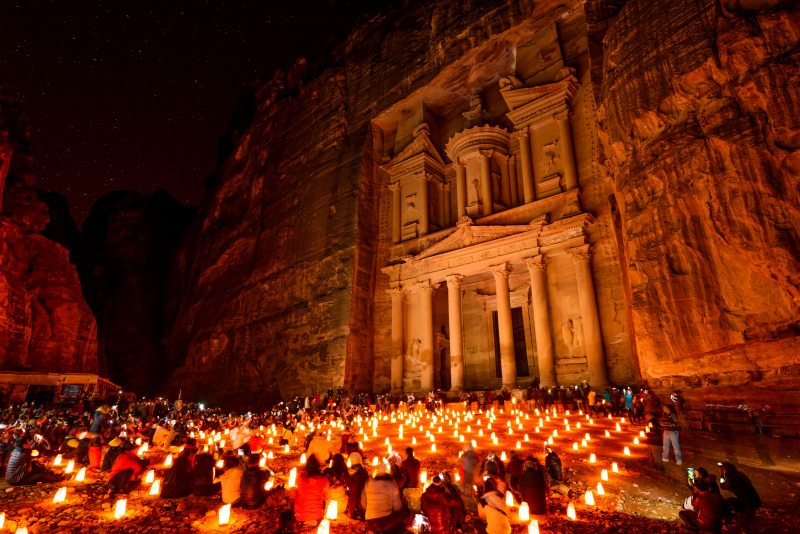 No matter your level of ability or experience, every day you'll see your photography skills grow and improve, turning your travel snapshots into professional images photo buyers will clamor for. The bottom line is: You don't need fancy, expensive equipment or a huge complicated lens to take images that sell. All you need is a camera and the fundamentals of photography. Fundamentals you will learn through classroom instruction and reviews, supplemented with daily in-field coaching and support as we travel through Jordan. Over the course of seven days, you'll see your skills grow faster than you ever thought possible, returning home with a catalog of saleable images and a passion for more.
Meet Your Instructor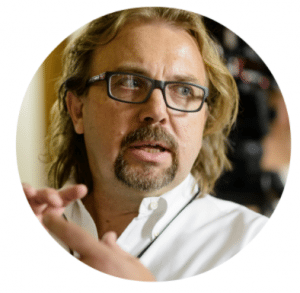 Joe Sindorf is an award-winning photographer and international humanitarian filmmaker who has worked in more than seventy-five nations around the world. His work takes him to places where people are at their worst—in the aftermath of major natural disasters; surviving famine or drought; and suffering intense injustice. He has spent a lot of time in Jordan and countries like it as a humanitarian filmmaker, documenting the reality and plight of these people. He knows the country intimately and is the perfect host and instructor to introduce us to the Jordan he has come to know and love. Joe's still photographs have been published in National Geographic Traveler, Outside, American Photo, World and Professional Photographer among others. His video work has won international film festivals, the NATAS Emmy Award, the George Foster Peabody Award (commonly referred to as the Pulitzer Prize for Television) and others. Joe is both a talented photographer and a phenomenal teacher and trainer– not to mention an incredibly approachable person. His patience, knowledge, and friendliness will ensure everyone, regardless of skill level, feels supported and encouraged.
Loved Joe – he taught me how to finally go full manual and was a great resource. Fun, insightful and a great pro to have in the keep!" – Sharri Speaker   "Joe is a superb human being. He is extremely knowledgeable about all things photographic, and was very helpful in many ways. His presence was invaluable to the success of this trip." – Alex Dominick   "Joe has a lot of patience with inexperienced photographers, also great technical know how. Very approachable. A great artist willing to share all and very easy to understand." – Deborah Kolb
If you've ever leafed through a glossy travel magazine and thought, "I wish I could take photos like that"… If you've ever dreamt of seeing your travel photos—along with your name—spread across the glossy pages of travel magazines or hanging on a gallery wall… If you long for the type of career (or sideline) that allows you the luxury of traveling whenever you like and living wherever you choose… If you love to travel and have thousands of memorable images sitting on your hard-drive waiting to be discovered… Or, if you're just hungry to see the ancient kingdom of Jordan in an adventurous and safe way, alongside a small group of like-minded people… Then now's your chance to have it all. Not only will you come away with a real passion for this part of the world— having discovered it with a photographer's eye (and with a photographer who's been to these exact places many times before and can show you the best experience)—but you'll also learn all the ins and outs you need to take amazing photos, capture incredible videos… and sell them for cash to fund your next adventure or piece of equipment.
Join us for the experience of a lifetime in Petra and Jordan, and we'll help you transform your photography skills… and your life
Through Joe's classroom instructor and hands-on practice you'll learn:
The right camera settings and rules of composition…
How to capture the changing light of an early morning sunrise over the sea or the setting sun across the desert sands…
The secrets of shooting a star-lit night sky, with an award-winning professional photographer by your side, coaching you all the way…
How to sell those spectacular images to travel magazines and publications …
Tips on generating ongoing income through stock photography sites… which sites are best to get started, how it works, what kind of images work best…
How the video button on your camera can multiply your stock portfolio opportunities and income…
And more.
THE GREAT ESCAPE PUBLISHING 
DIFFERENCE
Here at Great Escape Publishing, we're committed to creating tours and experiences that are unlike anything you'll find elsewhere. Here's our 4-POINT PROMISE about what you can expect on this expedition and what makes us different.
1. SMALL GROUPS
You'll be part of a small group of like-minded travelers… folks who want to explore, experience, and enjoy what's unique and authentic about a place. The group size is just 10-12, so you get the chance to know everyone in the group, and you get plenty of one-on-one time from our staff and instructors.
2. AUTHENTIC ACCOMMODATIONS
It's important to us that our accommodations match the destination. We avoid big chains like Hilton and Marriott because they're the same around the world. And instead we opt for small, unique boutique hotels that match the splendor of the city. Each hotel has the same level of comfort and amenities as these bigger brands, but with a lot more charm and character. From Hacienda-style lodges in Ecuador… to luxury tent camps on the Serengeti in Tanzania… a garden-inspired boutique hotel in Thailand… or a luxury boat in Ha Long Bay… our choice of lodging might just be your favorite part of the trip! And here in Jordan you will stay at five different, hand-picked accommodations, from an award-winning candle-lit Ecolodge to a superior grade Bedouin tented caravan camp in the heart of the desert.
3. INSIDER EXPERIENCES
We like to explore something the average tourist might not know about. We've made connections on the ground so we can visit the best sites, markets, festivals, restaurants, cafés, and villages that would be hard to find on your own. We'll use local guides where possible instead of well-advertised companies and we've geared our schedule toward photographers or writers, so you can skip right to the heart of Jordan and capture something the regular tourist never will.
4. GENEROUS TEACHERS
Photography tours are a dime a dozen. But try to find a tour that teaches you how to take amazing photos AND how you can sell those images for a nice side income, and you'd be hard pressed. The truth is, a lot of people today aren't crazy about sharing their photography secrets and their income-earning advice with newbies. But the photographers and writers who lead Great Escape Publishing trips are some of the most generous teachers out there. They know that the need for great photos and great articles is only increasing—so the more people who can fill this need, the better for everyone! On this expedition, you'll have an expert by your side every step of the way, ready to share his professional insights and secrets to help you travel the world and get paid to do so.
Hands-On is the Best Way to Learn
On a hands-on, boots-on-the-ground expedition like this, you'll learn travel photography in a fun way… among new friends… and absorb skills faster than you ever thought possible! With daily, in-the-field coaching and feedback, you'll draw inspiration from the world around you—the ancient architecture, revered archeological treasures, stunning landscapes… all while exploring one of Earth's oldest civilizations.

You'll return home with invaluable skills, sure to have you exploring the world and turning your stunning images into cash in no time. Not to mention all the memories you'll make and the people you'll meet… those you'll learn with, have fun with, and continue to grow with. This is going to be the trip of a lifetime. And when you're not taking photos of an ancient tomb, or capturing the sun setting over the desert sands, or trekking through the Siq to reveal Petra by candlelight… you'll have time to explore on your own, take photos, and create long-lasting memories that make your experience truly unique.
Experience what it's like to travel as a photographer
See the world through the eyes of a real, professional photographer and videographer. Walk alongside and see how a real professional sees and captures new and exotic locations. Travelling with an experienced photographer and videographer, you'll have access to the best photographic opportunities. And since Joe has traveled to Jordan many times, he'll make sure we have the best spot at the best time to capture unique and impressive images. You'll benefit from unique one-on-one, in-field instruction on a daily basis, as well as during lessons and review sessions. It's this kind of learning experience that can improve your skills in record time. What's more, every attendee will have lifetime access to our private online Facebook group, so you can continue to support each other on your journey and share your successes… and ask your questions… when you return home. Whether you're just starting out and have little experience, or you're already an accomplished photographer, you'll benefit immensely from this expedition. Joe will provide you with all the insights you need to take, and sell, stunning photos and videos.
Here's a run-down of what you can expect…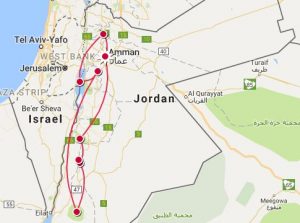 April 25: Arrival at Queen Alia Airport, Amman
You'll schedule your flight to Queen Alia Airport (AMM) to arrive on this day. (Note: with international time changes your flight will likely depart the previous day). You will be met at the airport and assisted with your transfer to our hotel in Amman. You'll have some time to rest and relax before meeting up with the rest of the group the next morning. Dinner is on your own. Overnight: Sadeen Hotel, Amman
April 26: Amman, Salt, and Jerash
After a lovely Middle-Eastern breakfast at the hotel, you'll meet your instructor and fellow attendees to go over the schedule and have your first photography class on camera settings and composition. After class, we'll visit the oldest city in Jordan: Salt. It was a central stop on the ancient trade route, retaining its ancient charm and mystique today. After touring and photographing Salt, we'll depart for the ancient Roman city of Jerash where you'll explore the timeless ruins of hilltop temples and have lunch together. Jerash is one of the most well-preserved cities of this era outside of Italy. In the afternoon, we'll make our way back to Amman and explore its narrow, colorful, bustling, and fragrant souks (markets), the citadel, Roman Amphitheater, and the King Abdullah Mosque. Overnight: Sadeen Hotel, Amman
April 27: Mukauer, Maain, Mujib Valley, Dead Sea
After breakfast, we'll check out of our Amman hotel and begin our drive southwest. Along the way we'll visit Maain Hot Springs, the ancient fortress of Mukaeur, and the natural wonders of Mujib Valley (Jordan's Grand Canyon). As the sun sets we'll drive through the hills of ancient Gilead, into the Jordan valley and to the lowest point on earth—the Dead Sea — where we will enjoy dinner and overnight at our 5-star resort. Overnight: Holiday Inn Resort
April 28: Dead Sea, Castles, Dana Reserve
We'll wake early to photograph the first rays of sun illuminating the rugged Judean Hills across the sea to Israel. After breakfast, enjoy a relaxing experience floating in the Dead Sea and its luxuriant pools of healing salt water, so buoyant it is near impossible to sink. Opt for a luxurious spa treatment (price not included). After lunch, we'll head south to Maain Hot Springs and the ancient fortress Mukauer—once second in strength only to Jerusalem. We'll make our way through the dramatic natural beauty of the Mujib Valley—Jordan's "Grand Canyon"—with its rugged red rock canyons and continue on to photograph the imposing Kerak Castle. By evening, we'll enter the Dana Biosphere Reserve and the enchanting world of authentic Bedouin hospitality. Deep in this mountainous region, we'll find the Feynan Ecolodge, one of National Geographic's Top 25 in the world. Here, set against glorious desert landscapes, you'll wander through untouched outdoors, sipping sweet tea with the native Bedouin people or unwinding in the serene courtyards and terraces of the candle-lit lodge. Overnight: Feynan Ecolodge
April 29: Dana Reserve, Wadi Musa
After a full Bedouin breakfast, we'll depart by jeep for a photographic tour of Dhana, an 18th-century stone Bedouin village overlooking the Nature Reserve. We'll continue on toward Wadi Musa, stopping to visit Shobak Castle on the way. Finally, we'll arrive at our destination, the luxurious Moevenpick Nabatean Castle. Here we'll have a photo review of your best shots before taking some time to rest and relax before tomorrow's early start for Petra. Overnight: Moevenpick Nabatean Castle
April 30: Petra
After an early breakfast, we'll begin our walk into the "lost city" of Petra. An early start will ensure we beat the other travelers and catch the morning sun. We'll enter by way of the Siq, a deep canyon path that meanders between beautiful red-hued sandstone cliffs towering more than 500 feet high on either side. At the end of the Siq is the dramatic reveal as the most famous archeological façade in the world comes into view—The Treasury—an elaborate and intricate structure painstakingly carved into the towering red-rock face centuries ago. Here you'll have ample opportunity to explore the limitless, dramatic photo opportunities on your own. We'll form a camel caravan and ride the entire length of Petra and back to The Treasury before returning to our hotel for lunch and a much needed rest. As the sun dips low, we'll meet again to enter the magical world of Petra by candlelight, held spellbound as the red sandstone is illuminated by the soft flickering light of candles and oil lamps. Overnight: Moevenpick Nabatean Castle
May 1: Wadi Rum
After a luxurious breakfast at the Castle, we'll gather for class where Joe shares his secrets and tips on How to Sell Your Photography. Then, we'll continue on to Wadi Rum, Jordan's awe-inspiring, mountainous, high-desert region. Lonely Planet describes this area as… "quintessential desert", "For the lucky few who can afford a day in their itinerary to sleep at one of the desert camps, it can be an unforgettable way of stripping the soul back to basics." We'll join the ranks of "the lucky few" as we check into our superior grade Bedouin tented caravan camp. Here, we'll mount our camels and, like Lawrence of Arabia did 100 years ago, ride through the desert sands. By jeep, we'll delve deeper into the desert to photograph amazing desert vistas, familiar backdrops in movies like The Martian and Rogue One. And, as the sun sets over the desert, we capture its glory with Joe alongside ensuring we get the best shots. After a delicious Bedouin feast, we sit around the campfire sipping tea or wine and sharing our experiences of this magical country. And, for those who wish… we pull out our tripods and learn how to capture the magic of night photography as millions of twinkling stars light up the darkest of night skies—untouched by city light. Overnight: Superior grade Bedouin tented camp
May 2: Wadi Rum, Mt. Nebo and back to Amman
We'll wake before dawn. Everything will be dark except for scattered torches. It will be silent and still as we make our way by jeep to shoot the sunrise over the Jordanian desert, as the rays of morning sunlight bring life to the rock formations and sand dunes. We'll head back toward Amman, stopping to see the splendid mosaics of Madaba and the magnificent vistas from Mt. Nebo. Back in Amman, we'll check in to the Sadeen hotel to freshen up before heading to East Amman where we will visit a refugee family—refugees from the war and fighting that forced them to leave everything, escaping with only their lives. As their guests, and hosted by a reputable non-governmental organization (NGO) that has worked with refugees for decades, we will hear their story and enjoy a home-cooked meal from their homeland. As their welcome guests, sitting in their temporary home, sharing a meal, our eyes and hearts will be open to their plight and the plight of millions like them who temporarily call this country home. Back at the hotel, we'll have our final photo review, then rest up and prepare for our farewell dinner and late night flights home. A Dayroom has been arranged to freshen up, relax, and get ready for your flights home. You can schedule your return flight for departure that evening. Most international departures are late-night flights—around 1:00 – 2:00 am. Note that flights after midnight will be May 3 departures. If you prefer to have a day to relax, you can schedule an additional night (May 2 ) at your own cost. We can assist with the booking.
Pricing and What's Included in Your Seven-Day Jordan Expedition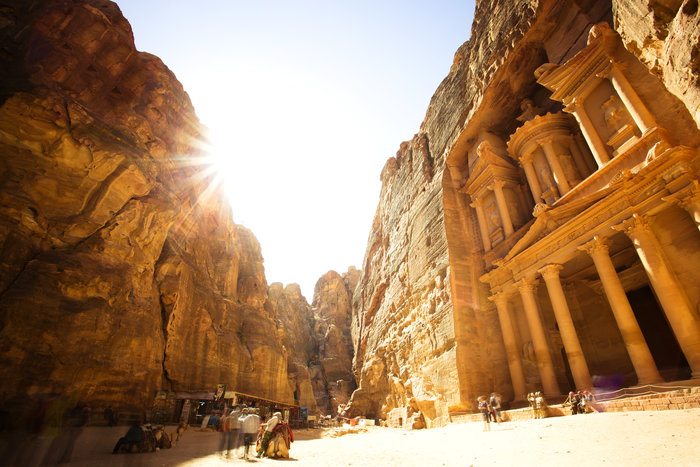 Full Price: $5,259 per person
Special First-In Discount: Save $300 with your First-In Discount when you sign up today.
The full price of this workshop is $5,259 but you'll pay just $4,959* when you apply the $300 First-In Discount and register today.
If your spouse or a guest would like to join you, he or she can do so for just $4,199.
(*Note: Additional discounts may apply. You can click through to the registration form at the link below to learn more.)
Easy Payment Plan: What's more, if you'd like to take advantage of our easy payment plan, you can register today for just $1,299 down.
Here's how it works:
Reserve a seat on the expedition for just $1,299 when you put your name on our attendee list today.
When you do, you'll automatically lock in the discounted workshop price of only $4,959* – a full $300 SAVINGS for you! (*Note: Additional discounts may apply.)
We'll bill your credit card $1,299 today, and spread the rest of the payments out comfortably between now and when the workshop starts in April (one payment per 30 days).
There are no additional fees for taking us up on this easy payment plan.
The registration fee for the workshop includes:
Seven nights' hotel accommodation in private rooms: two nights in Amman, one night at the Dead Sea, one night at the Dana Biosphere Reserve, two nights in Petra, and one night camping in the desert at Wadi Rum
A day room at your hotel in Amman on departure day (since most flights leave after midnight, this will allow you to rest and freshen up.)
Breakfast, lunch, and dinner daily with one beverage, except for your arrival day
Airport transfers on arrival and departure in Amman if you stick to our itinerary
Transportation throughout the excursion on a modern air-conditioned bus
Licensed English-speaking guide to accompany the group for the full duration
Entrance fees for all sites and activities in itinerary
Two jeep rides in Wadi Rum
Camel tour in Wadi Rum
Camel ride and horse ride in Petra
Petra by night ticket
Ecolodge transportation in Bedouin 4×4 vehicle
Bottled water provided daily on bus
Daily photography instruction including reviews and feedback from professional photographer and instructor
Access to an exclusive, members-only Facebook group where travelers can ask questions, share their plans, meet one another before the event, and stay connected post-event…
Pre-Event Guidance from Great Escape Publishing Staff, including what to expect, what to pack for the weather, equipment list, travel tips, and more.
Your Registration Does NOT Include:
Airfare to and from Queen Alia Airport in Amman, Jordan.
Single entry Jordanian travel visa (approximately $60 for U.S. citizens). Please check visa requirements for other countries.
Meals on first day of arrival.
If you arrive early or stay late, you'll need to arrange your own transfers to or from the airport at an additional fee. We can help you with this.
Accommodation for May 2 if you decide to stay the additional night.
Equipment – you must bring your own camera and equipment (e.g. laptop, notebook, etc.) A tripod is recommended for night photography.
Tips for tour guides and bus drivers (tipping is at your discretion, but I usually budget $5/day for a great tour guide, and $3/day for bus drivers.)
Our Commitment to Affordability
We pledge to offer expeditions at the best possible price.
We create tours for travelers, not tourists. Folks who want unique experiences they wouldn't likely find on their own. And we strive to make each and every expedition better than the last.
The only way we can ensure affordable tours without sacrificing these experiences is to offer them one at a time, which means we don't publish a yearly expedition schedule on our website.
Many other tour companies use a simple formula, designed to shuffle tourists from one place to the next. They'll use the same itinerary year after year, without making modifications. And that's not who we are.
To keep our prices low, and our itineraries fresh, we stay on top of the trends, deals, and best-value opportunities that we can get our hands on. This sometimes means we'll put together a trip very quickly, and you might not have as much advance notice.
But you'll have a great price (oftentimes $2,000-$3,000 less than what you'll find elsewhere), and a great itinerary. That's our pledge to you!
Please note: If you're someone who needs more advanced notice for budgeting and planning purposes, we have plenty of trips that are announced 9-12 months in advance. But other trips require quicker planning and execution, so please understand that sometimes we announce trips with just 3-6 months' advance notice.
What to Bring:
Your passport
Your favorite notebook and pen
Your camera
Spare batteries and charger (plus an adaptor and/or transformer if needed)
Spare memory cards
Tripod
Your laptop (if you don't have one, that's ok, but you'll really find it a great benefit for downloading images from your camera and possible processing.)
Layers and comfortable shoes for walking
A sense of adventure!
What to Expect
Health:
As with all overseas travel, it's recommended that you're up to date on all routine vaccinations. These include measles-mumps-rubella (MMR), diphtheria-tetanus-pertussis vaccine, varicella (chickenpox) vaccine, polio vaccine, and your yearly flu shot.
The Center for Disease Control and Prevention (CDC) also recommends Hepatitis A and Typhoid for travelers going to Jordan. You can find all this, as well as more information pertaining to health precautions such as safe food and water practices on the CDC Website.
Money:
Jordanian Dinar is the currency used in Jordan. Visa, MasterCard, and American Express cards are widely accepted for payments by most shops and restaurants around the country, but paying with cash (Jordanian Dinar) is generally easier. In some establishments you may be charged a 3-4% service fee for paying by credit card. ATMs are widely available and can be easily accessed near our hotels in Amman, Petra, and The Dead Sea as well as at the airport.
Internet Access:
All rooms at our hotels in Amman, Petra, and at The Dead Sea are equipped with free Wi-Fi. The only place you will not have access is at our desert camp in Wadi Rum.
Electrical:
Jordan's electrical system is a bit confusing since it can use as many as five different types of outlets (Type C,D,F,G and J)! However the two most commonly used are Type C and G. The standard voltage is 230V and frequency is 50Hz.  Check on the label of your electronic device (charger, laptop power supply, etc.) most electronics made in the past 10 years will handle 110-240 volts. You will probably not need a converter… but please check your labels to be sure!
Insurance:
We highly recommend insurance coverage for cancellation. This should be taken at the time you book the trip. We also recommend supplemental travel insurance to protect yourself in case of unplanned medical emergencies.
Visa Entry/Exit Requirements:
U.S. citizens are required to present a valid passport when traveling to Jordan with at least one blank page for your entry stamp. Jordan also requires a single-entry travel visa for all U.S. citizens. Please arrange prior to your travel. Attendees from other countries should check their application requirements.
Skills Required:
All skill and experience levels are welcome, and the concepts introduced are doable by anyone.
Point-and-shoot cameras or smartphones are welcome but classes will be geared around DSLR cameras. If your camera is new, it is helpful to become familiar with it before the expedition. We'll send you a camera basics class before the workshop begins. But, don't worry, we will do our best to get you comfortable with your camera by the end of your time with us.
ACTIVITY LEVEL: HIGH
In Jordan, we will spend much of the time out and about walking, sometimes up and down hills, on irregular stairs, and often on uneven terrain. You should have the ability to walk comfortably for two miles and/or for at least an hour in these conditions.
For our Jeep excursions in Wadi Rum, you should be able to withstand several hours of sitting and bouncing around on the bumpy terrain.
Parts of our excursion include riding on horses and camels. You should be able to mount and ride these animals to participate in these activities, or understand that you might have to sit out or stay behind.
And lastly, Jordan is a desert climate with relatively low humidity. It is important to drink plenty of water while on the tour, even when you don't feel especially thirsty.
If you are unable to keep up with the group, please understand that you might not be able to participate in an activity. If you have concerns about physical limitations, please contact a Great Escape Publishing staff member before registering. You can email us at workshops@greatescapepublishing.com or call (561) 860-8266.
DRESS
Generally, the weather in Jordan in April is warm with highs around 80°F and lows around 50°F.  Please plan to bring:
Lightweight, loose-fitting clothes in natural fabrics that will keep you cool
Comfortable walking shoes for short hikes to our landscape destination
Sunscreen, sunglasses, and a sunhat to cover you from the harsh sun
Light layers as it can be chilly in the mornings and at night
Please note: Jordan is a Muslim nation and as such, has a culture of modesty. I'll send more details about appropriate clothing, and a full packing list as we get closer to the event.
Space is limited to just 12 attendees on this trip, so I strongly urge you to sign up today. It could be years before you get another opportunity to explore Jordan with such a small group of like-minded people—and, with an expert photographer (who knows this country inside and out) by your side!
We've had a number of requests to save seats already—this program will fill up quickly! And I'd hate for you to miss out.
So please, register here now by clicking below or, if you have any questions, call our office today at (561) 860-8266 (Eastern time zone).
P.S. If you love to travel and have an interest in photography, you have what it takes to become a successful freelance travel photographer. It's that easy. The many successful folks who have attended one of our workshops in the past don't do anything you can't learn to do.
You don't need an expensive camera and lenses. And you don't need photography experience to get started. In Jordan, you'll get all the real-world know-how you need to turn a trip here or a vacation there into a little cash on the side… or even jump in full-time. To turn 2018 into the year you transform your life, join us in Petra and Jordan and learn how you can pursue your dreams and get paid to do it…
NOTE: You may qualify for additional discounts on this expedition. Click below on the Register Today button for details or call our office at (561) 860-8266 to find out how much you can save.
Cancellation Policy: All our workshops and expeditions are non-refundable. If, however, you are unable to attend due to unforeseen circumstances—and you give us at least 60 days notice—we will be happy to apply your payment toward a future workshop, minus a $300 processing fee. If you cancel due to reasons that are covered by your purchased travel-insurance policy, we will advise the insurance company that your travel and conference fees are non-refundable.