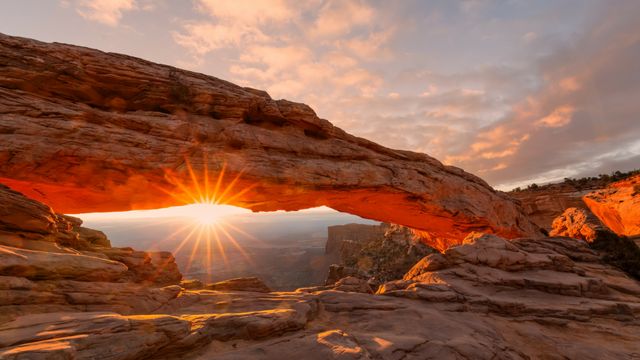 Moab Photography Expedition
October 14-20, 2018
Moab, Utah
Sold Out
This coming October in Moab, you're invited to:
Experience the best America's Wild West has to offer from dramatic sandstone mittens to winding canyons and petrified dunes…
Explore the culture of the Navajo Indians—with a chance to photograph them up close and in dance…
Feel the adrenaline as you watch mountain-bikers race down death-defying rock trails while practicing stop-motion settings on your camera… beginners welcome!
All in the company of a professional photographer, eager to share his skills… and the secrets to earning $200 to $500 (and even more) for your travel shots…
Moab Photography Expedition 
with Efrain Padro 
Oct. 14-20, 2018
Devils Garden… Sleeping Dragon… Dead Horse Point. The names of these sites alone are enough to stir your inner adventurer…
And, when you stand among the world's largest collection of stone arches (no less than 2,000 of them)… watch as towering stone sculptures change color under the moving sun… and see the winding Colorado River rage hundreds of feet below… you'll feel you've been transported to a movie set…
Welcome to the dramatic desert playground of southeast Utah… a magnet for rock climbers, canyoneers, horse-back riders, mountain bikers… and, for decades, photographers and film-makers…
This dramatic landscape has served as the backdrop to scenes from some of Hollywood's most iconic movies, including Buffalo Bill, The Lone Ranger, and Indiana Jones And The Last Crusade…
And, now is your chance to get out there and soak it all up—camera in hand…
If you'd love the chance to improve your photography skills while surrounded by the wild beauty of Utah's desert landscapes—and do it all in the company of just 11 like-minded travelers—then our first-ever Moab Photo Expedition is for you.
On this adventure through the Wild West, you'll be inspired to take photos at every turn. And, with a professional photographer by your side, you're guaranteed to return home with a portfolio of breathtaking images you can hang on your walls… show to envious friends… and sell to dozens of photo markets…
Over six days together, we'll take in Arches National Park, Canyonlands National Park, and Monument Valley. But, you won't have to get your climbing boots on to get the best shots…
Your guides for this event know how to get you to the best shooting sites along easy hiking trails… and have carefully planned this itinerary to allow plenty time for photo review sessions back at our hotel…
Join us on the ground in Moab, Utah this Oct. 14-20, and—under the mentorship of professional photographer Efraín Padró—you'll…
Experience the best of the West as part of an intimate group of like-minded adventurers while you master the secrets of taking exceptional photos…
Get expert advice from a professional photographer who truly wants you to succeed and reach pro status in record time …
Get all the insider secrets and tips you need to hone your camera skills, so you can turn your photos into profit wherever in the world you go (and even when you stay home)… and do it faster than you ever dreamed possible …
Advance beyond the basic camera skills, mastering protechniques that will set your photos apart from the crowd…
And do it all in one of North America's most dramatic settings…
Where "rockitecture" meets outdoor adventure—You'll have photo opportunities around every corner…
Not only will you have the chance to get up close to the wild nature of these giant rocks, you'll get to experience this area's rich culture, too…
With Navajo Nation closeby—the largest Indian reservation in the United States—we'll take time on this expedition to be entertained by traditional Indian dancers… and also gather for a photo shoot in the desert with a Najavo on horseback (no actors here—our model is the real deal).
And, for a modern twist, we'll head out to Slickrock Bike Trail to capture mountain bikers as they go head to head with nature in some thrilling descents—again, with Efraín at hand to talk you through how best to capture the riders in motion.
Landscape photography is a wide open market. But images that include a human element are always in demand, too. These photo shoots we've set up out in the field are an opportunity to work both together in a dramatic fashion. Not only will you come away with saleable photos, you'll have plenty of inspiration for setting up photo shoots back home or on your next trip.
Beginners and improvers welcome: Get the skills and secrets you need to turn your travels into paid vacations
By the way, you don't need an expensive camera to take magazine-quality photos. This October in Utah, we'll show you exactly how it's done.
Whether you have little experience and modest equipment or you're already a talented amateur photographer, this expedition will give you everything you need to establish yourself as a true pro.
Magazine photographer Efraín Padró will show you the ropes of a travel photographer's life… and he'll even share with you all of his special, pre-scouted photo locations.
Efrain's photos have appeared in Outdoor Photographer, Frommer's Budget Travel, Geographic Expeditions catalogs, and other publications. He's also the author of The Photographer's Guide to New Mexico.
And not only is he a talented photographer, he is a phenomenal teacher. His patience, knowledge, and sense of humor will ensure a fantastic trip.
Here's what some past attendees have told us about their time with Efraín:
"Efrain is very knowledgeable and easy to talk to. He explains everything so that you understand, and he has a lot of patience." – Linda Brooks
"These workshops are a wonderful opportunity to travel to a new locale and explore while learning a new skill." – Sandra M.
"Efrain was wonderful – so easygoing and helpful. He spent so much time helping everyone one-on-one. He also has a great teaching style – He's super humorous. I loved him!" – Lynn Michels
"The workshop was fun. I learned a lot… I met interesting people and I became excited about trying to make money from photography. The workshop is an excellent value and provides information that is difficult to acquire in other ways. It was an excellent opportunity to try different kinds of photography." – Susan H.
"Efrain is very knowledge able, approachable, very involved with students and willing to share his secrets – He gave the best tips of the trade." – Joy Spring
"Efrain Padró was a 10! He is a very dynamic speaker and brought great new knowledge and ideas on getting published." – Sarita Simmons
Whether you're a complete beginner or you're already selling photos and looking to up your game, on the ground in Moab, Utah this October—under Efraín's expert guidance and encouragement—you'll find out everything you need to:
See dramatic improvements in the photos you take (without having to digest your camera manual)…
Know how to take a good shot the first time, thanks to pro tips on composition… on shooting at night… even on how to get great photos under compromised conditions…
Make your photos even more saleable in a matter of minutes with a couple of tweaks here and there in photo editing…
Start making money in a matter of weeks—rather than years of trial and error (and high photo school fees)—doing what you truly love…
Understand the different photo markets available to you (and what exactly photo buyers are looking for), so you finally get your photos on the covers of glossy magazines… on the walls of your local art gallery… on travel websites… in coffee table books… you name it…
At Great Escape Publishing, we've led small groups like this to exotic destinations, including Peru, Vietnam, Dubai, and Istanbul. But, we never forget the spectacular settings the United States has to offer up, too…
If you missed your chance to join us on one of our previous overseas events, I hope you'll consider joining us for this one—our only Stateside photo expedition this year—and save yourself the extra expense of a long-distance flight…
Attendees of these live workshops boast great successes—and you needn't have a lick of experience to join their ranks.
Our presentations on selling and reselling your photographs include everything from taking the right kinds of photographs… to knowing and understanding which market will be most likely to buy them.
What's more, every workshop participant will have access to pre-recorded videos when you return home that show the ins and outs of photo-editing software Adobe Lightroom—so even your less-than-perfect shots can be sold for a byline and a check.
Whether you have little experience and modest equipment or you're already a talented amateur photographer, you'll benefit from this small-group expedition. It will teach you the tricks the pros use to take photos editors buy… and teach you, too, how to turn your snapshots into profits again and again.
I assure you, not only will you come away with a real passion for the raw beauty of our national parks—having discovered them with a photographer's eye—but you'll also learn all the ins and outs you need to take amazing photos… and sell them.
Meet Your Teacher
Instructor Efraín Padró is a professional photographer specializing in travel, nature, and architectural photography. Born and raised in San Juan, Puerto Rico, Efraín has photographed in diverse locations such as Europe, South America, Mexico, Asia, India, and the Caribbean. His work has appeared in Travel + Leisure, Frommer's Budget Travel, Condé Nast, and other publications, and he is the author of The Photographer's Guide to New Mexico.
Activity Level
High activity. Most of this workshop will be spent out and about on foot through national parks. Though each day may only involve walking a few miles along safe hiking trails, you must be able to walk on gravel tracks and climb steps without difficulty—while carrying your camera gear. If you have concerns about physical limitations please contact us before registering.
Prerequisites
There are no prerequisites. This workshop is for people of all skill levels and experience and the concepts discussed are doable by anyone. Point-and-shoot cameras are welcomed.
A sneak peek at what you can expect in Moab this October
Your Itinerary
Oct. 14-20, 2018
Sunday, Oct. 14
Arrive in Moab and check in to our hotel, Moab Comfort Suites. Your hotel is included in your workshop fee.
In the early afternoon, we'll gather together with Efraín for a welcome meeting where we'll run through the schedule for the days ahead and get a look at some inspiring images of the Moab area.
Then, we'll get down to business with our first presentation on photographing landscapes—including some basic photo-composition tips.
You'll spend some time getting to know your equipment. Then find out how to use your camera to turn an average vacation shot into a photo worthy of wall space and a magazine cover.
Dinner is at your leisure tonight—though usually the group will get together at a local restaurant. Downtown Moab is just a five-minute walk from our base and has dozens of dining and entertainment options.
Monday, Oct. 15
It's time for our first field trip. We'll gather early for our trip out to Arches National Park. Here in this red-rock landscape is where you'll find the world's largest collection of natural stone arches, as well as soaring pinnacles, gigantic fins, impossibly balanced rocks, and patches of lush vegetation.
Our photo shoot will take us to some of the park's best highlights, including a hike along Park Avenue where we'll stop to admire and capture The Courthouse Towers, The Three Gossips, The Organ, and The Tower of Babel—a giant sandstone fin that stands out as one of the most impressive structures of the park.
In the afternoon we'll head back to our hotel where Efraín will lead the first photo review session—taking a close look at a selection of the group's photos and pointing out what you can do to get better results next time.
After class, we'll return to Arches National Park where we'll start out at the Petrified Dunes—a series of rock formations that formed from hardened ancient sand dunes. From there, we'll head to the famous Balanced Rock—a boulder estimated to weigh the equivalent of 27 blue whales—resting atop a narrow stone pedestal.
You're free to make your own dinner plans again this evening.
Tuesday, Oct. 16
We'll be back in Arches National Park this morning on the Devils Garden Trail. And today, the focus is on those arches. Immortal as they may look, at some point, gravity wins. Wall Arch, which once stood along this trail, famously collapsed in 2008—one of 43 known collapses since 1977. It's worth remembering that the arches you capture today may not exist a decade from now—adding to the once-in-a-lifetime feel of this expedition.
The highlight of the Devils Garden Trail is Landscape Arch—at 290 feet, the longest span of natural arch in North America. In 1991, a section of Landscape Arch collapsed, but she still holds tight today and is one of the top visitor attractions in the park. With guidance from Efraín, you'll capture her beauty, looking for unique angles that will make your images stand out from the crowd.
At noon, we're back to the classroom for another photo review session, plus our first Adobe Lightroom tutorial. You'll be surprised how a seemingly throwaway photo can be transformed by mastering just a few easy editing techniques in Lightroom. Efraín will show you his best secrets and shortcuts and allow plenty time for your questions.
This morning, you saw the longest arch in the park. This afternoon, we'll hike around the "Windows Section" where you'll find some of the largest arches in the area—including North Window, South Window, Double Arch, and Turret Arch. This area, one of the most scenic areas of Arches National Park, is renowned as the beating heart of Arches and the perfect ending to our shoot out here.
Tonight's dinner is at your leisure.
Wednesday, Oct. 17
We'll kick off our photo shoot this morning in the high desert of Dead Horse Point State Park. A favorite haunt of cowboys in the 19th century, the area sits 2,000 feet above a gooseneck in the Colorado River, offering dramatic views over an ever-changing landscape. (It was from below Dead Horse Point that Thelma and Louise drove their car off the precipice and into Hollywood history.)
From there, we'll travel down to Canyonlands National Park—a wilderness carved by the winding Colorado and its tributaries and backdropped by three mountain ranges.
We'll check out the "Islands In The Sky" district—a triangular mesa where the Colorado and Green Rivers meet. At an elevation of 6,100 feet, this is the highest point in Canyonlands and where we'll get the best views over the deep, twisting canyons below. From Green River Overlook, the vista stretches for 100 miles as you watch the tiny ribbon of river disappear into the horizon.
In the afternoon, we'll head to the Canyonlands Needles District and the Colorado River Overlook where we'll also have a view over Fisher Towers. This series of stone structures is a favorite among photographers and a natural draw to rock climbers and base jumpers.
By the time we return to our hotel this evening, you should have an impressive collection of landscape shots. Dinner is again on your own.
Thursday, Oct. 18
By this point, you'll be well trained in the art of taking and editing saleable photos, but you'll still want feedback. In the morning, we'll host a group review and also prepare ourselves for our afternoon shoot in Monument Valley.
Monument Valley—about a 2.5-hour drive from Moab and on the Utah/Arizona state line—is in many ways the definitive Wild West. Director John Ford described the area as the "most complete, beautiful, and peaceful place on earth." Beyond the 17-mile loop road that runs around the Valley is Navajo territory. The Mittens, The Hand, and Sleeping Dragon are some of the iconic red rocks of this landscape.
This afternoon, here in Monument Valley, we'll have the opportunity to photograph a Navajo Indian on horseback—a truly unique subject that can sell over and over for you in many markets.
We'll also enjoy a native Indian dance performance—the chance to get a deeper understanding of this fascinating culture so many only glimpse in the movies—and capture the magic of the dance in your camera.
After the performance, we'll return to Moab where you're free to make your own dinner plans.
Friday, Oct. 19
Our last day together in Moab will have an exhilarating start as we begin our day's shooting at Slickrock Bike Trail. Watch as mountain-bikers descend down the deep tracks of petrified sand dunes—and capture all the excitement with your camera.
At noon, we'll gather for our final classroom session with Efraín—and it's an important one: how to get published in magazines. By now, you should have a packed portfolio of images to work from. Remember, Efraín's photos have appeared in esteemed publications like Condé Nast and Travel + Leisure. Here he'll advise you on how to prepare your own photos for sale, how to approach magazine editors, and how to deliver the full package of a photo essay.
You'll have some free time this afternoon when you can wander around Moab, take some more photos, or simply shop for souvenirs.
We'll gather tonight for a farewell dinner together at a local restaurant.
Please note: Schedule and speakers are subject to change.
A very special price for a limited time only
We're only hosting one Stateside expedition like this in 2018—and it's your last chance of the year to travel and learn alongside Efraín Padró. So if you're ready to start selling your photos this year, I encourage you to reserve your place right now. Sign up today and you'll receive a HUGE discount. Don't sit on the fence on this one… These 12 seats will go fast… and this discount will expire soon.
The full price of this event is $5,098—and it's worth every penny for all the real-world advice, personal assistance, and years of experience our expert Efraín Padró delivers…
But, when you register for this event today, you'll receive a HUGE discount.
The registration fee for the workshop includes:
Six nights' accommodation at our host hotel—Moab Comfort Suites
Admission to six days of intensive class sessions geared to produce photos you can sell
Walking photo tours at three national parks and the opportunity for amazing landscape photos
Expert hands-on assistance from pro-photographer Efraín Padró, right by your side throughout the adventure
Transportation to and from all photo shoots
A farewell dinner
Complimentary internet access at Moab Comfort Suites
And so much more
Your Registration Does NOT Include:
Airfare/transport to and from Moab
Airport transfers
Equipment – camera and accessories
Meals not listed on this flyer (allow $20 to $40 per day)
Space is limited and this is the only photography workshop we'll be hosting in Utah—and in the United States—this year. I strongly urge you to sign up soon. I expect these 12 seats to be snapped up quickly. And I'd hate for you to miss out.
So please, register here now by clicking below or call our office at (561) 860-8266. You can also email me at lori@thetravelwriterslife.com.
I hope you'll be part of this special Wild West adventure…
Sincerely, 

 
Lori Allen 
Director, Great Escape Publishing
P.S. If you can take a simple photograph, you have what it takes to become a successful freelance photographer. It's that easy. The many successful folks who have attended a workshop of ours in the past don't do anything you can't learn to do.
You don't need fancy equipment. And you don't need to know a thing about photography to get started. In Moab, you'll learn all the real-world know-how you need to turn a trip here or a vacation there into a little cash on the side… or even jump in full-time. To turn 2018 into the year you transform your snapshots into cash, join us in Moab and learn how you can pursue your passions and get paid to do it…
NOTE: You may qualify for additional discounts on this Moab Photography Expedition if you've purchased certain Great Escape Publishing products over the last 12 months. Click below on the Register Today button for details or call our office at (561) 860-8266 to find out how much you can save.
PROTECT YOUR INVESTMENT
We strongly suggest you protect your investment by purchasing trip-cancellation insurance, and we would be happy to recommend a policy to you. I've written articles about travel insurance before—how to know when you need it and whether or not it's a good deal—so I can send you those when you register.
Cancellation Policy: The Moab Photography Expedition is non-refundable. If, however, you are unable to attend due to unforeseen circumstances and give us at least 60 days notice, we can offer you a Workshop Credit good toward another event in the amount of what you paid minus a $300 credit card processing fee. Refunds to your credit card are not permitted. If you cancel due to reasons that are covered by your purchased travel-insurance policy, we will advise the insurance company that your travel and conference fees are non-refundable.
©2018 Great Escape Publishing 
All Rights Reserved. Protected by copyright laws of the United States and international treaties. This content may only be used pursuant to the subscription agreement and any reproduction, copying, or redistribution (electronic or otherwise including on the world wide web), in whole or in part, is strictly prohibited without the express written permission of Great Escape Publishing 101 SE 6th Ave., Suite A Delray Beach, FL 33483.