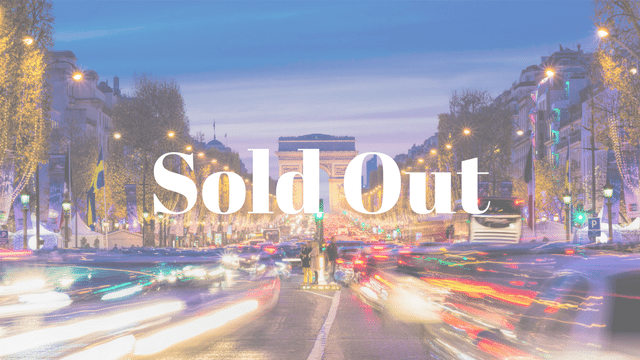 Paris Photo Skills Intensive Photography Expedition
October 8-12, 2017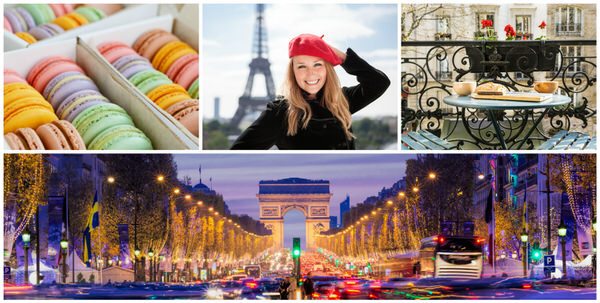 See one of the most beautiful cities in
the world in a whole new light.
If you learn best by "doing" rather than reading…
If you like experiencing destinations in fun ways unlike a typical tourist…
If you're looking to improve your skills and turn your photos from ordinary to extraordinary, this expedition is for you!
Join Us this Fall in the City of Light and Learn to Shoot Travel Photos You Can Sell…
Then Immediately Process Them and Put
Them Up on Stock and Fine Art Sites for Sale with a Pro by Your Side
This autumn in Paris, we'll wander the romantic cobblestone streets… dine in charming and unique cafés most tourists don't know about… explore night photography while creating light trails along the Champs Elysées… meet for "lab" time where we'll process our images together under the watchful eyes of a pro… and see this city in a way you never could as a typical tourist.
This coming October in Paris, it's all about skills and the marketing secrets you need to get your photos up for sale once and for all.  You'll learn…
Where and how to sell your photos online…
How exactly to get your photos ready for sale in stock agencies or online fine art sites… with time to give it a go with a pro there by your side to answer questions…
Shelly's unique approach to earning more income from fewer photos with stock photography…
Keywording techniques to ensure buyers find your images first…
Processing techniques that make you look like a pro…
Specifics for shooting night photography and light trails – what better place to practice than in the City of Light!…
Lightroom tricks for fixing all the most common mistakes and making your images pop…
And much, much more…
Dear Photographer,
If you're intrigued by the prestige of seeing your photos on billboards, in magazines, and online… if you long for a fun way to travel whenever you like and live wherever you prefer…
Now is your chance to make that dream a reality.
Whether you're interested in a new career or just want a nice side income to supplement your travels, spending a week shooting in Paris alongside a pro is the perfect way to make it happen.
I assure you, not only will you come away with a real passion for Paris – having discovered it from an insider's perspective – but you'll also learn the ins and outs of creating saleable photos you can upload to stock agencies, fine art websites, online briefs, and more.
The above photo markets are wide open for beginners – all you need is the know-how to get in and a few days dedicated to making it happen!
Discover for yourself the fun, adventure, and romance of the travel photographer's life.
What better place than the romantic gardens, grand boulevards, famous landmarks, and streets of Paris to learn about travel stock photography?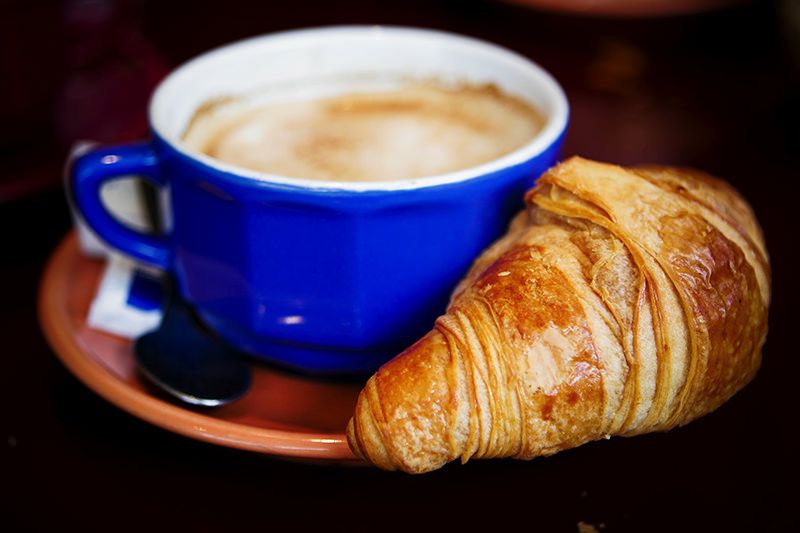 Cafés and boulangeries… open-air markets… the river Seine, the Eiffel Tower, Notre Dame and Sacré Coeur, and more … there is no better place to develop your photography skills and come away with incredible photos than in one of the most iconic cities in the world.
Aside from the photography skills you'll hone on the streets of Paris, you'll also get a chance to gather with a small group in our own apartment, to work on processing your photos… submitting them to agencies… uploading to fine art sites… and more.
Participants at our small-group workshops boast great (and FAST) success – and you needn't have a lick of experience to join their ranks.
With the goal of shooting travel stock photos you can sell online right away, you'll also get to watch Shelly do her thing as she chooses a scene, composes her shots, and takes the kinds of stock photos that have propelled her to success.
After just the first two days, you'll have plenty of photos to choose from… and we'll work together to get them up online where you can sell them. And if you've never submitted photos to stock agencies before – or you have and your photos were rejected – that's ok! This will get you started in the right direction.

Your Itinerary
October 8-12, 2017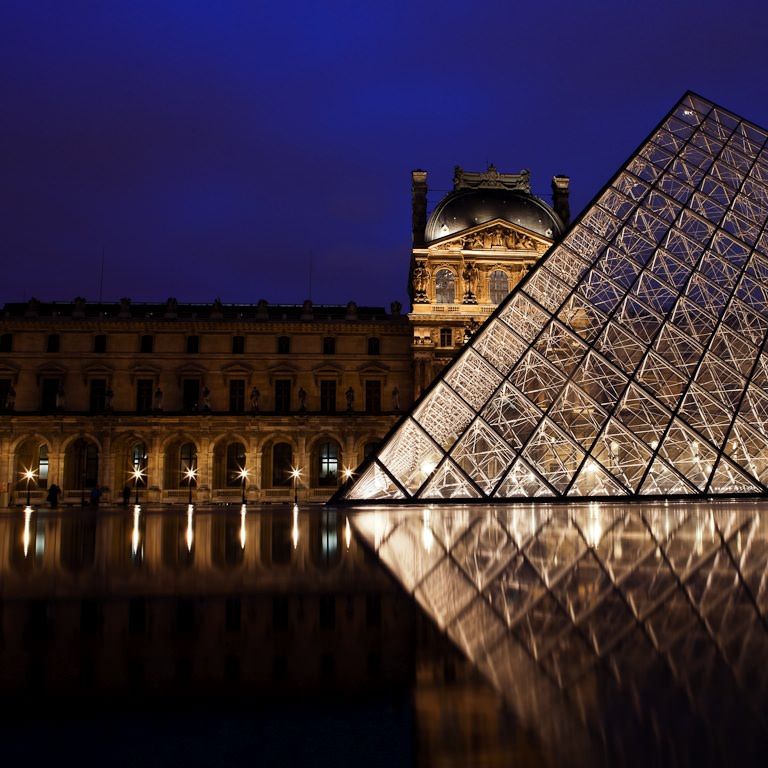 This expedition will be fast-paced and fun, allowing you to see the city in a way you never could as a typical tourist. We have a full itinerary planned for each day, and most of the workshop will be done out and about on foot, so you'll need to be prepared for high activity throughout the week.
You'll also benefit from unique one-on-one instruction throughout the five days, both during shoots and special classroom sessions.
Shelly will critique your photos in daily group reviews, where you'll learn what you're already doing well and what you can do to improve your shots and bump up your success.
Plus, you'll have hands-on "lab" time to apply to stock agencies, upload photos, keyword your images, and get your stock photos set up once and for all. No more procrastinating when you get home. No more confusion about what to do, where to click, how big your photos need to be, or other issues. We'll take care of them all right there on the spot.
Saturday, October 7:  Arrival in Paris
Fly into Paris and settle into your apartment. Each apartment is shared by two or more participants.  Explore the streets at your own pace… or relax and get ready to shoot a lot tomorrow.
Day 1 – Sunday, October 8
Meet Shelly, Bonnie, and your fellow attendees for introductions at the main apartment.
Today we'll talk about what makes a good travel stock photo, what to watch out for, and how to avoid anything that will get your photos rejected from a stock agency. We'll also go over the differences between stock and fine art, and what to look for if you'd like to sell fine art photos online. 
This afternoon, we'll wander through the parks and along the romantic boulevards, taking in the scent of freshly baked bread and getting carried away in the accordion music and the atmosphere around the Ile de la Cite to a few spots we've staked out that are perfect for taking iconic travel shots.
You'll put to use what you learned this morning while you shoot, with your instructor and staff at hand to answer questions. We'll end the day talking about how to choose your best shots for sale, and getting you set up in a few stock or fine art sites where you can start uploading your images.
Day 2 – Monday, October 9
This morning we'll start bright and early to take advantage of the morning light in the bustling cobblestone streets of Montmartre. In October, we'll see fewer tourists and have more opportunities to shoot everything that makes Paris "Paris" without so many people in the way. You'll expand on what you learned yesterday, soaking in the Parisian autumn atmosphere while taking iconic shots.
This afternoon we'll gather for a photo review and to talk about processing your photos with Lightroom and keywording your photos for sale. Shelly will demonstrate her quick, basic editing process. We'll also continue adding photos to our various online portfolios or getting them set up.
Day 3 – Tuesday, October 10
This morning we'll head out early for a sunrise shoot at Trocadero, across the Seine from the Eiffel Tower. After stopping for a few crepes, we'll head to a few lesser-known neighborhood streets to find a unique view on this Paris icon. We'll then make our way to the tower itself and through the park.
After lunching in a Parisian café and taking plenty of photos of our food, we'll head back to the "lab" for photo review and some hands-on processing time with Shelly and Bonnie nearby to help.
This evening, we'll head to the Louvre for an evening Blue Hour shoot, finding the lit palace reflecting majestically in its fountains.
Day 4 – Wednesday, October 11
Today, we'll set our sights on food, wine, and cheese, visiting a market and cheese shop… and getting as many detail shots as we can. Now that you have a better idea of what kinds of photos work well as stock, we'll then hit the streets to find big, sweeping iconic shots and more small details, too.
You'll be surprised at the pace of your progress as you hone these skills out in the field. With Shelly's professional guidance and feedback, you should quickly see a dramatic change in your ability to create saleable travel images.
We'll end the day with a farewell dinner, on us, where you can savor a delicious Parisian meal and swap stories about your trip and what you've learned, bounce ideas off of your fellow attendees for future shoots, and enjoy the company of the group.
Day 5 – Thursday, October 12
After breakfast, we'll get together for our final photo review and Shelly will answer any questions you have left. She'll also talk about the next step… how to get from being accepted into an agency… to making more sales.
You're free the rest of the day to head home or continue your trip on your own, with new photo-taking skills and lots of great shots to show for it.
Note: Schedule and instructors are subject to change.

Pricing and What's Included
Full Price: $4,398 per person (but you won't pay anywhere near that when you register today.)
Special First-in Discount: Save $400 with your First-in Discount when you sign up today.
The full price of this workshop is $4,398 but you'll pay just $3,998* when you add your $400 First-in Discount and register today.
If your spouse or a guest would like to join you, he or she can do so for just $3,398.
(*Note: Additional discounts may apply. You can click through to the registration form at the link below to learn more.)
Easy Payment Plan: What's more, if you'd like to take advantage of our easy payment plan, you can register today for just $999 down.
Here's how it works:
Reserve a seat on the expedition for just $999 when you put your name on our attendee list today.
When you do, you'll automatically lock in the discounted workshop price of only $3,998* – a full $400 SAVINGS for you! (*Note: Additional discounts may apply.)
We'll bill your credit card $999 today, and 4 equal monthly payments thereafter. So you spread out the payments comfortably over 4 months between now and when the workshop starts in October.
The registration fee for the workshop includes:
Five days spent shooting out and about in Paris as well as in class sessions and photo reviews…
Special presentations and demonstrations by stock photographer Shelly Perry on shooting saleable travel photos, editing in Lightroom, keywording for stock, and more…
Hands-on "lab" sessions throughout the workshop, designed to help get your photos ready for sale, up online, and SELLING before you head home…
Group reviews with Shelly where you'll learn to include – and exclude – from your travel photos… what to look for in quality, and how to polish and edit your images to prepare them for sale…
Five nights' accommodation in a luxurious Paris apartment*…
Breakfast, coffee, tea, and snacks daily in our main apartment…
Transportation to and from all photo shoots, via the Paris metro…
A farewell group dinner at a traditional French restaurant…
Access to an exclusive, members-only Facebook group where travelers can ask questions, share their plans, meet one another before the event, and stay connected post-event…
Pre-Event Guidance from Great Escape Publishing Staff including what to expect, what to pack for the weather, equipment list, travel tips, and more…
*Accommodation details will be sent upon registration. We've reserved a handful of luxury apartments in the Marais, and you'll be included in a small group of attendees at each apartment.  All apartments are within short walking distance from each other and from our main apartment where class will be held.
Your Registration Does NOT Include:
Meals not listed on above (allow $40-$80 a day for this depending on whether you want fine-dining experiences or local eats)…
Your roundtrip flight to Paris…
Transfers from the airport to your apartment and back…
Equipment – you must bring your own camera and accessories (e.g., memory cards, tripod, etc.)…
Our Commitment to Affordability
We pledge to offer expeditions at the best possible price.
We create tours for travelers, not tourists. Folks who want unique experiences they wouldn't likely find on their own. And we strive to make each and every expedition better than the last.
The only way we can ensure affordable tours without sacrificing these experiences, is to offer them one at a time, which means we don't publish a yearly expedition schedule on our website.
Many other tour companies use a simple formula, designed to shuffle tourists from one place to the next. They'll use the same itinerary year after year, without making modifications. And that's not who we are.
To keep our prices low, and our itineraries fresh, we stay on top of the trends, deals, and best-value opportunities that we can get our hands on. This sometimes means we'll put together a trip very quickly, and you might not have as much advance notice.
But you'll have a great price (oftentimes $2,000-$3,000 less than what you'll find elsewhere), and a great itinerary. That's our pledge to you!
Please note: If you're someone who needs more advanced notice for budgeting and planning purposes, we have plenty of trips that are announced 9-12 months in advance. But other trips require quicker planning and execution, so please understand that sometimes we announce trips with just 3-6 months advance notice.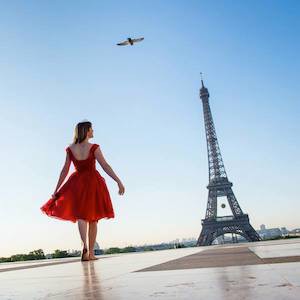 Bonnie is the Creative Director for Great Escape Publishing, a regular contributor to The Right Way to Travel, and creator... [Read More]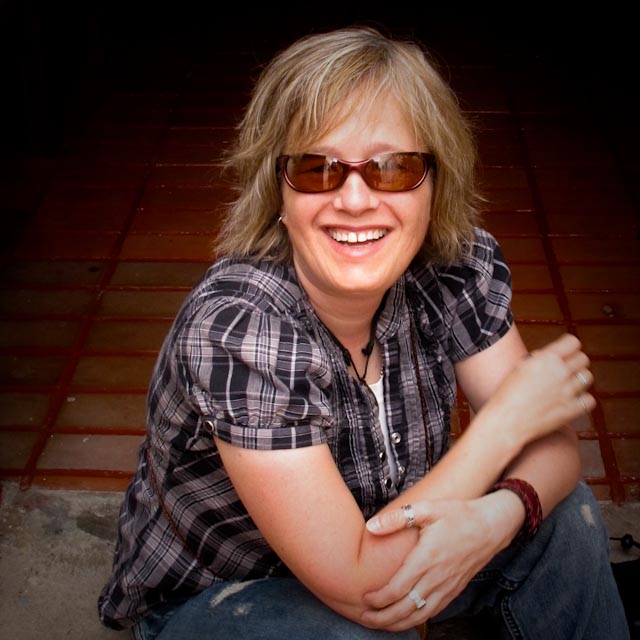 Shelly Perry, from Portland, Oregon, left a decade-long career working with children in a social services capacity to pursue her... [Read More]
We'll have the unique opportunity to stay in a few beautifully appointed Parisian apartments in the same neighborhood. 
Here's what fellow readers have to say
about their experience on our photo expeditions…
"Every day was an adventure and a great photo opportunity. I can't choose just one highlight." – Francesca Burack
"In my case, I appreciated that the instructor zeroed in on what I need to learn and correct (composition and focus) and still teach me much more than I expected to learn…" – Susan Birkenshaw
"The workshop was fun. I learned a lot… I met interesting people and I became excited about trying to make money from photography. The workshop is an excellent value and provides information that is difficult to acquire in other ways." – Susan H.
"I learned more in three days than I have all year. Between Thursday's photos shot and Saturday's photo shots – it is like night and day." – Lynda I.
"You all did an awesome job. I have learned so much in 7 days … totally priceless." – Nelda Bernal
Workshop Details:
What to Bring:
Your passport
Your camera
A tripod for evening shoots
Spare batteries and charger for your camera
Spare memory cards
Your laptop including Adobe Lightroom or another photo editing program
Extra memory or external hard drive, if you have one
Layers and comfortable shoes for shooting out in the city
Health:  As with all overseas travel, it's recommended that you're up to date on all routine vaccinations. These include measles-mumps-rubella (MMR), diphtheria-tetanus-pertussis vaccine, varicella (chickenpox) vaccine, polio vaccine, and your yearly flu shot.
Visa Entry/Exit Requirements:  If you're a U.S. citizen, you need a current passport that's valid at least THREE months beyond your planned date of departure and one blank page for your entry stamp., so make sure to check the expiration date on your passport. If your passport expires before January 2019, you'll need to renew. See this site for more details: https://travel.state.gov/passport/renew/renew_833.html
If you are a U.S. citizen, you do NOT need a VISA to travel to Paris for stays of up to 30 days. If you're not from the U.S., check with the French consulate for your country for details.
Insurance: We highly recommend insurance coverage for cancellation. This should be taken at the time you book the trip. We also recommend supplemental travel insurance to protect yourself in case of unplanned medical emergencies.
Money: The currency in France is the Euro. You'll want to get Euro out of the ATM as soon as you arrive at the airport so you'll be able to tip your driver.
Also, check with your bank before you leave to make sure your card will work in Paris. Have them add a note to your account that says you'll be making withdrawals in France (some banks will freeze your funds if they suspect someone has stolen your card.)
Electrical: You'll need a two-prong "Type E" adapter plug (and possibly a converter) for your equipment. Almost all laptops and camera battery chargers have an electricity converter built in to the power cord (that means you don't need a converter). For these things, you simply need an ADAPTER plug, which you can usually find at Target, Best Buy, Radio Shack, or Circuit City. Or type: "type E adapter" into Amazon.com and buy online.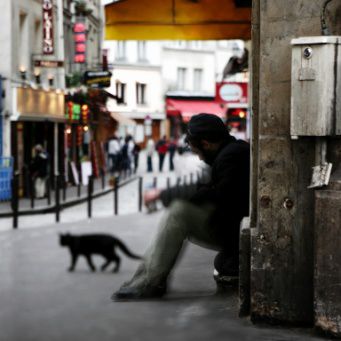 Activity Level: HIGH
Most of this workshop will be spent out-and-about on foot through the streets of Paris.
You should be comfortable walking up and down stairs and on cobblestone streets carrying your camera, tripod, and possibly a backpack.  It's estimated that we walk between 2 and 5 miles per day.
We're not joggers. But it's a good amount of walking. (Note: elevators are few and far between in Paris and we'll be up and down the stairs of the metro daily).
If you're unable to keep up with the group, you may be asked to sit out of an activity. If you have concerns about physical limitations, please contact a Great Escape Publishing staff member before registering. You can email us at workshops@greatescapepublishing.com or call (561) 860-8266.
Prerequisites: 
It doesn't matter what level of photographer you consider yourself to be, or if you've never tried selling your photos as stock or elsewhere…
Shelly may be an expert stock photographer and official inspector now but she started out right where you are today – as an amateur with a love of photography and a need to make an income doing something fulfilling. Following her passion for people photography, she taught herself how to take photos that sell, and she's excited to share that knowledge with you in Paris.
This workshop is a once-in-a-lifetime opportunity for folks who truly want to get paid to travel. As I mentioned, not only will it include loads of exploring the streets Paris with our cameras, but you'll have the rare opportunity to sit down with Shelly and Bonnie to start building your online photo portfolios right then and there. You'll learn a LOT in five days, not to mention enjoy the beautiful city of Paris this fall.

← View All Events