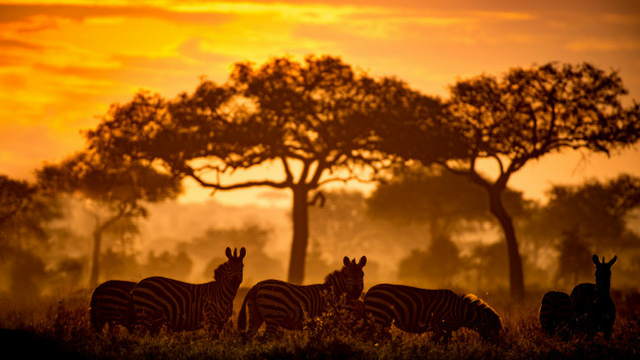 Tanzania Photography Expedition
November 5-13, 2018
Tanzania
$7,999
Our most luxurious trip to Africa yet…

Join us this fall in Tanzania on a once-in-a-lifetime tour of our FAVORITE photogenic spots… with a chance to photograph The Big Five (lion, leopard, elephant, rhinoceros, Cape buffalo) alongside world-famous animal photographer Carli Davidson
Tanzania Photography Expedition with 
Carli Davidson 


November 5-13, 2018
Join us on the adventure of a lifetime among elephants and lions, zebras and giraffes… while completely immersing yourself in the joy and excitement of photography. Beginners welcome.
We've combined all our favorite stops on a single tour… and, thanks to our friends on the ground, we're taking a step up in luxury, too.
You'll spend two nights in Tarangire, the land of the elephants, where it's not uncommon to see herds of up to 50 elephants together at once…
…enjoy the breath-taking beauty of the Ngorongoro Crater — a UNESCO World Heritage Site — as we track lions, leopards, and rhinoceros by day and take in spectacular sunset views from our lodge, perched on the rim of the crater, by evening…
… photograph The Big Five in one of Africa's most photogenic and iconic places…
… watch the vast landscapes change from rolling mountains to endless plains to palm-tree dotted shores…
… and spend your nights in top-of-the-line luxury lodges and camps where you'll fall fast asleep to the sound of nature…
All in the company of world-class guides and professional animal photographer Carli Davidson—there to teach you the techniques you need to shoot pictures that sell for $50, $150, $500, or more.
If you long for adventure… or a career (or sideline) that helps you travel whenever you like… live wherever you choose… or make an income doing something fun, this trip is for you.
You'll visit the spectacular red mud swamps of Tarangire
Stretching nearly 1,100 square miles from the Tanzania-Kenya border in the north, to the Maasai Steppe in the south, Tarangire contains the greatest concentration of wildlife outside the Serengeti ecosystem.
Most known for its abundant population of elephants, it's also unique for its burnt orange mud that makes the elephants turn red in color.
Vast expanses of open space dominated by beautiful acacia and baobab trees make Tarangire National Park the perfect place to capture moody images of African landscapes, set to the backdrop of dramatic clouds on the horizon. It's a must-stop on this trip for photographers and we pay extra for diesel to go farther into the park than most tourists get to see. You can't do this on any other tour.
The Ngorongoro Conservation Area
Ngorongoro was named by the Maasai tribe as El-Nkoronkoro, meaning Gift of Life, during their migration from Central Africa for a more permanent settlement.
We'll stop at the crater rim for a panorama photo opportunity. And in the morning, we'll descend into the Ngorongoro Crater.
This once gigantic volcano is now the world's largest intact caldera, sheltering one of the most beautiful wildlife havens on earth.
It's here where you'll see large herds of zebra, small prides of lion, and elephants bigger than our safari vehicles. We'll also pass an elephant graveyard and have a chance to see and photograph the rare (and nearly extinct) black rhino in one of the few places he still roams free.
Central Serengeti
Nestled between the grassy plains of the south and the wooded hills of the north, the Central Serengeti is one of the richest ecosystems the national park has to offer.
The vast plains stretch as far as the eye can see—across the sunburnt savannah all the way to the golden horizon.
We'll stay in Moru, known for its kopjes – heads of rock that burst out of the ground like giant bubbles where big cats like lion like to lounge in the mornings and at night.
Said to be the 7th wonder of the world, the Serengeti is peppered with acacias shrubs and open grasslands… creating the typical African landscape you often see in photographs.
It's also home to The Big Five (lion, elephant, buffalo, leopard, and rhinoceros) even though rhinoceros are rarely seen here anymore as they are so often hunted for their horns.
And we'll see plenty of cheetah (hopefully catching their prey), wildebeest, and hyena. All in customized Land Rovers made exclusively for photography.
November has become our favorite season, too! The transition from spring to summer means the temperatures are comfortably warm, the grass begins to turn vibrant green, and, every night, the sun brilliantly paints the sky a fierce red and orange as it sets on the horizon.
November also offers us deeply-discounted rates—almost one-third of what you'd pay on your own—making this trip a true luxury experience.
In one of the camps, for example, each tent has its own plunge pool on a private deck. It's the next level of luxury on an already-great destination.
All with the added bonus of traveling with folks who share the same interests as you—a passion for travel and life and a yearning to see the world in a way typical tourists usually don't.
I assure you, not only will you come away with a real passion for this part of the world—having discovered it off the beaten tourist path—but you'll also learn all the ins and outs you need to take amazing photos… and sell them – a skill you'll keep for life!
Whether you have little experience and modest equipment or you're already a talented amateur photographer, you'll benefit from the one-on-one interaction with our guides and photography instructor Carli Davidson.
Carli is a two-time New York Times best-selling photo book author with regular photography gigs for pet food companies like Purina. She's also one of the most down-to-earth and fun people to be around. And she's a fantastic teacher… which makes learning fun even if you know nothing about your camera.
You don't need a $1,000 camera and tons of equipment to have fun and create images you can sell and be proud of at home. And, this November, we'll show you exactly how it's done.
"My favorite part about this trip was the variety of landscapes, lodgings, and a great group of people to be with. The guides were excellent wealth of information and patience. Loved it all." — John Keselyak
"The trip was extremely well organized. The appearance of the rainbow on the first glimpse of the Ngorongoro crater was a highlight. The mobile migration camp with the view of the stars and the endless panoramas along the way, were to me beyond imagination." — Calvin Rice
"I loved everything! I loved the animals, appreciated learning more about photography and especially enjoyed meeting new friends. This was my third safari in Africa (the other 2 were in Kenya). Of the three, this was the best. It was well organized, the drivers were expert in their abilities and knowledge. Victor's personal attention was an indication of his professionalism. I feel comfortable in recommending this trip to anyone wishing for the best possible safari experience." — Wayne Simpson
"This was my first trip with Great Escape Publishing but won't be my last. The trip exceeded my expectations in every way possible. I came with a camera I didn't know how to use and no immediate interest in turning photography into a business. The instructors were awesome and super generous with their time. The day over day improvement in my shots was striking, and I came away with a working knowledge of my camera and photos that I am proud to show family and friends. The other participants were fun to be with and very well traveled with great stories to share. The guides were awesome, accommodations top-notch, and the food was excellent. And, it was safari in Africa! I look forward to future trips with Great Escape Publishing!" — Nanci Shawger
"I was concerned I might be with a lot of photography geeks especially as a novice with new camera but the instructors and guides were genuine and skilled; participants were friendly and reflected all levels of photography experience." — Donna M Cavallaro
"This is such a wonderful trip. The hands on help with your camera as well as the classes and photo review were so helpful. I learned so much, loved the wildlife, and the nature landscapes." — Ann Moore
Meet your instructor
Carli Davidson
Instructor Carli Davidson is a full-time professional animal photographer. You may know her by name as the two-time New York Times' bestselling author of the book, "Shake."
Working with animals from a very young age, Carli has a passion for capturing them with her lens and has gone on to photograph and direct commercials for various clients and agencies including Pedigree, Purina, Nike, Friskies, and more. Among others, her work has also appeared in Vanity Fair, Rolling Stone Magazine, and National Geographic.
Carli's ability and know-how to build a full-time career out of a sideline business is just one of the many things she'll share with you this November as you take charge of your own career or sideline as a photographer.
Not only will she share all her knowledge for building a thriving photography business, but she'll also give you tips and tricks for creating incredible images of animals, capturing their motion, and taking your work to a whole new level.
Here's what past attendees have to say about Carli and her teaching style:
"Carli Davidson is not only an accomplished professional photographer, she is also a caring and patient teacher. Her personal help has improved my skills in close up animal photography. Her love of animals is felt not only by her students but also by her subjects, and it shows in her art." — Wayne Simpson
"Carli is a unique individual who is able to relate to each person she meets whether beginner or advanced in photography with positive enthusiasm and encouragement. She has a wonderful 'joie de vivre' along with lots of knowledge of the animal kingdom. You won't be bored!" — Janet Herbruck
"Carli Davidson is a bundle of energy and a laugh a minute. She stops whatever she is doing to help you if you are struggling with camera issues, composition, or any other problem you might come across. Her laugh is contagious so there is never a dull moment when Carli is around. She will try anything once, like when she let the elephant 'firehose' her with a trunk full of water so we could get the shot. I really want to take another safari with Carli." — Bev Hart (Note: This testimonial about Carli was written after an adventure with her in Botswana. There are NO animal interaction experiences on this Tanzania tour and it's one of the things we love most about Tanzania in comparison to every other country in Africa—they do their best to keep the wildlife wild.)
"What I love about Carli is her genuine curious nature. She has a keen eye and notices things, like plants, textures, and creative angles for capturing the animals. She is great at getting you to notice little details that might be missed. And she is fun!" — Deborah Kolb
Meet your guides
Victor Nyakiriga, our trip leader and ground operator in Tanzania, was born in the Serengeti. At a very young age his grandfather taught him how to track animals and take care of himself in the bush. Years later, he attended the Wildlife College for two years, learning more about natural history and science, camp management, outdoor leadership, ecology, birds, and guiding skills.
He then moved back to the Serengeti to live among the animals—tracking lions, cheetahs, leopards, elephants, and the rare rhino by naming them. This helped him better understand their unique animal behaviors and life strategies and eventually landed him jobs working with some of the top wildlife photographers in the business including National Geographic.
Before leading safari tours, Victor's team of guides learned all the ins and outs of Tanzania's wilderness by working in camps that follow the great migration. Today, they use their expertise to show us the best locations for viewing wildlife and landscapes—areas that most tourists never get to see… areas pristine for photography.
Not only do they have extensive training and knowledge of all things wild—mammals, birds, and insects alike—but they're also well-versed in photography. They know exactly how to position the vehicles and find the best light, so you have the greatest advantage for capturing stunning images.
Here's a rundown of what you can expect:
Day 1 – November 5 (Monday) — Kilimanjaro Airport (JRO) near Arusha, Tanzania
You'll schedule your flight to arrive on this day or the day before and transfer to our hotel. Most flights arrive at night (5 p.m., 8 p.m. or after midnight). If you plan to arrive a day early, you can arrange a day tour with the hotel, or simply relax and acclimate. Your hotel on that early night will be at your own expense (approximately $160 single occupancy, $240 for doubles).
Day 2 – November 6 (Tuesday) – Drive to Tarangire and game drive
After breakfast on us at the hotel, we'll do introductions and take you through your first photography presentation, giving you the basics you need to get started. Soon after we'll make our way to Tarangire.
This lesser-known national park boasts an amazing array of diverse wildlife, but is best known for its incredible concentration of elephants.
In Tarangire—also known as the "Land of Elephant"—it's not uncommon to see herds of up to 20-50 elephants roaming together at one time.
Day 3 – November 7 (Wednesday) — Morning and evening game drives
After an early-morning game drive, we'll head back to camp for lunch and a photo review to ensure your camera settings are on the right track and you're capturing the kinds of images you want.
One of the unique things about our photography tours and expeditions is our focus on getting beautiful and creative images you can sell when you return home. To this extent, you'll see we're not only photographing animals on this tour. We've incorporated landscapes and opportunities to capture the stunning African sunsets and people.
We'll take you step-by-step through the right camera settings and show you how you can use your camera to turn an average vacation snapshot into a photo worthy of wall space and a magazine cover.
In the evening, we'll do a second game drive at sunset to capture the animals in another light.
Day 4 – November 8 (Thursday) — Drive to Ngorongoro and lunch at Acacia Farm Lodge
Today we'll drive to our lodge at the Ngorongoro Crater. Along the way we'll stop for lunch at the Acacia Farm Lodge. Perched high on the striking Great Rift's escarpment area, the Acacia Farm Lodge is situated within an active mixed farm. The lodge's location bestows stunning panoramic views of the surrounding Karatu farmlands and the nearby Ngorongoro forest area.
As we transfer to our lodge at the Ngorongoro Crater, we'll stop along the way to take in the spectacular view from the rim.
Day 5 – November 9 (Friday) – Ngorongoro crater floor, game drive, and a visit with the Maasai Chief
Before dawn, we'll descend onto the crater floor, before other Jeeps make it down, for a pristine game viewing and a chance to see the nearly-extinct black rhino.
As a UNESCO World Heritage Site, the Ngorongoro Crater is known for its dense population of wild animals, making it one of the best spots in Tanzania for rhino sightings. This 10-mile-wide volcano top with 2,000 feet high walls is one of the most spectacular places imaginable.
Commonly referred to as the 8th wonder of the world, it's a natural amphitheater for the circle of life. The short grass plains here are rich in nutritious grasses, providing the herds with the best conditions to eat and raise their young—which is why this is also called the time of feast for lions and other carnivores.
The game viewing here is among the very best Africa has to offer, and the backdrop is simply stunning.
Lots and lots of on-the-ground research has helped us find the perfect Maasai community to take pictures. No tourists. No touristy dances. Just a chance to see a small village the way it is in real life.
We'll go in the late afternoon when the light is right for photos.
Day 6 – November 10 (Saturday) – Drive to central Serengeti
After class this morning, we'll take off for our tent camp in the Central Serengeti, where we'll check in, freshen up, and head out for our first game drive in this area.
This is where having local guides who have worked with the world's best photographers really sets our trip apart. These guys are amazing at what they do. Not only are they friendly and fun, but they're excellent drivers and expert animal spotters, and they know just where to go to find all the best stuff with beautiful backgrounds.
Tonight, if the weather is clear, we can enjoy some time relaxing by the campfire listening to the sounds of nature at night.
Day 7 – November 11 (Sunday) – The central Serengeti and game drive
Early morning we'll head out on our next game drive, looking for lions and cheetahs who might be on the hunt. Every trip is different, and you may see lions or zebras mating… elephants hanging out beneath the trees… or a cheetah sprinting after its prey.
Along the way, you'll be sure to meet with exotic birds, hyenas, zebras, giraffes, gazelles and impalas, too.
While it's less likely to see the great migration in November—that's millions of animals traveling together at the same time—it's still common to see large herds of animals roaming the Serengeti.
Day 8 – November 12 (Monday) – The central Serengeti and game drive
We've added more time to rest and relax… and more time for photo reviews to this itinerary because it's an important part of this trip. Getting feedback on your work is crucial to improving your skill. Plus, we also have photo-editing sessions planned and Carli is also going to share with you how she sells her images.
These tent camps are amazing, too, so you'll want this time to enjoy them. You'll be in awe at the level of luxury they put inside each tent. Your windows zip down for floor-to-ceiling views of the Serengeti… and animals walk just a few feet away. It's not uncommon for them to wander straight into camp. But don't worry, it's safe to walk around during the day.
Day 9 – November 13 (Tuesday) – Fly back to Arusha
The flight back to Arusha is in the morning.
You can either schedule a flight home after 5 p.m. on this day, or overnight and catch a flight out in the morning.
If you'd like to extend your stay and see more of Tanzania, you have a few options: Zanzibar (an island on the East Coast of Africa)… you can continue on safari to North Serengeti which is famous for its rocks and year-round game drives… you can climb Mount Kilimanjaro or Meru… or also do the Usambara mountains (it's a chain of mountains you can walk where the landscape is absolutely amazing).
If you like any of these options, we can put you directly in touch with our guides for trip planning, pricing, and special requests. You MUST book these options at least three months in advance. If you need a hotel room on this day, room rates are $110 for the day but not overnight, $177 for overnight, $235 for doubles.
Note: Our workshop schedules and instructors are always subject to change due to weather and other unpredictable events. The primary focus of this workshop is on photography and areas that are good for travel photographs.
"The Africa Photography Expedition presented by Great Escape Publishing was for me, a great success. The event was extremely well organized, the animals and scenery were spectacular, accommodations relaxing, tour guides very professional and as a result our group had a lifetime experience. Thanks to all!!" — Calvin Rice
"This was my second workshop with Great Escape Publishing (the first was in Ecuador). Their attention to detail and logistics is superb. The staff is experienced, knowledgeable and friendly. I look forward to attending many more." — Wayne Simpson
THE GREAT ESCAPE PUBLISHING DIFFERENCE
Here at Great Escape Publishing, we're committed to creating tours and experiences that are unlike anything you'll find elsewhere. Here's our 4-POINT PROMISE about what you can expect on this expedition and what makes us different.
1. SMALL GROUPS
You'll be part of a small group of like-minded travelers… folks who want to explore, experience, and enjoy what's unique and authentic about a place. The group size is just 10-12, so you get the chance to know everyone in the group, and you get plenty of one-on-one time from our staff and instructors.
2. AUTHENTIC ACCOMMODATIONS
It's important to us that our accommodations match the destination. We avoid big chains like Hilton and Marriott because they're the same around the world. And instead we opt for small, family-run boutique hotels that match the splendor of the city. Each hotel has the same level of comfort and amenities as these bigger brands, but with a lot more charm and character.
From Hacienda-style lodges in Ecuador… to luxury tent camps on the Serengeti in Tanzania… casas particulares in Cuba… or a luxury boat in Ha Long Bay… our choice of lodging might just be your favorite part of the trip!
3. INSIDER EXPERIENCES
We like to explore something the average tourist might not know about. We've made connections on the ground so we can visit the best sites, markets, festivals, restaurants, cafés, and villages that would be hard to find on your own. We'll use local guides where possible instead of well-advertised companies and we've geared our schedule toward photographers or writers, so you can skip right to the heart of Tanzania and capture something the regular tourist never will.
4. GENEROUS TEACHERS
Photography or writing tours are a dime a dozen. But try to find a tour that teaches you how to write compelling stories AND how you can sell those stories for a nice side income, and you'd be hard pressed.
The truth is, a lot of people today aren't crazy about sharing their photography secrets and their income-earning advice with newbies. But the photographers and writers who lead Great Escape Publishing trips are some of the most generous teachers out there. They know that the need for great photos and great articles is only increasing—so the more people who can fill this need, the better for everyone!
On this expedition, you'll have an expert by your side every step of the way, ready to share her professional insights and secrets to help you travel the world and get paid to do so.
Pricing and what's included
Tours of this caliber typically sell for $15,000 – $20,000 per person, double occupancy, which means you need to share your room with a stranger.
But on all Great Escape Publishing photography tours, you get top-notch instruction for taking and selling great photographs and you don't have to share a room (unless you want to, that is).
75-80% of our business comes from repeat customers—many of them single women—so that's something that makes us unique. The only time we ask people to share a room is when we reserve a place we know is best and they don't have enough rooms for us to all have singles. Otherwise we let all our customers have their own space and we don't penalize single travelers just because they're single.
Full Price: $15,000 $9,299 per person
Special, First-In Price when you register today: $7,999* (a savings of more than $1,300 when you reserve today.)
Other discounts are here including discounts for spouses and
non-photography friends.
Easy Payment Plan: If you'd like to take advantage of our easy payment plan, you can register today with just $999 down.
When you do, you'll lock in the discounted workshop price you see today and with just $999 followed by 7 equal monthly payments to pay off the balance. This allows you to spread out the payments comfortably over the months between now and when the workshop starts.
Bring your non-photography spouse or friend
What's more, we know your non-photographing spouse or friend is not going to stay at home while you embark on the adventure of a lifetime. They can pay an extra low rate of $6,899 when they share your room and experience all the drama and adventure of Tanzania right by your side.
They can attend as many or as few classes as they want, enjoy all our fabulous dinners, and otherwise attend as a full-fledged attendee.
Children must be 12 years old or older or otherwise have written permission from us to attend.
The workshop includes:
Eight nights' first-class accommodation in safari lodges and luxury tent camps…
Eight safari game drives in "the best safari country in Africa," where we'll have an authentic experience and not be caught in a crowd of Jeeps…
An opportunity to meet a Maasai tribe Chief and photograph an authentic family who doesn't dance for tourists…
An opportunity for amazing landscape photos as the weather changes and the clouds roll in and out…
Expert hands-on tuition from pro-photographer Carli Davidson, right by your side throughout this adventure…
Modified vehicles built exclusively for photography, with removable rooftops and sand bags we can use to stabilize our cameras and lenses…
Your flight from the Central Serengeti back to Arusha…
Breakfast, lunch, and dinner daily…
A limit of four photographers per Jeep, with plenty of one-on-one instruction from your leaders
All your park fees…
Amazing 5-star, 4-course meals…
And so much more
The workshop does NOT include:
Airfare to and from Tanzania
Airport transfers are included if you stick to our itinerary, but if you arrive early or stay late, you'll need to arrange your own airport transfers through the hotel. We can help you with this.
Equipment—you must bring your own camera and accessories (e.g., memory cards, tripod, etc.) If you don't own a camera or you'd like to rent or buy a different lens, we'll tell you exactly what to get.
Gratuities—at this level of service, gratuities are expected even when they say they're not. Please allow $20-$30 per day for this.
Our Commitment to Affordability
We pledge to offer expeditions at the best possible price.
We create tours for travelers, not tourists. Folks who want unique experiences they wouldn't likely find on their own. And we strive to make each and every expedition better than the last.
The only way we can ensure affordable tours without sacrificing these experiences is to offer them one at a time, which means we don't publish a yearly expedition schedule on our website.
Many other tour companies use a simple formula, designed to shuffle tourists from one place to the next. They'll use the same itinerary year after year, without making modifications. And that's not who we are.
To keep our prices low, and our itineraries fresh, we stay on top of the trends, deals, and best-value opportunities that we can get our hands on. This sometimes means we'll put together a trip very quickly, and you might not have as much advance notice.
But you'll have a great price (oftentimes $2,000-$3,000 less than what you'll find elsewhere), and a great itinerary. That's our pledge to you!
Please note: If you're someone who needs more advanced notice for budgeting and planning purposes, we have plenty of trips that are announced 9-12 months in advance. But other trips require quicker planning and execution, so please understand that sometimes we announce trips with just 3-6 months advance notice.
PREREQUISITES:
All skill and experience levels are welcome, and the concepts introduced are doable by anyone. Point-and-shoot cameras are welcome.
ACTIVITY LEVEL: MODERATE
Most of this workshop will be spent out-and-about in customized Land Rovers made for photography. Game drives during the day can be quite long, often sitting for several hours and bouncing around on the very bumpy, un-paved roads. While this may not be considered strenuous activity, it can be uncomfortable and physically demanding on the body.
On this expedition, you must be able to climb in and out of the raised safari vehicles and be able to stand on your seat in the car in order to shoot photos from the roof. Please understand that if you are unable to get up and down on your seat, you may be limited to only shooting out the side window. A fine option but please understand your own physical limits.
You should also be able to walk around our camp accommodations, sometimes over uneven or rocky terrain. Rooms are spread throughout the property. This means you may have up to a 5-minute walk to your room (with a guide) from the main area, so please be prepared for that or let us know ahead of time if you have physical limitations.
If you are unable to keep up with the group, you might not be able to participate in an activity. If you have concerns about physical limitations, please contact a Great Escape Publishing staff member before registering. You can email us at workshops@greatescapepublishing.com or call (561) 860-8266.
** This is a small group trip. Our vehicles seat 8 people but we only fill them with 4 to give each photographer plenty of shooting room. This expedition is limited to 12 attendees only. One instructor per Jeep so you always have someone by your side to answer questions.**
This workshop is a once-in-a-lifetime opportunity for folks who truly want to get paid to travel. Not only will it include loads of exploring the fascinating country of Tanzania, but you'll have the opportunity to sit down with Carli to go over the photos you're taking and learn how to improve. You'll get in-the-field guidance and loads of help with your camera settings, too. You'll learn a LOT in 10 days, and go home with some amazing shots.
Again, space is limited to 12 attendees only. I strongly urge you to sign up today.
So please, register here now by clicking below or if you have any questions call our office today at (561) 860-8266 (Eastern time zone). You can also email me at lori@greatescapepublishing.com.
Sincerely, 


Lori Allen 
Director, Great Escape Publishing
Here's what fellow readers have to say about their experience on our photo expeditions…
"Every day was an adventure and a great photo opportunity. I can't choose just one highlight." – Francesca Burack
"In my case, I appreciated that the instructor zeroed in on what I need to learn and correct (composition and focus) and still teach me much more than I expected to learn…" – Susan Birkenshaw
"The workshop was fun. I learned a lot… I met interesting people and I became excited about trying to make money from photography. The workshop is an excellent value and provides information that is difficult to acquire in other ways." – Susan H.
"I learned more in three days than I have all year. Between Thursday's photos shot and Saturday's photo shots – it is like night and day." – Lynda I.
"You all did an awesome job. I have learned so much in 7 days … totally priceless." – Nelda Bernal
PROTECT YOUR INVESTMENT: We strongly suggest you protect your investment by purchasing trip-cancellation insurance. We recommend using sites like Insuremytrip.com to compare rates or purchasing through your airline when you buy your plane ticket. We will send you details about trip insurance in an email following your registration. It's not right for everyone so we've done some research on your behalf.
CANCELLATION POLICY: The Tanzania Photography Expedition is non-refundable. If we can fill your seat with another paying participant before the event, we can offer you a Workshop Credit good toward another event in the amount of what you paid minus a $500 credit card processing fee. Refunds to your credit card are not permitted. If you cancel due to reasons that are covered by your purchased travel-insurance policy, we will advise the insurance company that your travel and conference fees are non-refundable.