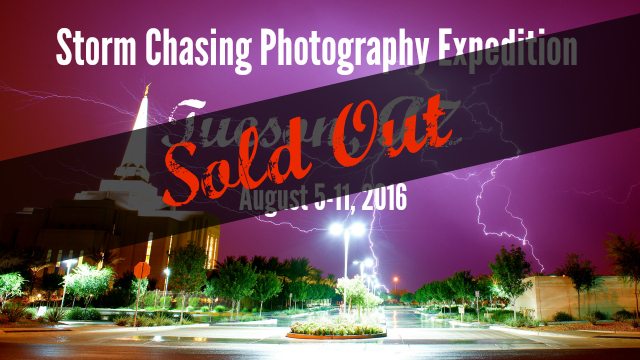 Tucson Storm Chasing Photography Expedition (SOLD OUT!)
Join us For the
Most Electric Event
of the Year…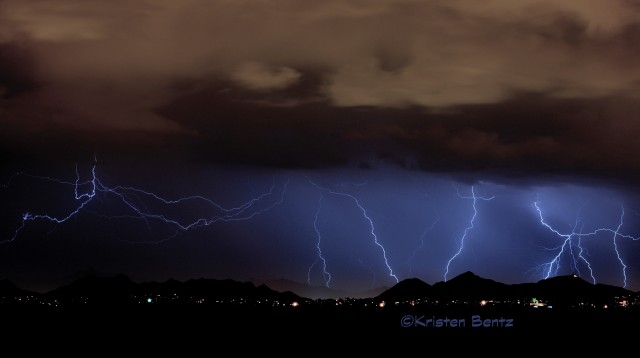 Chase storms across the Arizona desert…
Experience the thrill of capturing lightning as it flashes across your images…
Visit a local vineyard for a wine-tasting session…
Get a behind-the-scenes tour of the infamous Tucson airplane graveyard…
And much, much more…

Tucson Storm Chasing Photography Expedition
August 5-11, 2016
Dark clouds gather on the horizon as you race across the desert in your van. Your pulse quickens as you start to smell the rain in the distance. This is a big storm. And you're getting into just the right position to capture its majesty with the desert cactus stretching out in front of you.
With your group of friends, you pull up to just the right spot… find some cactus to frame your shot… set up your tripod… and wait.
But you don't have to wait long.
Suddenly… BOOM. An enormous bolt of lightning cuts through the sky and when you check to see — YES! — you've captured it in your camera. The perfect shot to sell when you get home.
This is what life is like for storm photographer Kristen Bentz. And this August, you'll experience it all right alongside her in the Arizona desert.
Around Tucson in August, the sky puts on a nightly show like no other. Crackling lightning bolts… rolling clouds filling up the sky… dust storms that swallow entire cities…
And this August, to crown it all, you'll be there for the Perseid Meteor shower, too — where desert night sky fills up with shooting stars.
Spend Every Day Doing What You Love
If you're wondering exactly how to turn your passion for photography (and travel) into a lucrative side income or even a whole new career… but don't know where to begin… then this is, hands down, the most thrilling way to start…
This August 5-11, I invite you to join professional photographer Kristen Bentz — and just nine other attendees — in Tucson, Arizona for the storm chase of a lifetime!
There are a few key tricks to storm photography, and Kristen will share them all with you. Plus, she'll show you exactly how she's been able to earn tens of thousands of dollars from her storm!
With monsoon lightning storms rolling through nearly every night this time of year, the possibility of witnessing desert sand storms that blow 500 feet high, and the Perseid Meteor Shower at its peak, you'll have daily opportunities to get out and have fun experimenting with your camera — all under the guidance of Kristen, whose job it is to make sure you return home with stunning photos you can sell to galleries, newspapers, websites, and more …
And these dramatic storm shots will make a nice addition to your portfolio to help your photos stand out from the crowd.
For six adventure-filled days in Arizona, you'll:
Pick up the tricks of storm photography so you can come away with jaw-dropping shots you can sell when you get home…
Learn advanced techniques a professional photographer uses to shoot travel pictures that sell for $400, $600 – and more… over and over again…
Get hands-on practical experience applying your new skills – while you explore one of the country's most exciting states in its most dramatic season…
Discover how fine art photographers create and market their photos – and how you can double or even triple your photography income…
Find out how to turn your photos into cash – and enjoy the freedom, independence, and travel opportunities that freelance photography delivers…
Make new friends as you chase storms across the desert… watch meteors streak across the sky… and discover the many marvels of Tucson…
And so much more…
Whether you have little experience or you're already a talented amateur photographer, this expedition will give you everything you need to establish yourself as a true pro—and play around in the exciting niche of storm and weather photography…
Join Us in Tucson, Arizona and Take
Your Photo Skills to New Heights…
With Kristen by your side, you'll spot and track storms as they are forming, chase them to the best photographic locations in the city, and capture images like never before! The best time to photograph storms is at night, so we'll spend our evenings out on the chase.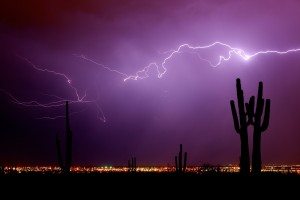 Kristen will have her ear to the ground with a direct link to Doppler Radar… lighting strike alerts coming straight to her phone… and even the local storm chasers will be sending her heads-up notifications of where the BEST action is going down, so we can intercept the storms with the sole intention
of capturing the BEST photography opportunities!
Tucson is notorious for nightly lightning storms during the summer months, wild desert sandstorms, and sunsets that
will knock your socks off! And Kristen's identified shooting locations all over the city of Tucson to make sure we have the most photogenic foreground our shots could possibly get.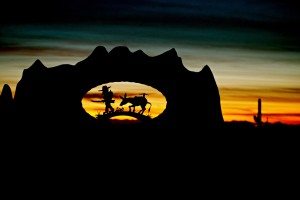 It would take the average person years to scout out amazing locations like what we have in store for this trip. 
Kristen has a keen eye for composing weather shots, and, in this workshop, she's bringing insider tips she has never
shared with ANYONE before…
She'll share how she times the lightning strikes just right… how to tell where it's going to happen… and the exact
settings for your camera, based on the type of lightning. Everyone will walk away with knowledge and images to rival the pros.
Kristen has made a name for herself with her stunning lightning photos. Now she's going to show you how you can do the same… during the most thrilling event on our calendar.
Of course, chasing storms is a thrill, but your safety is still our priority. Kristen has pre-scouted a number of ideal locations, including directly from the balconies of the resort where we'll stay, as well as from the comfort of enclosed vehicles.
And with storm-watching technology at our fingertips, we know exactly how the storms track.
Weather Photography is In Demand: One Good Photo Can Earn You Thousands of Dollars!
What most people don't realize is that there's huge demand for NON-EXTREME weather images, too. These images are fantastic sellers in the fine art category, stock sites demand them by the minute, and news publications and stations can't get enough!
Now, I know what you're thinking… how many weather "things" could you possibly take pictures of? In fact, there are over 60 different types of weather phenomena easily accessible and photographed around the world.
So you can take the skills you'll learn with us in Tucson on your travels anywhere around the globe.
One of the best things about weather is that every time you make a photograph, the result is always different… every lightning bolt, every aurora, every snowflake… every time!
And, it doesn't take long to get yourself noticed in this field. Kristen has only been taking storm and weather photographs for a few years. Yet images like this one below have made her tens of thousands of dollars.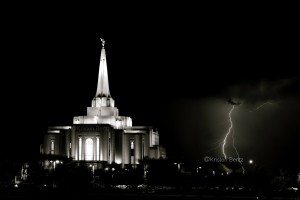 While storm chasing will fill our evenings, by day, we'll hold class time to review our captures from the day before and go over a few lessons on taking and selling photos to fund our travels.
We'll also spend some time during the day dipping into Tucson's rich history. You'll capture the desert plants and wildlife, explore the airplane graveyard and San Xavier Mission, and visit the University of Arizona's SkyCenter Observatory.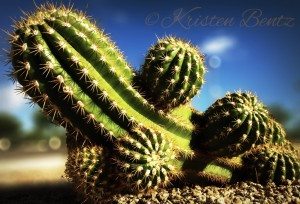 You'll also take a tour through downtown Tucson… soaking up the old and new… and experimenting with landmark buildings, people shots,
and the little details that can make great close-up shots for magazine articles.
Of course, no trip is complete without sampling local cuisine. After a few "electrifying" evenings, we'll take a relaxing day-trip to Arizona's oldest winery for a behind-the-scenes tour… tasting… snacking… and of course photographing the fantastic surroundings.
We're keeping the group small — limited to just 10 attendees — so you get to have the best experience possible and as much of Kristen's time as you need to take your photography to a whole new level.
Attendees of these live workshops boast great successes.
And you needn't have a lick of experience to join their ranks, all you really need is a passion for exploring the world (even your own backyard), camera in hand.
Our presentations on selling and reselling your photographs include everything from taking the right kinds of photographs… to knowing and understanding which market will be most likely to buy them.
Discover the Skills and Secrets You Need to Turn Your Snapshots into Cash… and Your Travels into Paid Vacations…
This Tucson Storm Chasing Photography Expedition will focus on fine art photography and selling your images to magazines, tourism bureaus, and locally in your own hometown.
In Tucson, Kristen will show you how to sell your photos through galleries, to travel magazines, guidebooks, and as stock. She'll also share her secrets for selling locally to fund your vacations… all while showing you around Tucson's historic Old Town and helping you navigate the night's sky as it lights up like never before!
Shoots and presentations on this expedition will focus on…
How to get the best possible pictures every time, no matter what kind of camera you have…
How to create long-exposure images and the amazing photographs this technique can produce…
How to compose your photographs for maximum effect when marketing them for fine art, magazines, and stock…
How to prepare your submissions to maximize your chances of selling your pictures…
How to use social media to gain exposure and market your work…
How to sell the photos you take on this trip…
And much more …
Learn How to Capture Magnificent Desert Storms, Historic Architecture, And Nature Shots That Sell
As one of our storm chasers, you will see Tucson in a way you never could as a regular tourist. We have a full itinerary planned for each day and most of the workshop will be done out and about on foot, so you'll need to be prepared for high-activity throughout the week.
You'll also benefit from unique one-on-one instruction with Kristen throughout the six days, during in-the-field shoots, photo review sessions and special classroom presentations.
And you'll learn about which types of weather subjects sell best for fine art in galleries, editorial in magazines, and even stock.
Almost every day there will be special group photo reviews, where you'll learn what you're already doing well and what you can do to improve your photos and bump up your success. Kristen will provide you with the insights you need to really put your camera to work for you and, once you've captured the shots you want… how to sell them.
A Systematic Approach to
Money-Making Photos
Kristen, who you'll hear from in Arizona, brings with her many years of photography experience. She's created a systematic approach to learning photography that anyone can follow…
 … a system that, when coupled with a bit of persistence, is so powerful, our past workshop attendees are finding great success.
The information you'll gain at this workshop could, quite literally, change your life — it has already for so many of our past attendees who, today, are making money as photographers and enjoying the freedom and flexibility this life can offer.

For more details on itinerary, pricing, and instructors, click on the links at the top of this page.
Here's a Run-Down of What You Can Expect …
Day 1 (half day): August 5
In the afternoon, you'll meet your fellow photographers and Kristen… and get right down to business. Kristen will show you her favorite shots of Arizona and also talk about how one lightning photograph launched her photography career into overdrive.
That evening, you'll grab your tripod and get ready for your first taste of storm photography. As a hands-on workshop geared toward night photography and long exposures… you'll learn a lot in a short amount of time.
This will get you geared up for the fun and photography-packed next few days.
Day 2: August 6
This morning Kristen will walk you through some compositional suggestions and techniques that you can use to improve your shots right off the bat.
Later in the morning, you'll apply your new knowledge by taking a tour of Old Town, visiting the "Old Pueblo," Mansion Row, and the magnificent San Xavier Mission. You'll have some free time to check out Old Town and enjoy lunch on your own with fellow storm chasers.  
In the afternoon, we'll have photo reviews and Kristen will share tips for photographing lightning, featuring stunning points of interest within your shots.
Later, you'll return to the San Xavier Mission to photograph during the blue hour and capture any incoming storm activity against this beautiful backdrop.
Day 3: August 7
This morning, you'll have time for some rest, relaxation, and breakfast before the day's activities. Today will begin with a quick presentation about fine art photography and sales, then we'll head over to a local Tucson art gallery to visit with the gallery manager.
Here you'll find out exactly what galleries want from prospective artists and how to build successful gallery relationships and thriving sales!
From there, you'll head 30 minutes south of Tucson to the oldest winery in Arizona for a behind-the-scenes look at winery operations. And no winery trip is complete without a healthy sampling of wine… so you'll enjoy picnic baskets full of goodies with your wine flight, just in time to capture the world renowned Arizona sunset.
Then it's time to check the weather reports and chase those monsoons back to Tucson!
Day 4: August 8
It's an early rise today as you get out to photograph the flora and fauna of the Arizona Sonora Desert Museum, including mountain lions, hummingbird aviary, and hundreds of acres of Saguaro National Park.
Late morning, you'll meet your group at the hotel classroom for an introductory presentation about editing your photos in Lightroom.
This evening, dinner will be on your own at one of the many restaurants at the hotel. After dinner, you'll return to the storm chasing with a focus of cactus and mountain foregrounds.
Day 5: August 9
This morning, you'll set out on an excursion to the Pima Air and Space Museum to visit the airplane graveyard.
Here lay the eerie and interesting remnants of many an aircraft. A truly unique shoot location.
Belonging to the Davis-Monthan Air Force base, many aircraft have been decommissioned, while others may be called back to action at any time.
In the afternoon you'll meet back in the classroom for more photo reviews. And then back on the storm chase! Tonight you'll have 500-foot sand storms in your sights!
Day 6: August 10
Today will begin with a presentation on where and how to sell your photos from this trip.
Then you'll have free time to catch up on some sleep or enjoy the resort's luxurious facilities.
Later in the afternoon you'll head up into the Santa Catalina mountains to visit the University of Arizona's SkyCenter Observatory. Here you'll have the chance to check out the telescopes, watch the stars, and learn to photograph the night's sky. The Perseid Meteor Shower will be peaking, and, with a little luck, we'll capture outstanding galaxy images featuring fiery meteors streaking across the sky!
Day 7: August 11
Today we'll conclude our expedition with one last photo review. Kristen will lay out your 10-day quick-start plan to making money with your photography (starting with those you've taken here in Arizona), and you'll have ample time to ask her any questions you may have before departing.
*Note: Our workshop schedules are always subject to change due to weather and construction.  The primary focus of this workshop is on photography and areas that are good for storm and travel photographs

For more details on itinerary, pricing, and instructors, click on the links at the top of this page.
We're only hosting one event like this in 2016. So if you're ready to start selling your photos this year, I encourage you to reserve your place right now. Sign up today and you'll receive a HUGE discount.  Don't sit on the fence on this one. Since it's our first expedition of this kind, these 10 seats will go fast and this discount will expire soon.
The full price of this event is $3,999 and it's worth every penny for all the real-world advice, personal assistance, and years of experience our expert Kristen Bentz delivers, but when you register for this event today, before we release details to our full readership, you'll receive a HUGE discount.
NOTE: You may qualify for additional discounts on The Tucson Storm Chasing Photography Expedition if you've purchased certain Great Escape Publishing products over the last 12 months. Click below on the Register button for details.

The registration fee for the workshop includes:
Admission to five and a half days of intensive class sessions geared to produce photos you can sell…
Six nights' hotel accommodation at the Westin La Paloma (August 5-11)…
Breakfast daily at the Westin La Paloma…
Walking photo tours plus optional sunrise and night shoots…
Special presentations and in-the-field guidance from professional photographer, Kristen Bentz…
Transportation to and from all photo shoots…
Admission to the Sonoran Desert Museum…
Admission to the Pima Air and Space Museum…
A welcome fiesta dinner…
Tour of downtown Tucson…
Night-trip to SkyCenter Observatory…
Winery Tour, tasting, & pairing…
Behind-the-Scenes Gallery Visit
Your Registration Does NOT Include:
Meals not listed on this flyer (allow $20 to $40 a day).
Airfare to and from Tucson, Arizona
Airport transfers (round-trip transfer can be arranged from $28 through the hotel)
Equipment – you must bring your own camera and accessories (e.g. memory cards, tripod, etc.)
Space is limited and this is the only photography workshop we'll be hosting in Arizona this year. I strongly urge you to sign on soon.  I expect this program to fill up quickly. And I'd hate for you to miss out.

For more details on itinerary, pricing, and instructors, click on the links at the top of this page.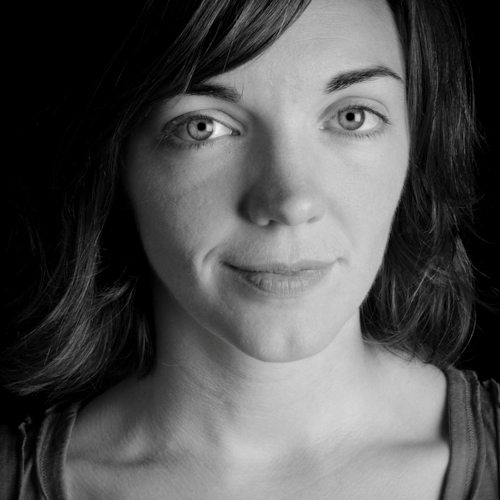 Bonnie knew she never wanted a conventional desk job but she didn't know exactly what else was out there to... [Read More]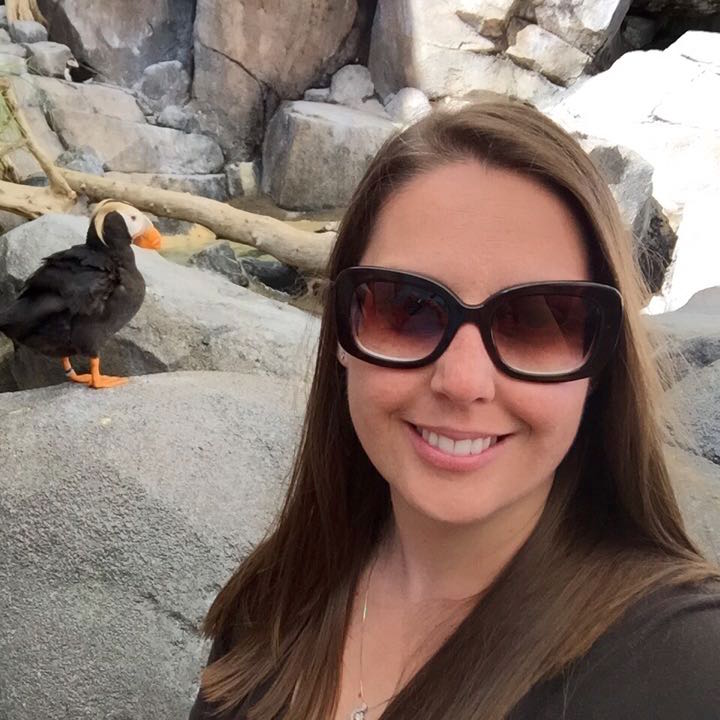 Kristen Bentz is a part-time photographer from Phoenix, Arizona. Graduating in the top of her class, with degrees in Business... [Read More]
Small group expeditions like this one in Arizona boast an unbeatable track record – it really does propel people from amateur to pro, fast.
Take Lynnia Allison. She attended our workshop in The Bahamas, and one month later, she displayed some of her photographs at a local gallery exhibit and sold four at $500 each.
And there's Sue Wright, who attended our workshop in Paris and sold more than $1,500 worth of photos within three months of returning home.
They both paid for their workshop fees in short order, and the skills they used to do it are the same ones you'll learn while out chasing storms in Arizona this summer.
We'll teach you everything you need to know to create your own successes… and turn your photos into cash so you can enjoy the freedom, independence, and amazing travel opportunities freelance photography can deliver.
Activity Level
High activity. Most of this workshop will be spent out-and-about on foot throughout the Arizona desert. You should be able to climb 3-4 flights of stairs and walk at least 2 miles with no problem to take this tour. You'll need your walking shoes on every day of this workshop, and you'll be staying up late to catch the storms as they pass in the evenings, as well as waking up early to beat the heat and capture outstanding desert wildlife at its most active.
Prerequisites
There are no prerequisites. This workshop is for people of all skill levels and experience, and the concepts discussed are doable by anyone. Point-and-shoot cameras are welcome, as long as they allow for manual settings to be entered, as required for long exposure photography. DSLR cameras are highly recommended, for the situations we will be shooting in, to best create images you can sell. Additionally, a tripod will be required and a remote shutter trigger and rain cover for your camera are highly recommended. (Kristen will send you specific gear recommendations upon registration.)
Where You'll Stay
Flanked by the majestic Santa Catalina Mountains to the East and the unrivaled Saguaro National Park standing guard to the West, Tucson sits in a most unique location… ideal for daily monsoon activity, while maintaining a wealth of history and local flavor!
Tucson is one of the oldest continually inhabited areas in all of North America, farmed by the Hohokam Indians for 4,000 years before officially being founded in 1776 as a Spanish colony. The adobe-walled Presidio became known as the "Old Pueblo" and is still standing today.
You'll be based at the Westin La Paloma, situated at the base of the mountains, the Santa Catalina Foothills, overlooking the city of Tucson.
Using the hotel as a base, you'll explore and photograph Old Town, known for its Mansion Row, San Xavier Mission, and outstanding Mexican cuisine; Sonora Desert Museum teeming with wildlife and famous Arizona cactus; and, of course, chase the monsoons as only Arizona can produce.
You'll also venture into the mountains for a visit to the University of Arizona's Skycenter Observatory to explore the universe and photograph the Perseid meteor shower.
And, while in Sonoita, only 30 minutes south of Tucson, you'll get a behind-the-scenes look at wine production in Arizona, taste award-winning varietals, nibble on perfectly paired picnic bites, and create magazine-worthy photographs.
It's safe to say that while exploring Arizona, you can't help but find something to photograph everywhere your eyes alight.  And that's why we've chosen it for this special, small-group photography expedition this summer.

For more details on itinerary, pricing, and instructors, click on the links at the top of this page.
← View All Events