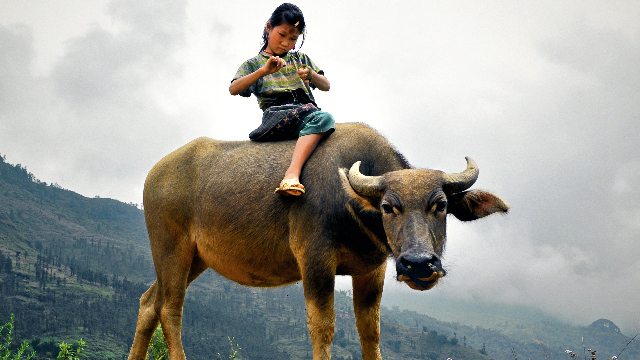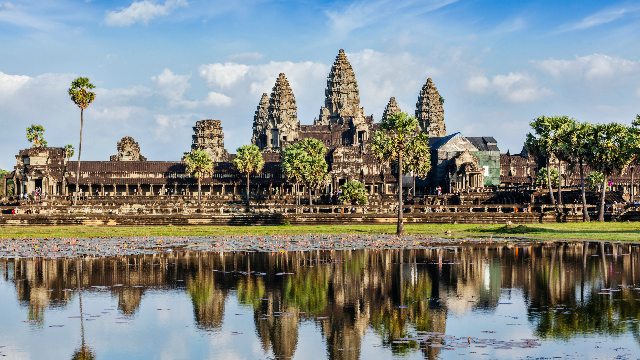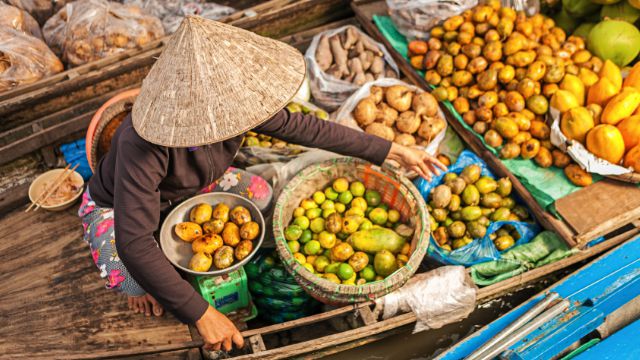 Vietnam Photography Tour and Expedition
Join Us for Six Days this Coming February to Photograph the People, Landscapes, Beautiful Colors, City Chaos and Epic Beauty of Exotic Vietnam

Beginners welcome…
"Vietnam was what we had instead of happy childhoods," wrote Michael Herr in his 1977 book, Dispatches. 
But things have come a long way since 1975 and the end of the Vietnam War.
Despite the ongoing visible effects of a war three generations past, you'll be surprised to find that the Vietnamese have their eye on the future instead of the past and are modernizing at record speed.
The time to go is NOW – when landscapes and large cities remain largely untouched!!  While people still dress in traditional garb instead of clothes they see on T.V.
From Hanoi's crazy and chaotic streets to the majesty of Halong Bay, Vietnam is developing at an astonishing pace.  And we'll be there to record it while it's still largely traditional.
Move over Thailand – Vietnam is competing for the world's best street food.  And watch out China – tourists are headed to Vietnam now for their custom-tailored suits and clothes.
These six days in Vietnam will be a trip you don't forget complete with the know-how to sell your photos when you return to magazines, newspapers, online stock agencies and more.
You'll…
Experience the breathtaking beauty of Vietnam's diverse and exotic landscapes, from age-old temples and vibrant floating flower markets, to lush green rice paddies and ancient fishing villages…
Capture incredible photos of the magical Full Moon Lantern Festival when, come nightfall, the old town is transformed by flickering candles and multi-colored lanterns…
Take a whirlwind bike rickshaw ride through the colorful and energized streets of Hanoi…
And watch the sun set across the vast expanse of Ha Long Bay as you float on emerald waters in a traditional Chinese junk boat…
And do all this with your camera at the ready and  professional photographer Efrain Padro by your side.  He'll help you learn your camera (no matter your skill level).  You'll learn to create amazing photographs you're proud of when you return home.  And most importantly, he'll share with you how to sell them to magazines, newspapers and websites for $150-$2,000.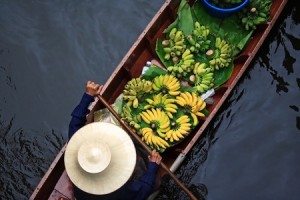 I assure you, not only will you come away with a real passion for Vietnam – having discovered it with a photographer's eye – but you'll also learn all the ins and outs you need to take amazing photos… and sell them when you get back home.
Whether you have little experience and modest equipment or you're already a talented amateur photographer, you'll benefit from this program.
For more details on itinerary, pricing, and instructors, click on the links at the top of this page.
Day 1 (Wednesday, February 17)—Hanoi/Introductions, Short Presentation and Water Puppet Show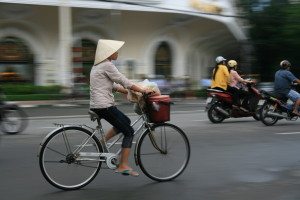 The capital of Vietnam is Hanoi and it's known for its bustling streets, colorful sidewalks, AMAZING shopping opportunities, and its centuries-old architecture and rich culture.
In the Old Quarter we'll find a wealth of unique photographic subjects like small temples, colorful shops and restaurants decked with silk lanterns, and a hoard of bustling markets selling everything from beautiful tailored clothes to tasty street food.
Since it's a "city on the move," we'll practice our composition and what to do with motion in a photograph.
Efrain will take you step-by-step through the right camera settings and show you how you can use your camera to turn an average vacation snapshot into a photo worthy of wall space and a magazine cover. Later in the week you'll also learn what you need to be a magazine travel photographer… and how to go about finding a market for your photographs.
Dinner is on your own tonight but we'll go as a group to a restaurant near our hotel.
After dinner we'll enjoy a traditional water puppet show, a fascinating art form that originated in northern Vietnam.  Our coveted front row seats will allow for unobstructed photography.
Day 2 (Thursday, February 18)—Hanoi/Flower Market and Temple of Literature
First thing in the morning we'll take off for the Hanoi Flower Market where an American B-52 was shot down during the Christmas bombing in 1972. It sits rusting in a small pond surrounded by the bustling market.
We'll explore the busy stalls and side streets on foot. This is an area few tourists take the time to visit, so it's a great opportunity for you to capture off-the-beaten track, unique images of people and Vietnamese culture.
After breakfast we'll take a bike rickshaw tour through the city.
We'll stop for some architectural photography at Van Mieu, or Temple of Literature, which dates back to 1070 and is dedicated to the cult of Confucius. Hoan Kiem Lake with its photogenic red bridge to an island pagoda is our route, too. Known as the Lake of the Restored Sword, it is shrouded in romance and history, linked to the legendary hero Le Loi who asked the heavens for help to resist the advance of the Chinese in 1418.
At the end of this busy day, you can take some time out to relax before photo reviews, and then enjoy dinner on your own or with the group in Hanoi.
Day 3 (Friday, February 19)—Ha Long Bay/Bai Tu Long Bay and Thien Hai Son Cave
From Hanoi we'll drive through small villages and lush rice fields to reach Ha Long Bay, where we'll board a traditional Chinese Junk boat to explore the limestone pillars, caves, and a floating fishing village in the bay.
We'll  have a chance to swim in the crystal clear water, practice kayaking or simply relax and take photos on a white, sandy beach.
We'll have a sumptuous dinner on board the boat and overnight on the bay so that we can take photos among the 2,000 islands at sunset.  Twilight photos are Efrain's specialty.  He'll show you how to create amazing night images and talk about where they sell best.
Day 4 (Saturday, February 20)—Vung Vieng Fishing Village, Flight to Hanoi, Hoi An
After breakfast, we'll leave the junk boats and venture on to visit the fishing village of Vung Vieng.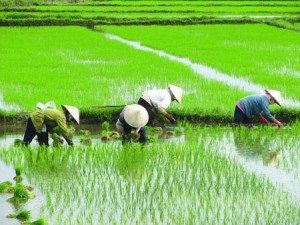 To get up-close to the village, floating school and surrounding limestone mounds, we will board small wooden row boats and a local villager will row us to shore.
After lunch, we'll board a plane for a one-hour flight to Da Nang, and transfer to Hoi An.
The ancient fishing village of Hoi An is most known for its well-preserved Chinese shop houses and temples, colorful French Colonial buildings, ornate Vietnamese tube houses and the iconic Japanese Covered Bridge.
It's here where we'll get to experience the Full Moon Lantern Festival — a photo-worthy event where the Ancient Town switches off its lights. All the streets are closed to cars and the old town is transformed by flickering candles and multi-colored lanterns into a magical world of light and color.
It's safe to say that while exploring Vietnam you can't help but find something to photograph everywhere you look. This will be an incredible adventure but you're also going to get a feast of stunning photo opportunities… and have a photography professional right by your side to make sure you come home with the best images whether you decide to sell them or not.
Day 5 (Sunday, February 21)—Hoi An City Tour and Lantern Festival
This expedition isn't without time to relax or explore on your own.  There's some spare time built in here on this day. 
In the morning, you'll have some time to relax, shop and explore. After lunch, we'll take a boat ride to photograph fishermen with their huge nets in the afternoon light.
And finally, we'll toast our great successes over great Vietnamese food and drinks at a farewell dinner.
Day 6 (Monday, February 22)—Last Class in Hoi An — End of Expedition and Beginning of Angkor Wat Add-On
After breakfast Efraín will give a last presentation about how to sell your images to magazines and he'll walk you through the process of asking $150-$2,000 for your images (or packages of images).
Time permitting, you will have one last chance to get out and explore Hoi An and perhaps do a little shopping and exploring on your own.
Pick up that silk lantern, rich embroidered clothes, or little Tohe statue unique to Hoi An, that you spotted earlier.
The cobblestone streets in the old French Quarter are a delight to roam with many cafes, art galleries and handicraft shops. Hoi An is especially well-known for its local artists and tailor-made clothing, with over sixty shops providing this service in town.
Late morning we will transfer to the airport in Da Nang for our flights back to Hanoi and beyond. 
⇒For those joining our add-on program to Cambodia, we will take a flight from Da Nang to the resort city of Siem Reap.  On arrival at Siem Reap, we'll transfer to our hotel where you'll be free to relax and have dinner on your own or with other group members at a nearby restaurant.
Day 7 (Tuesday, February 23)—Siem Reap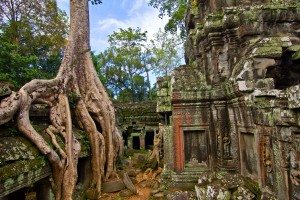 We'll start our Cambodian adventure with a trip to one of the area's most beautiful temples, Ta Prohm. Relatively untouched since it was discovered, it retains much of its mystery and Indiana Jones-like charm.
Unlike the other monuments of Angkor, it was abandoned and swallowed by the jungle. Imagine… you'll feel like the first European explorers did when they stumbled upon the temples covered in vines.
This afternoon, we'll visit other local temples, fountains and ancient pools, as well as the "Royal Baths," undoubtedly used in the past for ritual bathing.
This evening, enjoy dinner with Apsara Dance show in Siem Reap.
Day 8 (Wednesday, February 24)—Angkor Wat
This morning we'll take off to see one of the most beautiful temples in the world — Angkor Wat. Starting at the famous South Gate (with its huge statues depicting the churning of the ocean of milk), the ancient capital of Angkor Thom (12th century) we'll then visit Bayon Temple, with its 54 towers decorated with over 200 smiling faces of Avolokitesvara.
Here you'll get to meet with a project archaeologist who will escort you on a private tour of the Bayon's south library, which is currently undergoing restoration.
Afterwards we will visit the Royal Enclosure, Phimeanakas, the Elephants Terrace and the Terrace of the Leper King.
In the afternoon we will visit the most famous of all the temples on the plain of Angkor: Angkor Wat. As you walk through the sprawling temple, often covered in roots, vines, and banyan trees, you'll feel like an adventurer discovering a long-forgotten culture. We will stay at Ankor Wat until sunset, to best capture images of this magical site in beautiful light.
Dinner this evening will be on your own near the hotel.
Day 9 (Thursday, February 25)—Siem Reap and Departures
Early morning we'll photograph the sunrise from the archaeological site Phnom Bakheng, one of two hills dominating the plain of Angkor. From this vantage point you will have a spectacular view of the Western Baray and Angkor Wat.
After the shoot we will return to the hotel for breakfast.
Next, we'll explore the typical Khmer countryside as we head to the remote Beang Mealea temple, long abandoned temple and strangled by the jungle, where we'll enjoy a picnic lunch.
After lunch we will drive to the 10th century Banteay Srei temple, regarded as the jewel in the crown of classical Khmer art, as well as Banteay Samre, one of the most complete complexes at Angkor.
In late afternoon we will drive back to Siem Riep and transfer to the airport for our return flights.
Pricing and What's Included

Unlike traditional tours your travel agent might tell you about, our programs are customized for photography.  We visit all the must-see landmarks to be sure.  But we try to do it in a way that is unlike the typical tourist.  And we scout for locations that make our photos more unique (and saleable).
If you travel to Vietnam on your own, you'll surely fall victim to foreigner prices and guides leading you through every t-shirt and ginseng shop in town.  Sometimes this is unavoidable.  And sometimes we find a shop or two that we like and so will point it out to you if the goods are authentic and/or an exceptionally good value.  
What you won't find, however, are mandatory sales pitches those other travel tours are most known for.  And you won't be crammed in a giant motor coach with a hundred other tourists driven around the city as if that's the best way to get to know a place, either.  Bus window tours are not our thing.
With our roots in travel writing and photography, our tours are always unique and a great way to really "see" and experience a destination.  Sometimes we use public transportation.  Sometimes we use vans.  Sometimes we eat in local restaurants.  Sometimes we cook the food ourselves.
We're different but I'll argue that's also why we're better.
Efrain, who will be right by your side on this trip, brings with him many years of photography experience. He's one of our most sought-after instructors and you won't find a better teacher.  He's created a systematic approach to learning photography that anyone can follow…
… a system that, when coupled with a bit of persistence, is so powerful, our past workshop attendees are finding great success.
The information you'll gain on this expedition could, quite literally, change your life — it has already for so many of our past attendees who, today, are making money with their photos and continuing to travel the world with their camera.  
And even if you have no interest in selling your photos after this tour, you'll benefit from everything you learn about improving your picture-taking skills.
The registration fee for the expedition includes:
Admission to six days of intensive photography sessions, both hands-on in the field and in a classroom setting, geared to produce photos you can sell…
All walking photo tours plus optional sunrise and night shoots…
A bike rickshaw tour of Hanoi, where you can be up-close and personal with one of the most bustling cities on the planet…
Special presentations and demonstrations on how and where to sell your photos by professional travel photographer, Efrain Padro…
Personal reviews of your favorite photos on this trip…
Domestic flights between Vietnamese cities on  this tour…
First-class tickets to a traditional water puppet show…
Transportation to and from all photo shoots and tours…
Arrangements for your Vietnam visa on arrival…
Four night's hotel accommodation…
An overnight sail along Ha Long Bay aboard a traditional Chinese junk boat…
Farewell dinner on your last evening in Hoi An.
And all of that is yours for just $4,959 per person. (Special Early Bird Discount: Save $300 when you click on the "Register for Event" link above and reserve a seat today. Other discounts may also apply.  See that registration page for details.)
What's more, if your spouse or a guest would like to join you, he or she can do so for just $3,999.
Space is limited and this is the only photography workshop we'll be hosting in Vietnam this year. I strongly urge you to sign on soon. Our last event sold out in just nine hours.
Take this opportunity to enjoy the adventure of a lifetime, explore the breathtaking beauty of Vietnam, and pick up the skills you need to take better pictures and sell them to magazines, newspapers and websites.  
Your Expedition Fee Does Not Include:
Your roundtrip flight to Vietnam…
The add-on expedition in Cambodia, unless you add that on to your event fee when you register…
Airport transfers on arrival and departure…
Visa fees when you arrive in Vietnam …
Meals not listed above (please allow $20/day for this, more if you're always a fine diner or big drinker)…
Equipment — you must bring my own camera and accessories (memory cards, tripod, laptop, etc.)…
Meet Your Guide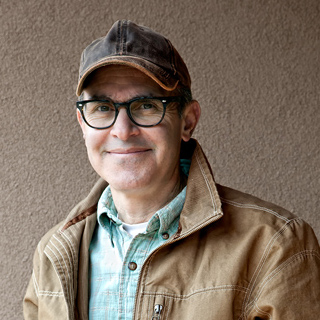 Efraín M. Padró is a full-time professional photographer specializing in nature and travel subjects. Born and raised in San Juan,... [Read More]
"These workshops are a wonderful opportunity to travel to a new locale and explore while learning a new skill."
– Sandra M.
"Efrain was wonderful – so easygoing and helpful. He spent so much time helping everyone one-on-one. He also has a great teaching style – He's super humorous. I loved him!"
– Lynn Michels
"The workshop was fun. I learned a lot… I met interesting people and I became excited about trying to make money from photography. The workshop is an excellent value and provides information that is difficult to acquire in other ways. It was an excellent opportunity to try different kinds of photography."
– Susan H.
"Efrain is very knowledge able, approachable, very involved with students and willing to share his secrets – He gave the best tips of the trade."
– Joy Spring
"Efrain Padro was a 10! He is a very dynamic speaker and brought great new knowledge and ideas on getting published."
– Sarita Simmons
Prerequisites:
All skill and experience levels are welcome, and the photography skills taught are doable by anyone. Point and shoot cameras are welcome.
Activity Level:
High activity. Most of this workshop will be spent out-and-about on foot, in boats, climbing into bicycle rickshaws, and otherwise moving around in the cities and villages of Vietnam. If you're worried about physical limitations and want to chat about it, please contact us.
Great Escape Publishing reserves the right to deny seats on this tour to anyone who might not be able to physically keep up with the group.  
For more details on itinerary, pricing, and instructors, click on the links at the top of this page.
← View All Events